May 21, 2015
Two Recent Grads Receive Fulbright Awards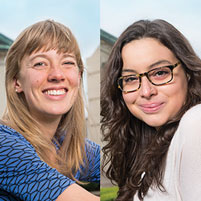 Two recent Dietrich College of Humanities and Social Sciences graduates will be making a global impact through this year's Fulbright
U.S. Student Program
.
"This year's class of Fulbright awardees personifies our aspirations for global citizens and scholars. These young researchers, artists, and educators have successfully carved out distinct paths within their respective disciplines and are uniquely positioned to serve as ambassadors for Carnegie Mellon and the United States," said Joanna Dickert, Fulbright program adviser in CMU's
Fellowships and Scholarships Office
and assistant director in the Office of the Dean of Student Affairs.
The U.S. Department of State, Bureau of Educational and Cultural Affairs, sponsors the Fulbright U.S. Student Program to "increase mutual understanding between the people of the United States and the people of other countries." It provides fellowships for U.S. graduating seniors, graduate students, young professionals and artists to study abroad for up to one academic year. 
This year's Fulbright award winners are:
Alexandria Hernandez
Class of 2015, Bachelor of Arts in Global Studies
Hernandez will travel from her home in New York City to complete an English Teaching Assistantship at a higher secondary school in Chennai, India. She also plans to pursue a research and community service project. Hernandez participated in the Social Change Semester in Qatar and India at CMU. She also co-founded a chapter of Visions Global Empowerment, a nonprofit organization working to change patterns of inequality by supporting educational initiatives for youth affected by poverty, conflict and disability.
Erin Kiekhaefer
Class of 2015, Bachelor of Arts in Global Studies and Hispanic Studies
While completing an English Teaching Assistantship in Mexico, Kiekhaefer plans to pursue a community project that combines her two passions — participating in sports and working with children. Kiekhaefer is from Palto Alto, Calif., and was a member of CMU's cross country and track and field teams.
Learn more about the other CMU Fulbright winners.
_____
By:
Shilo Rea