May 21, 2015
Seven CMU Alumni, One Undergrad Receive Fulbright Awards
By Abby Simmons / 412-268-4290 /
abbysimmons@cmu.edu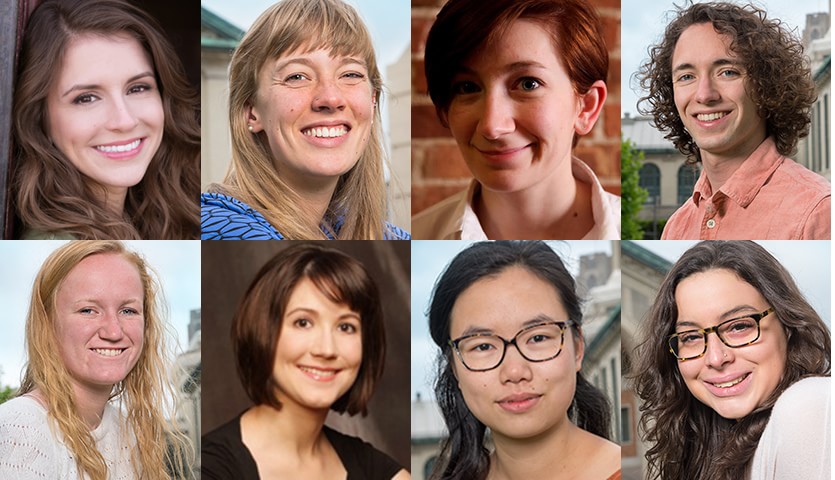 Seven recent Carnegie Mellon University graduates will be making a global impact through this year's Fulbright U.S. Student Program. In addition, one undergraduate student has been selected to attend a Fulbright Summer Institute in the United Kingdom.
"This year's class of Fulbright awardees personifies our aspirations for global citizens and scholars. These young researchers, artists, and educators have successfully carved out distinct paths within their respective disciplines and are uniquely positioned to serve as ambassadors for Carnegie Mellon and the United States," said Joanna Dickert, Fulbright program adviser in CMU's Fellowships and Scholarships Office and assistant director in the Office of the Dean of Student Affairs.
The U.S. Department of State, Bureau of Educational and Cultural Affairs, sponsors the Fulbright U.S. Student Program to "increase mutual understanding between the people of the United States and the people of other countries." It provides fellowships for U.S. graduating seniors, graduate students, young professionals and artists to study abroad for up to one academic year.
This year's Fulbright award winners are:
Alexandria Hernandez
Class of 2015, Bachelor of Arts in Global Studies
Hernandez will travel from her home in New York City to complete an English Teaching Assistantship at a higher secondary school in Chennai, India. She also plans to pursue a research and community service project. Hernandez participated in the Social Change Semester in Qatar and India at CMU. She also co-founded a chapter of Visions Global Empowerment, a nonprofit organization working to change patterns of inequality by supporting educational initiatives for youth affected by poverty, conflict and disability.
Sara Kelly
Class of 2015, Bachelor of Science in Chemical Engineering and Engineering and Public Policy
Throughout her Fulbright experience, Kelly will be conducting research on optimizing biofuel production from wood and evaluating its economics at RWTH Aachen University in Germany. A native of Madison, Wis., she was an Andrew Carnegie Society Scholar and member of the cross country and track and field teams at CMU.
Erin Kiekhaefer
Class of 2015, Bachelor of Arts in Global Studies and Hispanic Studies
While completing an English Teaching Assistantship in Mexico, Kiekhaefer plans to pursue a community project that combines her two passions — participating in sports and working with children. Kiekhaefer is from Palo Alto, Calif., and was a member of CMU's cross country and track and field teams.
Jacob Klingensmith
Class of 2015, Bachelor of Computer Science and Arts
After attending an orientation in Kuala Lumpur, Klingensmith will complete an English Teaching Assistantship at a rural school in Malaysia. He was a summer camp counselor for four years and is looking forward to working with students abroad. The Pittsburgh native was a coach for CMU's Tartan Parkour club and is a member of the Pittsburgh Parkour Association.
Carolyn Kras
Class of 2010, Master of Fine Arts in Dramatic Writing
Kras received a Fulbright LUSK Award to the United Kingdom, where she will serve as a Playwright in Residence at Sell A Door Theatre Company in London. In addition to writing a play that dramatizes historical events in the lives of King George III's daughters to explore parallels related to contemporary sexual assault cover-ups, she will assist the company's new writing festival and community arts engagement efforts. The Chicago-based playwright also will complete a month-long writing residency at Hawthornden Castle in Scotland.
Tegan McDuffie
Class of 2013, Bachelor of Fine Arts in Directing
McDuffie has been awarded a Fulbright arts grant to study directing in Berlin with the companies Rimini Protokoll and English Theater Berlin. She is a Brooklyn-based, impact-orientated artist who works at the intersection of theater, photography and installation. McDuffie is the founder of Structure 13 and a co-founder of ARTwerk NYC.
Veda Sun
Class of 2015, Bachelor of Fine Arts in Visual Art
Sun will travel from her hometown of Kennett Square, Pa., to study traditional Chinese painting at the China Academy of Art in Hangzhou. After gaining an understanding of the ideologies that surround the artistic practice, she plans to create a body of work that responds to this historical tradition. While at CMU, Sun received a Summer Undergraduate Research Fellowship to investigate the present social and cultural landscape through the synthesis of Eastern and Western landscape painting.
Along with last year's Fulbright recipients, College of Engineering alumna Alexa Beaver received a research grant to Argentina, which started in March 2015. She is researching sustainability aspects of the biodiesel supply chain in Argentina and the use of alternative feedstocks at the Planta Piloto de Ingeniería Química in Bahía Blanca. Following graduation in 2010, Alexa worked in the energy industry for five years in the areas of fuels and lubricants technology.
In addition to the post-graduate scholarship winners, Amanda Jolley, a rising junior art major from San Diego, has been selected by the U.S.-U.K. Fulbright Commission to attend the Fulbright Summer Institute at Nottingham Trent University.
Pictured above are the Fulbright Awardees: (clockwise, from top left) Alexa Beaver, Erin Kiekhaefer, Tegan McDuffie, Jacob Klingensmith, Alexandria Hernandez, Veda Sun, Carolyn Kras and Sara Kelly.