March 24, 2015
Like Sports Analytics? You'll Love This New Student Club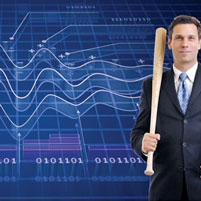 Call it the "Moneyball Effect," referring to how the Oakland Athletics famously used statistics to build a successful baseball team, but more and more professional sports teams are using and relying on analytics to gain a competitive edge.
It's no surprise that Carnegie Mellon University –
home to one of the world's best and fastest-growing Statistics Departments
– is flush with sports-related statistical activity. Statistics Ph.D. candidate Sam Ventura and Andrew C. Thomas, a former assistant visiting professor, co-founded
WAR-On-Ice.com
, a new site for traditional and modern hockey statistics, and co-hosted the
Hockey Analytics Workshop
at CMU last fall.
And, junior Maksim Horowitz, an economics and statistics major with a minor in business administration, came up the idea for the new
Tartan Sports Analytics Club
. The student-run club has 20 founding members and uses in-depth quantitative data to develop an understanding of sports analytics, strategies and management. They have a membership development plan to help teach the club's members how to work with and analyze data.
"I love sports and the idea dawned upon me last year that I could share this passion with many other students at CMU, so I started our club," Horowitz said. "We focus on each and every sport. We have members who write about the big 4: baseball, basketball, football and soccer. But we also have members who write about e-sports and mixed martial arts (MMA)."
The club is open to any CMU student interested in sports or in pursuing a career in sports.
"The CMU Tartan Sports Analytics Club is a great opportunity for students to see first-hand how the statistics methodology they learn in the classroom can be used to solve exciting, challenging problems in sports," said
Rebecca Nugent
, associate teaching professor of statistics and the club's faculty advisor. "While these types of applications might be seen as 'just for fun,' the world of sports analytics is quickly growing; our department is regularly contacted by professional sports teams looking for interns and recent graduates.  Even if a student is not planning on working in sports, experience in learning how to solve real-world problems is invaluable and easily transferable to all fields."
Students interested in joining the Tartan Sports Analytics Club should
contact Horowitz
.
For more information, visit the
club's website
and
Facebook page
.