November 03, 2014
Carnegie Mellon To Host Hockey Analytics Workshop
By
Shilo Rea
/ 412-268-6094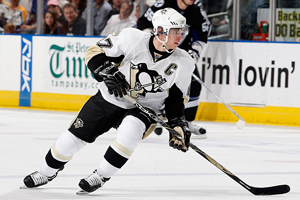 PITTSBURGH—Hockey fans who want to learn more about the numbers behind hockey, including goals against average, points per game, save percentage, plus/minus ratio and average puck possession time, are invited to attend Carnegie Mellon University's
2014 Pittsburgh Hockey Analytics Workshop.
Hosted by CMU's top-ranked
Department of Statistics
and
WAR-On-Ice.com
, a new site for traditional and modern hockey statistics, the workshop will consist of short talks and panel discussions on a wide range of topics, from an introduction to the history of analytics in hockey and their use by teams and media, to how teams can work to collect their own data reliably, and how interested people can do their own work. Confirmed speakers include:

WAR-On-Ice.com (@war_on_ice) was developed by Andrew C. Thomas (@acthomasca) visiting assistant professor of statistics at CMU, and Sam Ventura (@stat_sam), a Ph.D. candidate in the Statistics Department. Playing off of the acronym for Wins Above Replacement - typically used in baseball to determine a player's total contributions to their team - WAR-On-Ice.com aims to give hockey fans a complete set of measures to compare teams and players, probabilistic analyses of live, in-progress hockey games, and insights from Statistics and Data Science on how these measures can be improved. Thomas and Ventura are organizing the workshop and will also speak.

To follow the conference on Twitter, use the hashtag #PGHanalytics.

When: 11 a.m. - 5 p.m., Saturday, Nov. 8
Where: Doherty Hall 2315, Carnegie Mellon University
Cost: Free and open to the public. Advance registration is requested.
Register at: http://blog.war-on-ice.com/2014-pittsburgh-hockey-analytics-workshop/
###
Through 10 games of the 2014-15 season, Sidney Crosby (pictured above) led the Pittsburgh Penguins with 18 points on seven goals and 11 assists.