June 03, 2015
Beverley Wheeler To Receive Alumni Distinguished Service Award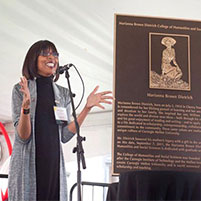 Each year, Carnegie Mellon University's Alumni Association honors alumni, students and faculty for outstanding service to the university and alumni who have achieved exceptional success in their chosen professions through the Alumni Awards program.
Beverley R. Wheeler, who graduated with a degree in social relations degree from the Dietrich College of Humanities and Social Sciences, will receive the Alumni Distinguished Service Award. The honor is given to recognize volunteer service to the university or any of its alumni organizations including especially active participation in alumni or university affairs, faithful and continued effort in maintaining class, chapter, interest group or other alumni organizations, or assistance in expanding the influence and prestige of Carnegie Mellon. This award acknowledges both longevity of service and consistency of service over a lifetime of dedication to the university.
Wheeler, who also earned a master's degree from the Heinz College, is a past president of the Carnegie Mellon Alumni Association.
While at Carnegie Mellon University, Wheeler was involved with the WRCT radio station and was the president of Student Government. After graduation, Wheeler served on the H. John Heinz III College Alumni Board and is currently serving on the Dean's Advisory Council.
She is a member of the Andrew Carnegie Society, the Carnegie Mellon Black Alumni Association and the DC Alumni Network. She has also served as a mentor working with the Heinz DC program. As the president of the AAB, she served on the CMU Board of Trustees.
Wheeler recently came back to campus for Dietrich College's annual Under Construction: Building Your Future event that features approximately 60 alumni who return to share their personal career paths with current students.
She spoke on an education panel and said, ""I get to do wonderful things because I went to Carnegie Mellon."
In addition to her involvement with Carnegie Mellon, Wheeler has worked professionally in both the public and private sector. She has been the president and CEO of Center City Public Charter Schools, the executive director of the DC State Board of Education, chief of staff to a DC Council Member and a management consultant in education and community development.
Currently, Wheeler is an adjunct faculty member in the Heinz College DC program.
Wheeler and the other Alumni Awards recipients will be honored at a ceremony on Friday, October 9 during Cèilidh Weekend.

Related Articles:
Photo: Beverley Wheeler addressed the crowd at the September 7, 2011 celebration that marked the naming of the Marianna Brown Dietrich College of Humanities and Social Sciences.
_____
By: Shilo Rea