February 25, 2015
Professor Brings Duane Michals' Photography To Life In Major Exhibition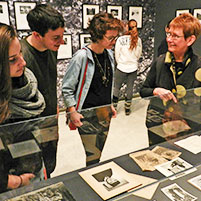 Six years ago,
Linda Benedict-Jones
, adjunct professor of
history
in the Dietrich College, began working on her final exhibition as curator of photography at Carnegie Museum of Art (CMOA). "
Storyteller: The Photographs of Duane Michals
" was a definitive retrospective of the groundbreaking photographer.
Revered for changing the function of photography from a form of documentary to art, Pittsburgh-born Michals created photos and scenes not necessarily connected to the real world. He constructed sequences of surreal events that viewers watched unfold.
"Duane Michals is one of the most influential photographers of the twentieth century," Benedict-Jones said. "He was a pioneer in the 1960s when he began writing messages on the surface of photographs, something that was a distinct no-no among the photographic elite.  Instead of accepting the importance of the 'decisive moment', so sought after among street photographers, Michals created sequences of multiple images to convey his visual narratives.  He told me that the decisive moment didn't work for him; he needed the moment before and the moment after."
To help organize what had become the largest collection of Michals' work worldwide, and figure out how best to exhibit it, Benedict-Jones brought in Adam Ryan as curatorial assistant in photography. The first problem they tackled was determining how to showcase tiny little pictures in the Heinz Galleries, a huge space within the museum that is normally a blank white canvas.
Working with museum designer, Emily Rice (A'07), who graduated from
CMU's School of Architecture
, as well as
Brett Yasko
, adjunct professor in the School of Design, they decided to paint down the walls and consciously use color and design to help visitors move through and understand the exhibition.
"It turned out to be reminiscent of how Michals displayed his work in the 1960s," Ryan said.
Benedict-Jones and Ryan decided to set the stage at the beginning of the exhibition with a slideshow that explained why Michals' work was considered to be so radical. In order to educate visitors about how to interpret pieces shown as series, they used "Death Comes to the Old Lady." The sequence's contact sheets – similar to strips of negatives – hung like art to show how Michals worked and constructed what he ultimately used.
Benedict-Jones incorporated the exhibition into her class, "Photographers and Photography since World War II," because it offered an unusually rich case study for a sustained look at the half-century-long career of this internationally celebrated North American artist, coincidentally with Pittsburgh roots.
After learning about Michals in class, the students visited the museum twice with Benedict-Jones and Ryan.  Many students made individual trips as well to better prepare for a written paper in which they described their response to the artist's work.
"It is really compelling the way he tells such personal stories," said Lindsey McClary, a junior math major, who thought seeing the exhibit was a great way to connect with his work.
Mike Burnside, a senior ethics, history and public policy major, agreed and said, "It is different seeing the photos in a museum than seeing it projected on a screen. It's more profound. Certain parts speak to me – like the little girl and her grandmother."
"Storyteller: The Photographs of Duane Michals" ran from November 1, 2014 until February 16, 2015, received critical acclaim and made international headlines. According to CMOA's director of visitor services, more than 22,000 people came to Carnegie Museum of Art specifically to see the Storyteller exhibition, an outstanding response. It will next be seen at the Peabody Essex Museum in Salem, Mass.
For Benedict-Jones, it was the perfect swan song.  Even though she will continue teaching courses in the history of photography at Carnegie Mellon, she will retire as curator from CMOA this spring.
"As curators, we put every ounce of our creative energy into the exhibitions that we organize and then we hope that the public and the press will appreciate what we have done," she said. "We anticipated a positive reaction to this show, but never in my wildest dreams did I expect to get full-page reviews in the New York Times, the Wall Street Journal and the New York Review of Books.  Even the Daily Beast listed 'Storyteller' at the top of their Best Coffee Table Books of 2014, a kind of sweet icing on the cake.  There is no way for me to top this, which makes the timing of my departure from the museum just right."
View photos from Benedict-Jones' class exploring the exhibit.