April 29, 2015
IS Conference Room Dedicated to Archit Kumar (DC'12) and Family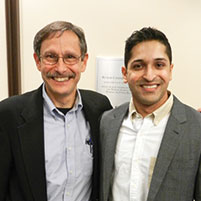 To recognize Archit Kumar (DC'12) and his family's endowment and generous gift to the
Information Systems (IS) Program
, Porter Hall 222 has been renamed the Kumar Conference Room.
Archit, who was a double major in IS and decision science with a business administration minor, and his parents Pankaj and Mahima Kumar made the commitment to commemorate the IS Program and invest in its continued success.
"We are truly grateful for this support," said
Randy Weinberg
, director of the program. "The funds will be used basically exclusively to enhance undergraduate educational opportunities for individual research, participation in the larger IS community and for service learning experience abroad."
Weinberg continued, "We will support students wishing to dive deeply into society's problems, wherever they may be, where and when information technology can assist. All of this is consistent with Carnegie Mellon University's mission to be a presence in the real world and apply our learning to the betterment of humanity. Archit and his parents share this vision."
Archit, now based in New York City and working as a financial services consultant for Ernst & Young, returned to campus for the dedication during Spring Carnival weekend.
In his remarks, he joked that even though he never received an award in Larry Heimann's Application Design and Development course, he learned a tremendous amount both in and out of the classroom. He said that he also has quickly learned how important and impressive it is to have the CMU name, particularly in IS, attached to his name.
"My employer, my clients and new friends from various universities all recognize and appreciate the caliber of students graduating from here," Archit said. "I have many exceptional alumni to thank for that reputation, although I certainly revel in this perception. And that is one reason I want to give back."
Both Weinberg and Archit credit Nick Cole (DC'09), a gift officer in CMU's University Advancement division, with making the gift – and the conference room naming – possible.
"We started brainstorming all of these ideas of how CMU could grow," Archit recalled. "One idea we had was exactly what the Kumar Endowment Fund will do: provide the funds necessary to give an IS student the chance to explore India or Nepal, work with a community or organization, for some positive change. That's it. The rest the student will organize and discover. This fund will simply give them the channel to take their ideas and turn them into reality."
View photos from the Kumar Conference Room dedication.
_____
By
Shilo Rea