April 28, 2015
Distinguished Teaching Award Goes To Yasufumi Iwasaki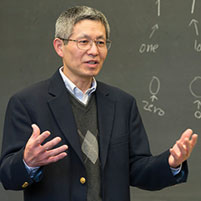 Two adjectives frequently used to describe
Yasufumi Iwasaki
are tirelessly committed and generous.
For Iwasaki's extraordinary dedication to his students and his impact as a teacher, advisor, mentor and curriculum developer, he has won the 2014-15 
Elliott Dunlap Smith Award for Distinguished Teaching and Educational Service
in the Dietrich College of Humanities and Social Sciences.
Iwasaki, associate teaching professor of Japanese in the
Department of Modern Languages
, joined the Carnegie Mellon University faculty in 2005. Iwasaki teaches six courses per year – from elementary Japanese to advanced levels – and serves as the coordinator of the
Japanese Studies Program
.
In a letter announcing Iwasaki as the winner of the college's top teaching award, Dean Richard Scheines and Associate Dean Joseph E. Devine wrote that he "has designed and distributed detailed lesson plans and materials to the other fulltime faculty, as well as to adjunct faculty and graduate students, who are very grateful for his leadership. He provides essential mentoring to newcomers teaching these courses for the first time, and supervises undergraduate speaking assistants who work with the students."
They continued, "What comes through about Yasufumi most clearly and consistently, however, is what his nomination letter describes as 'his amazing work ethic, ardent commitment to his students and great humility.'  One anecdote is particularly telling: 'Some years back, the cover of Carnegie Mellon Magazine featured a photo of Baker Hall at night. Taken on a Saturday evening, the photo showed a dark Baker Hall with a light on in one office. It was Yasufumi's office.'"
Iwasaki said that his favorite part about teaching used to be lecturing, but that has changed during his time at CMU.
"I have come to realize that I can help more when students are using language on their own, and I provide feedback. They immediately pick up my comments, and it helps them learn," Iwasaki said.
One accomplishment that he is most proud of achieving is creating materials for three levels of Japanese instruction that other instructors in the program can use.
"This allows us to make sure students can progress seamlessly from each level," he said. "It also helps us keep track of students' progress across all levels."
Iwasaki also believes that the Modern Languages Department's approach to teaching foreign languages differs from other universities – and that their students benefit from the goal-driven methods.
"Our department places language study into the much wider field of the study of culture. Learning outcomes include speaking, listening, reading, writing and learning of culture," Iwasaki said.
Learn more about the Elliot Dunlap Smith Award.
_____
By:
Shilo Rea