March 03, 2022
Undergraduate Research Opens Doors to Future Opportunities
Dietrich College is known for its interdisciplinary studies. It also offers research opportunities for undergraduate students to work with a faculty adviser and contribute valuable findings and knowledge to their specialized fields of study. Students can explore these opportunities through five college- and university-wide programs with upcoming application deadlines.
Funding from the Office of Undergraduate Research and Scholar Development 
The Summer Undergraduate Research Apprenticeship (SURA) course awards tuition-free elective credit to undergraduates for assisting with faculty-led research or creative projects over the summer. The program is designed for students with little or no previous research experience at CMU. The student application deadline is May 13.
The Summer Undergraduate Research Fellowships (SURF) program awards a stipend of $3,500 for eight to 10 weeks of research during the summer. Research projects of any kind are promoted under the SURF program. The student proposal deadline is March 23. 
The Small Undergraduate Research Grants (SURG) program awards up to $500 for individuals and $1,000 for groups to cover materials and supplies for undergraduates conducting research, scholarly or artistic activities at CMU. The student proposal deadline for summer and fall 2022 is March 23.
Funding from Dietrich College
The Dietrich College Senior Honors Program allows students to work independently on a year-long, scholarly project under the guidance of a faculty member. The program establishes a scholarly community amongst Dietrich seniors in which students can collaborate with each other throughout their creative ventures. The application deadline for summer and fall 2022 is March 22.
The Dietrich College Honors Fellowship Program offers students a head start on their research and thesis projects. Students selected for the fellowship program will spend the summer before their senior year establishing a strong foundation for their projects to continue in the upcoming academic year. The application deadline for summer and fall 2022 is March 22.
Five students recently published the results of their undergraduate research, demonstrating the exceptional work conducted by Dietrich students.
Exploring how children learn language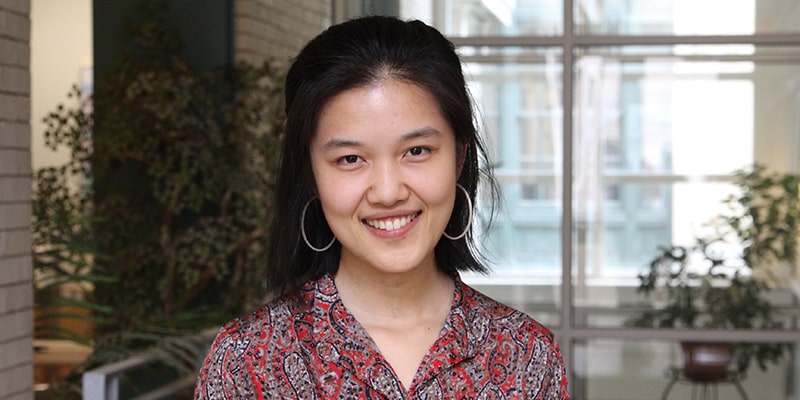 As a rising sophomore, Anjie Cao started conducting research in cognitive development. With the guidance of Molly Lewis, special faculty in the Department of Social and Decision Sciences, she examined the ways children infer the meaning of words from the structure of the sentence (called bootstrapping). Cao explained that her research was not hypothesis driven. Rather, she wanted to know how reliable other researchers' evidence was as this phenomenon has been widely studied for decades. Using the approach of meta-analysis, she aggregated all of the published studies related to syntactic bootstrapping and investigated the large sample size of research. The results of her study, published in the journal Developmental Science, found that syntactic bootstrapping has a relatively weak effect on language learning for children.
"I think undergrads should be pursuing these opportunities that the Undergraduate Research Office offers. I applied to SURF and Dietrich College Honors Fellowship, and I cannot understate how much it helped me in terms of figuring out my research interests," Cao said.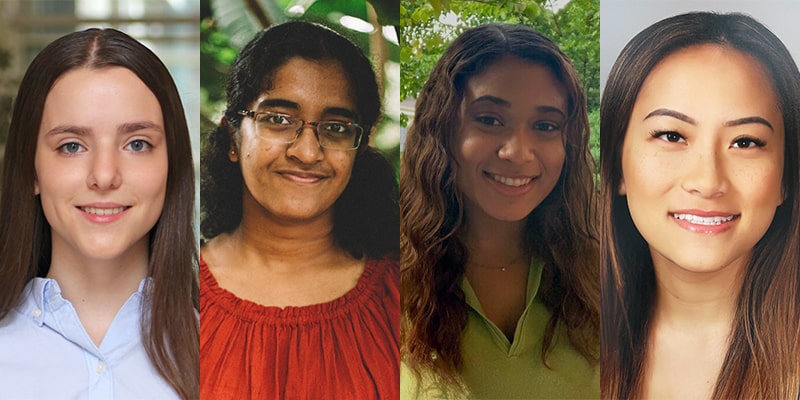 Four undergrad students — Ananya Vasudev, Sophia Hill, Anyah Stempien-Smith and Lindsay Zhang — examined the effect of face masks on speech perception by native and non-native English speakers. The study, published in The Macksey Journal, found that facial coverings did not pose a significant hindrance to speech perception. Vasudev explained the findings of their study saying, "Masks do not disproportionately affect speech perception amongst non-native English speakers over native English speakers."
Undergraduate researchers contribute valuable knowledge to their respective fields. This early career training also prepares students as they start new jobs and advanced studies upon graduation. Cao is pursuing a Ph.D. in psychology at Stanford University. Zhang hopes to attend dental school, and Vasudev graduated last semester with a degree in statistics and machine learning. She is starting at new position with Deloitte.
All of the students spoke to the benefit of the guidance of their faculty mentors and funding from the different research programs at Dietrich College and Carnegie Mellon University.