December 20, 2022
Sandage Advises on Kennedy Center's 50th Anniversary Exhibit
New permanent installation celebrates the role of the arts in JFK's presidency
Scott Sandage, an associate professor of history in Carnegie Mellon University's Dietrich College of Humanities and Social Sciences, was one of only five historians in the country invited to advise a new exhibit at the John F. Kennedy Center for the Performing Arts in Washington, D.C. To mark its 50th anniversary in 2022, the center renovated its rooftop atrium space as a permanent installation, "Art and Ideals: President John F. Kennedy."
 "I've advised many such exhibits, at the Smithsonian Institution, the Andy Warhol Museum and other places, but the creative staff and the sheer glamour of the Kennedy Center made this process fun and rewarding at a whole other level," Sandage said.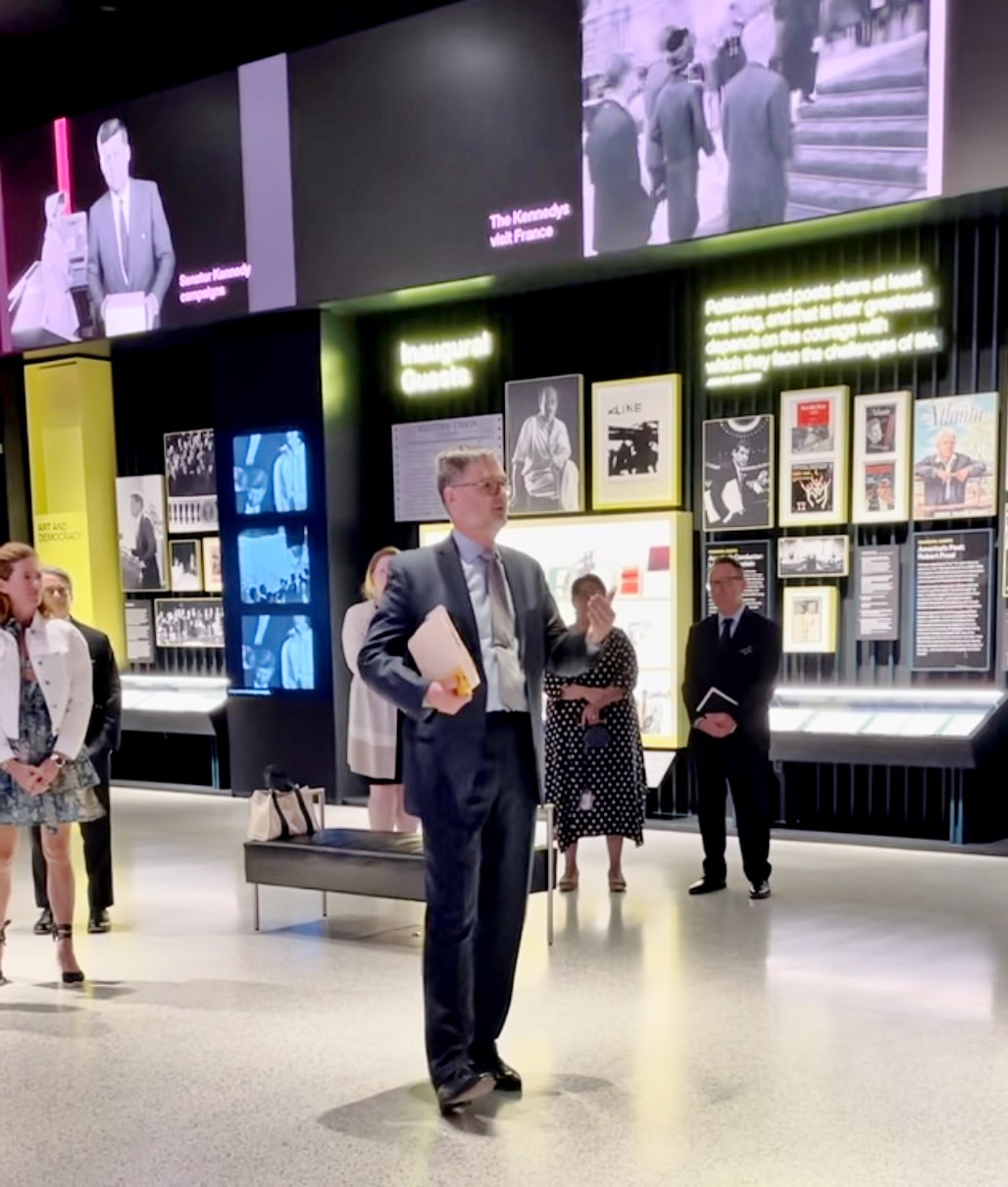 Sandage speaking in the exhibit during opening weekend.
As a "living memorial," the Kennedy Center attracts millions of visitors and audience members annually. The exhibit seeks to explain and illustrate the role of the arts in JFK's own life, as well as help the public understand why the late president's family authorized an arts center as his only monument in the nation's capital. The interactive exhibit, audiovisual displays and artifacts tell the story of how JFK deployed the arts in both foreign and domestic policy during the Cold War and Civil Rights eras, how artist-activists like Harry Bellafonte and Marian Anderson led JFK toward fuller support for Black freedom and how he and Jacqueline Kennedy encouraged links between civic participation and arts participation in schools.
 "My favorite artifact in the exhibit reflects on my twenty-six years at Carnegie Mellon," Sandage said. "It's the first professional shoulder camera, built by the documentarian Robert Drew, specifically in order to follow JFK around on the campaign trail and even into Oval Office meetings. As a piece of technology for the arts, Drew's shoulder cam reflects both JFK's visions and Carnegie Mellon's."
In addition to Sandage, who was invited as a public historian of monuments and collective memory, the other advisers were professors Peniel Joseph from University of Texas, Penny Von Eschen from University of Virginia and Pulitzer Prize winners Annette Gordon-Reed and Fredrik Logevall from Harvard University. The committee met with Kennedy Center staff, architects and designers throughout 2019-2021.
Sandage spoke at the exhibit's opening gala in October along with Von Eschen and David M. Rubenstein, a philanthropist and chairman of the center's board of trustees. The following month, Sandage conducted a VIP tour of the exhibit and joined a panel discussion about arts policy and community engagement with composers-in-residence Carlos Simon and Nolan Williams Jr.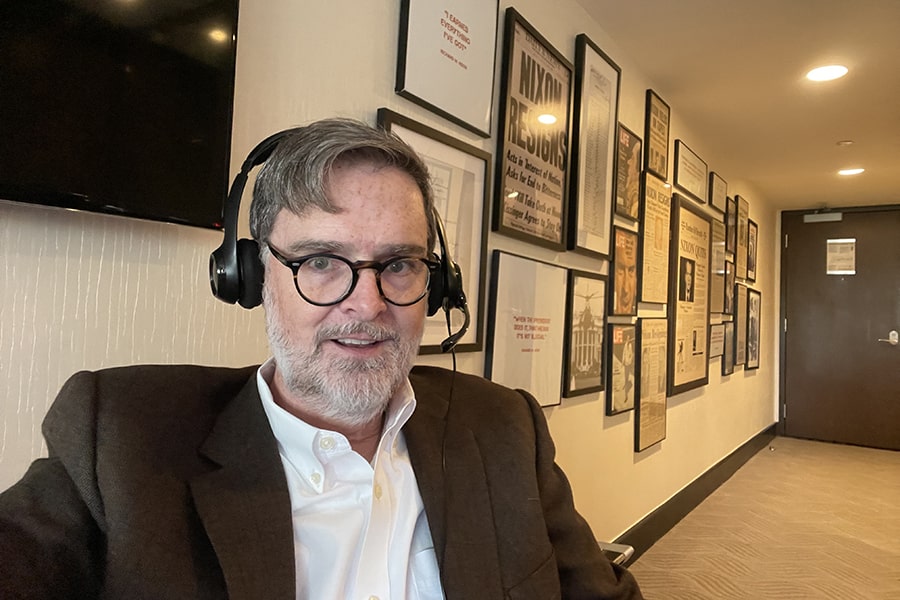 Sandage teaching on Zoom from the "Scandal Room" at the Watergate Hotel.
In November, while in Washington, D.C., for another Kennedy Center exhibit program, Sandage also had the opportunity to teach his "U.S. Constitution and the Presidency" class via Zoom from the historic Room 214 in the Watergate Hotel — the "Scandal Room," where the burglars stayed in 1972.