February 19, 2020
Say Hello to Dietrich College's Student Communicators
By Stefanie Johndrow stef(through)cmu.edu
Media Inquiries
Stefanie Johndrow
Dietrich College of Humanities and Social Sciences
Meet the newest additions Dietrich College of Humanities and Social Sciences' communications team: Cameron Monteith and Cassandra Scanlon. Throughout the spring semester, Monteith and Scanlon will provide a student lens to the Dietrich College's news stories and social media channels.
Cameron Monteith: New Student, New Position, New Possibilities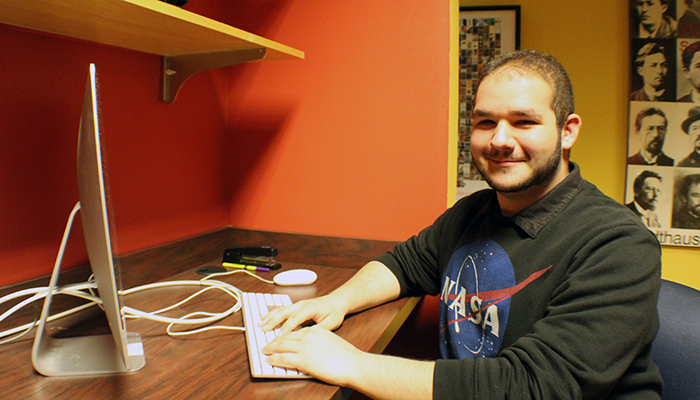 A beat writer is defined as a reporter that keeps track of a subject or institution over long periods. Carnegie Mellon is no different, with beat writers appearing in each college at the university with the goals of reporting on new research, awards, etc.
Cameron Monteith is Dietrich College's first student beat writer. He will be covering the goings-on of Dietrich: from recent awards won by students, to studies being conducted across various departments, to up and coming events.
"I look forward to showing what Dietrich College is made of," Monteith said.
Outside of reporting, he is a first-year student double majoring in creative writing and social and political history. Since coming to CMU, he has enjoyed working with fellow students on the Oakland Review as well as being a part of cmuTV. Monteith has won awards for his poetry, most recently with CMU's Martin Luther King, Jr. Day Writing Awards. In his native town of Floresville, Texas, Monteith also took part in local competitions like The Aline B. Carter Poetry Contest and Sounds Like KPAC: Young Talent Competition, as well as local film competitions.
Growing up, Monteith remembers helping his mom as she studied to become a teacher in college. She sought his perspective as a child on her projects. Now, Monteith's mother is a kindergarten teacher. What she admires in teaching is the simplicity in children's writing — the ability to distill complex truths into words for a kid to understand.
"Although my favorite book isn't Charlotte's Web like her (it's The Tale of Despereaux), the processes of organizing and simplifying life draw me to creative writing. I hope to carry these ideas similarly into the new beat writer position," Monteith said.
Dietrich College students who have an interesting story to share, are encouraged to contact Monteith at cmontiet@andrew.cmu.edu. 
Cassandra Scanlon: Social Media Master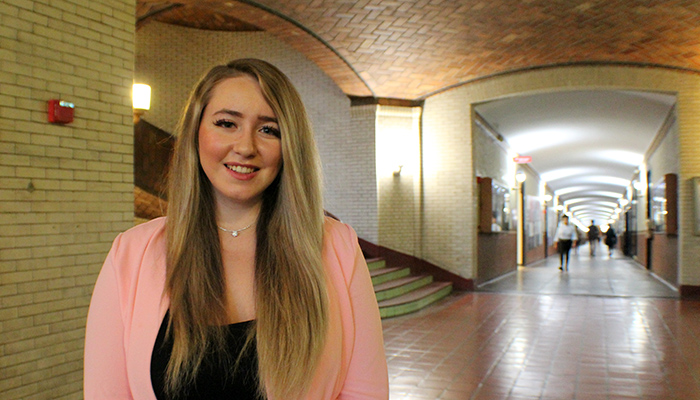 Cassandra Scanlon is a senior studying international relations and politics with an additional major in professional writing. She is a native of Pittsburgh and grew up in the South Hills. She is currently completing an honors thesis analyzing how women are represented in Supreme Court opinions on gender. She intends to attend law school following graduation in May.
During her time at Carnegie Mellon, Scanlon has been involved in a variety of student organizations. She co-founded Moot Court her first year, where undergraduates engage in mock constitutional debate. She was recently president of Alpha Phi sorority and wrote for The Tartan. She is currently on the executive board for Greek Sing, an annual philanthropic event hosted by the Greek community, and she serves on the Student Advisory Committee for the Career and Professional Development Center. Scanlon also works on campus as a desk attendant for the Athletics Department and previously worked as a marketing and communications ambassador for the Office of Admission.
She is passionate about civil rights for sexual violence survivors, and previously interned as a United Nations liaison for Rise, where she assisted with a U.N. resolution that has the potential to impact 1.3 billion survivors around the world. In her free time, she enjoys reading, photography and spending time with friends. 

For Dietrich College, Scanlon is assisting with social media channels. She attends events and offers a student perspective, and she helps to promote various events around Dietrich. Scanlon is working on a project that will highlight Dietrich students, their experiences and their day-to-day life. She has held several internships in communications and enjoys using social media as a storytelling tool.
"I hope to help bring more student perspectives to our social media channels," Scanlon said. "I hope to highlight all the amazing work Dietrich College students are doing, and I plan to bring students together in the process. I love the interdisciplinary and collaborative nature of Dietrich College, and I hope to capture this spirit on our social media channels!"