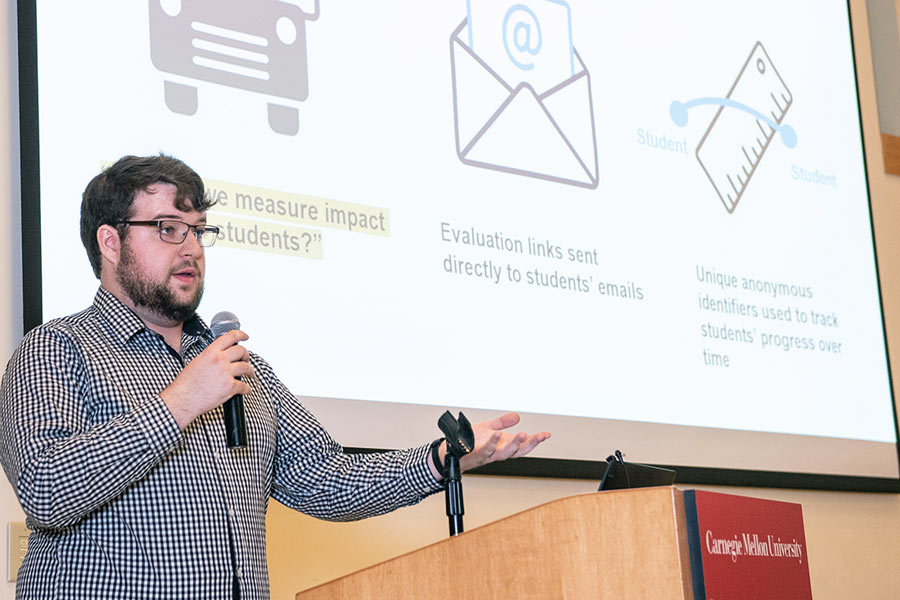 June 06, 2019
Information Systems Students Help 28 Community Partners
Carnegie Mellon University's Information Systems Program offers solutions to organizations faced with technical obstacles. For a consulting course, seniors are tasked with designing and implementing a usable information system for a real-world client.
"We have 28 community partners this term, which is the most we've ever had in our over two decades of running this program," Associate Teaching Professor Jeria L. Quesenberry.

Final presentations for the spring semester took place May 10 in Cohon University Center and involved the community partners.

Education was a common theme in the diverse array of projects, such as a learning assessment tool for Harrison Middle School's space travel simulator program called IKS Highlander.

The student team, made up of Xinwen Liu, Elizabeth Wang and Roxanne Zhang, developed a section of the IKS Highlander website dedicated to the learning analysis. The students devised a way to collect data in order to measure skill development and then display the results in graphs and infographics.

"We had an outstanding team. We were so impressed by the quality of their work," said Debbie Reynolds, a science teacher.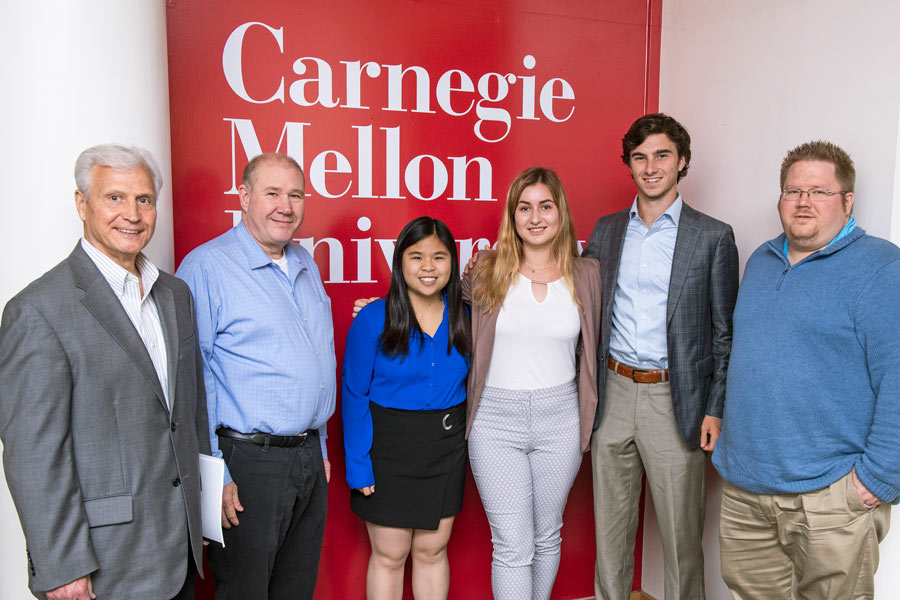 Information Systems students created a database and front-end website for Wesley Family Services, which provides behavioral healthcare and therapeutic support services that support the needs of children, adults and families. From left: Chris Kowalsky, faculty adviser; Larry Trenga, Wesley Family Services' Vice President, Information and Technology; Information Systems students Sandy Pan, Lera Neviadomska and Ryan Hoffman; and Aaron Richard, Wesley Family Services' Software Developer.

Students Ryan Fitzpatrick, Abbey Mui and Conlon Novak teamed up to develop a learning assessment tool for the Holocaust Center of Pittsburgh. Lauren Bairnsfather, the center's director, described the team's work as "publishable in our field" because other centers like hers seek to quantify the impact on visitors as a way to attract donors.

"Holocaust history is human history. In light of October's massacre at the Tree of Life synagogue, it is very important for our center to be able to connect the Pittsburgh community and beyond," Bairnsfather said.

For some projects, the students partnered with entrepreneurs to jumpstart startups.

Students Jonathan Fung, Ru Jia and Wilson Yu developed a proof-of-concept website for a new organization called Footbridge, founded by Kimberly Eckel, that sought to match financial resources to caregivers of children.

"To see this project go from an idea to something that now has come to fruition is really exciting," Eckel said.

This year's projects reached as far west as Alaska's Kodiak Island Borough School District, as well as addressed regional problems through community partners such as Operation Strong Mind, RedChairPGH and YMCA of Greater Pittsburgh.

The CMU Robotics Institute, 412 Food Rescue/CMU Machine Learning Department, and Spring Carnival were among the on-campus projects.

Quesenberry estimated that the 92 information systems students devoted a total of 16,560 hours to their projects over 15 weeks. She co-teaches the course with CMU's Martin Barrett, Larry Heimann, Chris Kowalsky, Divakaran Liginlal, Joe Mertz, Sara Moussawi, Julia Poepping and Raja Sooriamurthi.

"Collaborating with a team, solving real-world problems and giving back to the greater good of the community is a cornerstone of our educational mission," Quesenberry said.

An overview of all spring 2019 projects and details on how to become a community partner is available.

Pictured above: Information Systems student Conlon Novak presents his team's work with the Holocaust Center of Pittsburgh. The students created a system that easily allows visitors to the center to provide feedback on their experience and learning via pre- and post-visit assessments.