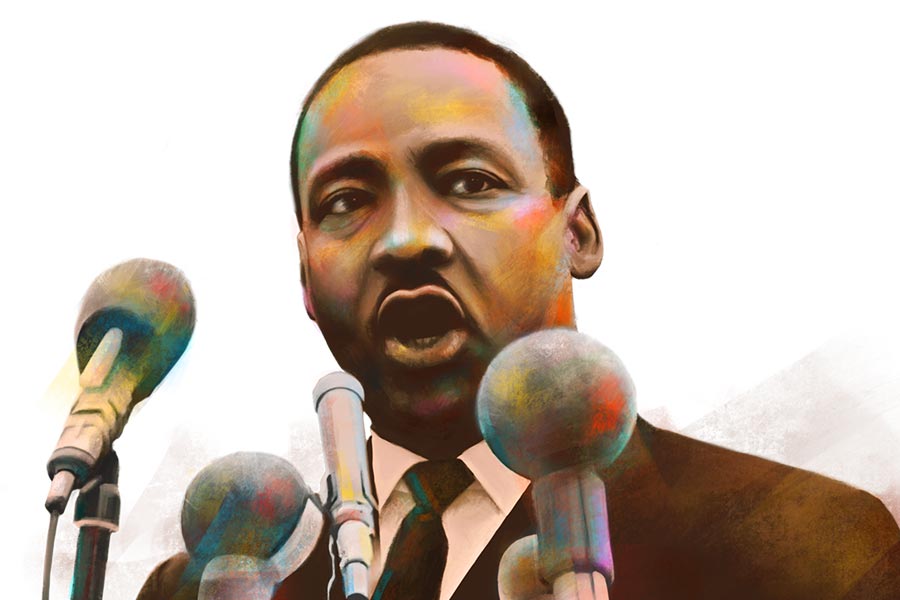 January 08, 2019
Martin Luther King, Jr. Day Writing Awards Reaches 20 Years
For two decades, thousands of high school and college students have put their personal experiences with discrimination in the spotlight as participants in the Martin Luther King, Jr. Day Writing Awards at Carnegie Mellon University.
What started as a small contest for a few Pittsburgh public high schools has expanded into a program that reaches hundreds of students across western Pennsylvania every year.
The scope of the awards continues to expand. This year, a record number schools were represented: 21 high schools and eight colleges and universities.
During fall 2017, an anthology, "Challenges to the Dream: The Best of the Martin Luther King, Jr. Day Writing Awards at Carnegie Mellon University," was published by CMU Press. The book features 91 pieces by 83 writers from the first 18 years of the awards program.
"When we started these awards, we had no idea that they would continue to exist, much less expand the way they have over the years," said Jim Daniels, the Thomas Stockham Baker University Professor of English and founder and director of the awards program. "I continue to be in awe of these powerful young voices speaking up against discrimination and injustice in our society."
The 20th Annual Martin Luther King, Jr. Day Writing Awards at Carnegie Mellon University will take place 5 p.m. on Monday, Jan. 21, in CMU's Cohon University Center Rangos Ballroom with a reception starting at 4:30 p.m. The event is free and open to the public.
The awards ceremony will feature the student winners reading their award-winning pieces and musical performances.
Notable poems and essays from the 2019 winners include "They Sat in the Back" by CMU's Hannah Daniel, 19, which was dedicated to the victims of the 2018 shooting at Tree of Life Synagogue. Daniel's poem won first place for college poetry and was one of three winning pieces that responded to the shooting.
We sat in the back.
We were 13 years old, itchy, tired, and we didn't want to be there.
We were anxious to leave our seats—
we sat in the back to sulk,
to count on our fingers how many more Saturday morning services
we would have to endure before we could check
the box for our b'nai mitzvot.
We picked at our nails,
but we sang the blessings because we loved them even still.
The minutes limped along.
We shifted in our dresses and our ballet flats that were getting a little too small.
Our stomachs rumbled as we waited for kiddush
and we sat in the back of the room.
They also sat in the back.
Our matriarchs, our door-holders,
the ones who had prepared our kiddush that morning.
The ones who knew the code to the building was the same year it was built,
the ones who drove us to this service.
They were the ones who sang in the choir,
the ones who taught your children their aleph bets.
They sat nearest to the entrance, the ones who walked with walkers.
The ones who parked right outside the temple doors to rest
their stiff backs on stiffer benches each Saturday morning.
The ones who have seen their children
and their children's children
through the sanctuary's doors.
They built this place up from the ground
and they sat in the back.
We did not want to sit in the front, where we might catch the eye of the rabbi,
where God might see our lips stumble on our prayers.
We sat in the back so we might easily slip out to use the bathroom,
to get a drink of water, to check the broken clock in the hall.
We sat in the back so that we could be the first to leave.
They sat in the back because they arrived early.
They were our living ancestors, our minyan makers.
They sat in the back and they knew your name
because they had been the first ones to welcome your family into the synagogue
with a warm hug and boker tov.
We sat in the back; we wanted to leave.
They sat in the back; they didn't have time.
Another highlight comes from Daevan Mangalmurti of Pittsburgh Obama Academy of International Studies, whose essay "Apu?" won second place for high school prose. Mangalmurti, 16, wrote about his classmates and the controversy around Apu Nahasapeemapetilon, a recurring character on "The Simpsons." The following is an excerpt from his piece.
"Charles told me it was inspired by Apu. I asked who Apu was. Damian asked me if I had never watched 'The Simpsons' before. I said no. And they all started laughing. And then one of them called me Apu. It was probably Richard. Funny, isn't it? I didn't understand it then. But I felt angry enough about it to be insulted, because this was not looking good. But I didn't know enough, and there wasn't anything I could do.
"So I went home, and I asked Google about Apu Nahasapeemapetilon. Name inspired by a beloved series of Bengali classic films. Not bad. A cartoon character with skin the color of turmeric and a fake Indian accent. Not great. Voiced by a white guy. Looking worse. Subject of an upcoming documentary on racism. Oh boy. How bad could this be, anyways? Pretty bad, it turns out. Calling me Apu is like calling a black man Sambo. And if no one of any decency uses the word Sambo in 2017, why does anyone use Apu? It's demeaning, it's insulting, and it assumes that all Indian people are the same and not worthy of their own individual characteristics by overshadowing them with a collection of negative American stereotypes of Indians. If you're an Indian-American kid growing up in a normal place with normal parents, Apu is a shadow hanging over you wherever you go, whatever you do."
The Martin Luther King, Jr. Day Writing Awards is sponsored by UPMC, Cohen & Grigsby, Hachette Book Group, Champtires, CMU's Center for Student Diversity and Inclusion, Dietrich College of Humanities and Social Sciences and English Department.
The 2019 Martin Luther King, Jr. Day Writing Award Winners
High School Prose
First Place: "The Fear of Queer"
Madison Katarski, 17
Pittsburgh CAPA
Second Place: "Apu?"
Daevan Mangalmurti, 16
Pittsburgh Obama
High School Poetry
First Place (Tie): "A Sacrilegious Seder"
Madeline Bain, 17
Pittsburgh CAPA
First Place (Tie): "Searching the Lines of My Palm"
Ilan Magnani, 16
Pittsburgh CAPA
Second Place: "Rebirth of a Nation"
Destiny Perkins, 17
Pittsburgh CAPA
Third Place: "My Black, My White"
Journey Washington, 17
Lincoln Park Performing Arts Charter School
Honorable Mention: "Rest in Power"
Jimmy Coblin, 17
Pittsburgh CAPA
Honorable Mention: "America"
Nadia Laswad, 15
Pittsburgh CAPA
Honorable Mention: "Said"
Aaliyah Thomas, 17
Pittsburgh CAPA
College Prose
First Place: "Bravery"
Qianou (Christina) Ma, 18
Carnegie Mellon University
First-year student, Science and Humanities Scholars
Second Place: "To Forgive the Choice of Writing in These Very Words"
Xinyi (Joyce) Wang, 21
Carnegie Mellon University
Senior, Bachelor of Computer Science and Arts
Third Place: "The Hill Between Us"
Eion Plenn, 20
University of Pittsburgh
Honorable Mention: "Something In-Between"
Maya Best, 20
University of Pittsburgh
Honorable Mention: "Childhood Innocence, Avatar, and a Mean White Woman"
Jivak Nischal, 18
Carnegie Mellon University
First-year student, Dietrich College of Humanities and Social Sciences
Honorable Mention: "To the Tiger Mother Who Nearly Ate Me Alive: Open Letters from an Adoptee"
Angelica Fei Li Amatangelo, 21
University of Pittsburgh
College Poetry
First Place: "They Sat in the Back"
Hannah Daniel, 19
Carnegie Mellon University
Sophomore, Biological Sciences
Second Place: "Happy Birthday, Laquan McDonald"
Joss Green, 20
Carnegie Mellon University
Sophomore, Drama
Third Place: "A Brief Life"
Ariana Brown, 25
University of Pittsburgh
Honorable Mention: "baby steps"
Amy Huynh, 21
University of Pittsburgh
Honorable Mention: "All who hold fast to it"
Sydney Roslin, 21
Carnegie Mellon University
Senior, Music and English
Honorable Mention: "I Have Two Names"
Julie Heming, 22
Carnegie Mellon University
Senior, English