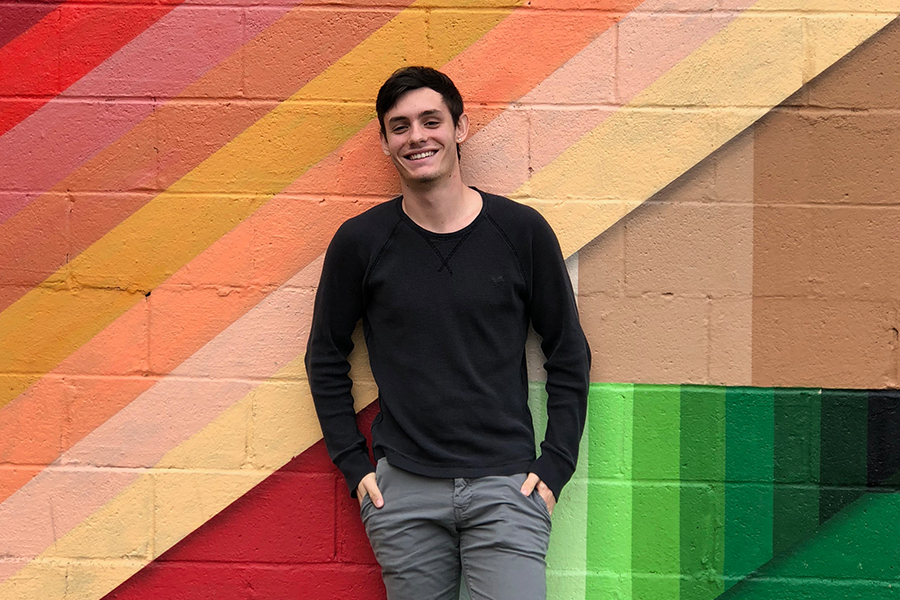 May 14, 2018
Meet #CMUGRAD Commencement Student Speaker Kevin Wainczak
For the past four years, Kevin Wainczak has immersed himself in a lot of what Carnegie Mellon University has to offer. Graduating with University Honors with a bachelor's degree in cognitive science and a minor in software engineering, Wainczak has been involved on campus in a variety of ways, ranging from a community adviser and resident assistant to a Student Government cabinet member. Additionally, he was the recipient of the CMU Greek Role Model Award for "excellence in scholarship, leadership, service and lifelong friendship."
These are some of the reasons that the soon-to-be Dietrich College of Humanities and Social Sciences graduate was chosen as the 2018 Commencement Student Speaker. Wainczak recently shared what he has loved about CMU as well as his plans for the future. 
What does it mean to you to be selected as the Commencement Student Speaker?
Being selected as the student speaker is a huge honor. Every member of the graduating class has had different experiences that lead us to commencement, and I want to use the honor of being the student speaker to recognize and celebrate that. The student speaker, to me, should reflect on our journey, celebrate our accomplishments and be hopeful for our futures. 
Why did you choose to attend Carnegie Mellon University?

I visited Carnegie Mellon University as a prospective student almost five years ago. Somewhere between stepping onto campus and leaving it to go home, something clicked. Maybe it was learning about the exciting research being done, hearing about the motivated students or the juxtaposition of Carnegie-era buildings and modern technology complexes. What I do remember was leaving campus and feeling hopeful. I thought to myself that if I had the honor of attending CMU and working hard, then my future would be mine to build. I just felt in my heart that CMU was the right place for me to come and pursue advanced study.  
What were you involved in throughout your undergraduate career at CMU? 
Throughout my undergraduate career, I touched a lot of areas on campus. Highlights include spending most of my time in residential education and in Greek Life. In residential education, I spent one year as a resident assistant in West Wing and one year as the community advisor for West Wing and Resnik. This year, I served as the community advisor for Hamerschlag and Scobell Halls.
I am a member of Sigma Alpha Epsilon and have held leadership positions in community involvement and philanthropy. I also served as the vice president for community standards on CMU's Interfraternity Council. My biggest accomplishment in Greek Life is the Pittsburgh Donut Dash, which I was the co-chairman of the event for 2017. Over the past four years, we raised over $500,000 for the Live Like Lou Center for ALS Research in honor of our alumni advisor, Bob Dax. 
I also was on the varsity track and field team as a pole vaulter for one year and spent one year on the student body president's cabinet. 
Are there any professors or advisers at CMU who have helped you reach any certain feats? If so, how did they help? 
Beyond academics and pushing me to achieve the goals I set for myself, there have been a few CMU professors who have been tremendous role models to me. They have demonstrated candor, resilience and care to me at various points throughout my college career, and I wouldn't be the man and scholar I am today if it were not for them. 
In particular, Roberta Klatzky, the Charles J. Queenan University Professor of Psychology, was my adviser and has been a supporter of mine since I wandered into her office during my first year. She has helped me to clarify my goals numerous times.
I will always respect and revere English Professor Barbara Johnstone for the way that she demonstrated kindness and composure in the face of adversity. She taught me very important life lessons by modeling this to our class. 
I also want to recognize Claire Le Goues and Michael Hilton in the Department for Software Engineering for the perspective that have been able to illuminate for me and for how I can always feel welcome going to their offices if I need support. 
These individuals have shown me that academic excellence is important, but not so important as being kind to one another.
What is your favorite memory as a CMU student?

My favorite memory as a CMU student came senior year when the Westboro Baptist Church came to campus to protest. Although it was discomforting to have them near our campus, I'll never forget how proud I was of our community for coming together to let them know that love overcomes hate. The way that our community celebrated our love for diversity, even in the pouring rain, was incredibly heartwarming. I felt such immense pride for Carnegie Mellon at that moment.
How do you feel a Carnegie Mellon education has prepared you for your next steps after graduation and for your future career?

Carnegie Mellon has taught me many lessons about working with others, which I couldn't have learned alone. I've come to greatly appreciate our diversity, about my place in my communities both locally and globally and how to show others I value them.
CMU has also helped me to reach my goals and to set goals that don't just help me, but help others in my community as well. Any university can teach these lessons, but at Carnegie Mellon, it stresses the importance of making a commitment. Having a commitment to achieving a goal means waking up every day being determined to work towards it.
With incredible peers and world-class professors, CMU has really taught me how to be ready for taking on the future.
What are your plans after graduation?
Although one day I hope to open my own brewery back in Pittsburgh, I'll be moving to Washington, D.C. after graduation to work for Deloitte. I'll be a business technology analyst and will be doing tech consulting for the federal government.
What advice do you have for future CMU students?

My advice for future CMU students is to wake up every day and be grateful that you are at an institution that wants you to succeed. Remember to always take the time to learn about other people. Speak honestly and openly about your hopes, dreams, successes and failures. Know that every day holds an opportunity to learn something and to grow as a person. College is a unique time in your life, and it's going to fly by. Carnegie Mellon isn't like any other university, and I recommend that you find what you love here and throw yourself into it. Sometimes the Pittsburgh skies are gray and assignments will get you down, but only we are lucky enough to be living and learning at CMU. Lastly, make sure you get out into Pittsburgh and explore what the city has to offer. I think Pittsburgh is one of the greatest cities in the world, and you shouldn't wait until your senior year to discover all it has to offer.