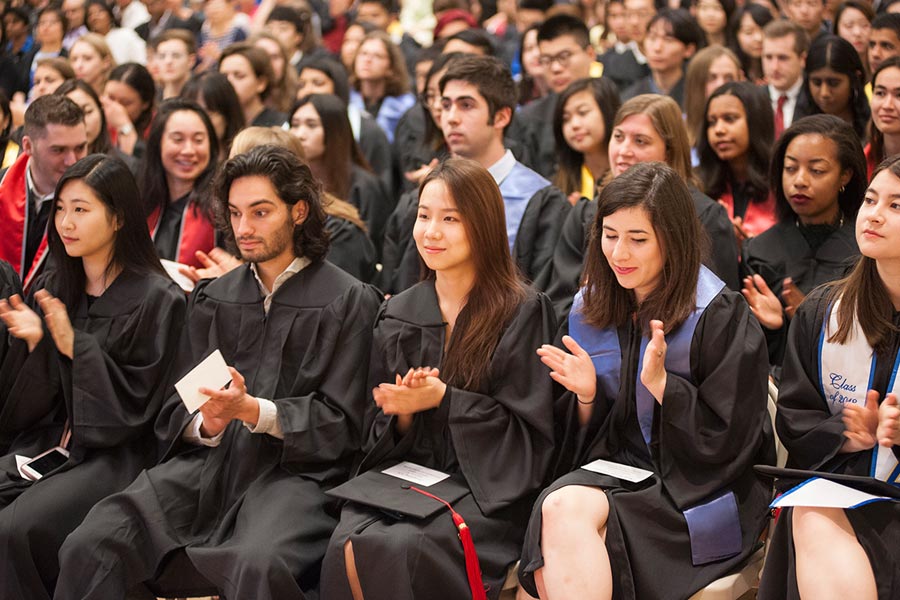 May 29, 2018
Dietrich College Honors Ceremony
By Shilo Rea
Nearly 170 students with majors in the Dietrich College of Humanities and Social Sciences graduated from Carnegie Mellon University with either university or college honors—and an astounding 22 students earned both.
Undergraduates with a 3.5 or higher quality point average (QPA) received university honors and students who completed an honors thesis as part of the college's Senior Honors Program received college honors.
"Graduating from Carnegie Mellon University is no small feat," said Richard Scheines, dean of the Dietrich College. "Graduating with honors is meaningful."
Associate Professor of History Lisa Tetrault, the winner of the Elliot Dunlap Smith Award for Distinguished Teaching and Educational Service, gave the keynote speech. She urged the students to think about graduation not as a destination, but a journey.
"Your diploma represents the journey and a series of skills that you will continue to build on," Tetrault said.
University and Dietrich College Honors
Isabel Bleimeister
Kyanna Dawson
Rachel Gomez
Stephanie Haber
Kimberly Hochstedler
Amber James
Yong Hwan Kim
Yeuk Yu Lee
Zeyneb Majid
Isabel Mccarthy
Maria Navarro-Gutierrez
Manvendu Navjeevan
Joshua Ragen
Mariana Saric
Sophia Weisman
Mikaela Wolf-Sorokin
University and Tepper School of Business Honors
Colleen Fang
Apoorva Havanur
Noopura Herle
Wenzong Jin
Ruoshu Liu
Ariana Mapua
Andrew Afable
Luis Arreaga
Ian Asenjo
Sarah Bender
Jacob Bittner
Andrew Bryan
Natalya Buchwald
Ian Campbell
Ji Eun Cha
Travis Chambers
Annette Chen
Qiang Chen
Sandy Chen
Ziyun Cheng
Yikun Chi
Lilian Chin
Sydney Choi
Eric Chow
Whittney Chu
Kiersten Chuc
Sameer Dhavalikar
Erin Dieringer
Cameron Dively
William Dively
Hyunji Do
Allison Drazba
Patrick Dykiert
Caleb Eddy
Margaret Edwards
Zachary Ettensohn
Connor Fitzgibbon
Sinead Foley
Sun Fong
Tony Francis
Julia Gnip
Jun Yong Go
Jeremy Goldstein
Akshay Goradia
Kevin Guan
Sebastian Guerrero
Grace Guo
Zihan Guo
Siqi Guo
Connor Hanley
Benjamin Hecht
Ansh Hirani
Kristen Hofmann
Renhao Hu
Mingwei Huang
Richard Huang
Brianna Hudock
Ji Hyon Hwang
Tori Iatarola
Simran Jagtiani
James Jameson
Hanyu Jiang
Korrawat Jianthanakanon
Yudi Jin
Kevin Kallukaran
Jessica Keast
Rebecca Kern
Do Sung Kim
Hye Jun Kim
Hyemin Kim
Hyun Hee Kim
Jun Hee Kim
Malkeunhae Kim
Brandon Lee
Eric Lee
Yuan Liang
Guannan Liu
Xiao Liu
Xingnan Liu
Zhuoran Liu
Fei Lu
Boxiang Lyu
Ryan Maha
Siddhardha Malladi
Jivika Mangwani
David Matvey
Rachel McKinney
Antonia Miller
Divya Mohan
Lauren Montgomery
Frederick Mun
Julien Naegeli
Thomas Nakrosis
Erin Nielsen
Ashwin Panda
Kun Peng
Pooja Penninti
Benjamin Pierce
Sarah Reyes Franco
Avi Romanoff
Ian Rosenberg
Maxim Sak
Matthew Salim
Mrinalini Samanta
Mark Saporta
Jade Schiffer
Meredith Schmehl
Abdusamed Sherif
Emma Shi
Sarah Shy
Cori Sidell
Ken Situ
Jordan Stapinski
Emily Su
Aileen Tan
Victor Tavarez
Imogen Todd
Isabelle Tseng
Alexandra Ulven
Jose Uribe
Meghana Valluri
Kevin Wainczak
Suren Wanasundera
Charles Wang
Jinyuan Wang
June Wang
Anne Widom
Kathryn Williams
Amanda Wilmer
Glen Wise
Jeneni Withers
Noa Wolff-Fineout
Johnny Wu
Zhuoyang Wu
Jie Xie
Yimin Xie
Stephen Yamalis
Shichen Yang
Christina Yuan
Christian Zeitler
Boyan Zhang
Zhuoya Zhang
Sally Zhao
Sophie Zhao
Yan Zhao
Winston Zhou
Rebeka Almasi
Ian Sears
Lauren Yan
Note: An earlier story on the Dietrich College Honors Ceremony reported that nearly 150 students graduated with honors. This number has been updated to include students who graduated in December 2017 and students from interdisciplinary degree programs who have primary majors within the college.