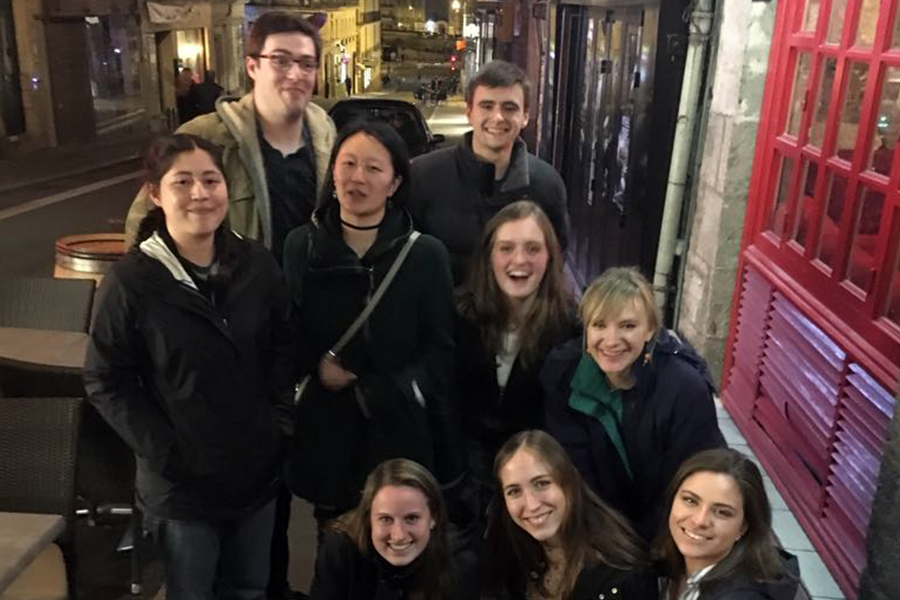 May 16, 2018
Classes Go Global
Whether on Carnegie Mellon University's campus, studying abroad or even on spring break, students, faculty and staff are constantly examining the ways in which the world works.
 
This semester, three groups traveled to France, Cuba and Northern Ireland as part of experiential learning opportunities. In each case, students documented their time abroad to create multimedia projects upon their return.
 
France
 
Under the guidance of Sébastien Dubreil, teaching professor of French and Francophone Studies, second language acquisition and technology-enhanced learning, students went from Pittsburgh to Nantes, France, where they explored every corner of the town to create a multimedia project on the French language and culture.
 
"This trip was a social linguistics course that examined the way French is being used in a variety of contexts and how these contexts—historical, political, cultural, social, societal— influence the way that language is being deployed," Dubreil said. "Students learned French through media creation as they had to adapt the language in their project to what they were trying to convey or explore."
 
The course's interdisciplinary nature allowed each student to choose a topic and mode of execution specific to their areas of interest.
 
Projects varied from analyzing how language affects cultures across professional and personal contexts to creating an interactive website featuring the Nantes Cathedral—one of the city's oldest artifacts. Another student created a VR-enhanced board game. One team even toured "Le Grand Elephant," a 60-foot-tall mechanical elephant housed in the Machines de l'Île and turned the exploration into a virtual reality experience.
 
Each of the multimedia projects will be on display in the new David A. Tepper Quadrangle.
 
Patti Kenner (MM'66) and the Indian Trail Charitable Foundation gave CMU $1 million to create a technology-rich global languages and cultures room in the new David A. Tepper Quadrangle. The interactive learning space will create a space for the Dietrich College of Humanities and Social Sciences and Department of Modern Languages in the new campus building as well as heighten the importance of languages, cultural awareness and the university's global profile.
 
"It's not like we get a grade and we're done," said Cristina Pullen, a first year professional writing major who took part in the course. "We're all now a part of this 'maker community.' We stay and we build on it to showcase our creations, and I think that sort of encompasses what Carnegie Mellon does."
 
She continued, "There are a lot of universities where you go to class and then you leave. But here, instructors give you the tools to create, and that's a big thing that separates Carnegie Mellon from other schools."
 
Cuba
 
Last year, Ralph Vituccio, associate teaching professor in the Entertainment Technology Center, and filmmaker Andres Tapia-Urzua created a transformative documentary-making course that took students to Camagüey, Cuba.
 
The course returned for a second year in a row, this time taking 10 students out of their element and into the streets of Cuba to capture what makes the country unique through an interactive documentary.
 
Students spent the week behind the camera, detailing various cultural aspects of Camagüey, including working artists, street life, dance, music and interviews with locals.
 
"The class research, the dialogue and the fact that media acquisition was done in Cuba exposed our students to a culturally diverse environment within a new daily narrative outside of their comfort zones," Vituccio said. "It is their own representation of Cuba."
 
Vituccio continued, "In many ways the production aspect of the class was really, as my colleague Randy Pausch used to say, a 'head fake.' The real learning occurred in the transformation the students experienced on a much deeper and personal level. They all came back to CMU as different people. They're more mature, reflective and truly inspired by a people a culture that few Americans have the privilege of experiencing. Each one of my students has described their time in Cuba in the same way: a life-changing experience."
 
For many taking the course, this was their first time being involved in a documentary from start to end. The students shot, edited and translated the video. They also designed the interactive elements of the documentary and all art assets.
 
"In Cuba, what we did as a class was more than just filmmaking, it was deeply personal to look into the hearts and minds of the people of Camagüey," said Connor Hanley, a senior information systems major. "I'm so excited and proud of what we did, because our documentary gives each visitor a chance to experience Cuba in their own unique and intimate way. I will never forget the memories and the friendships that I made in Cuba and hope that someday my life brings me back there."
 
Northern Ireland
 
"Art, Conflict and Technology in Northern Ireland" was taught for the third year by John Carson, professor of art, Jennifer Keating, assistant dean for educational initiatives in Dietrich College, and Illah Nourbakhsh, the K&L Gates Professor of Ethics and Computational Technologies.
 
The class took students to Belfast and Derry, also known as Londonderry, in Northern Ireland where they learned about the strife and post-conflict reconciliation efforts associated with Northern Ireland. Northern Ireland's high profile internationally monitored peace negotiations have served as a focus for research and artistic production, in the United Kingdom, Ireland and abroad since the 1960s.
 
"The idea is to bring the curriculum to life for the students," Keating said. "We want the students to see and understand the ways in which sectarianism influences the building of these cities and how inhabitants and tourists navigate them.  Students learn that there are also interruptions to these narratives of sectarian division, that there are other groups whose participation in civic life and contributions to artistic practice also shape the long contested history in the region."
 
The course aimed to immerse students in the exploration of visual and literary art that conceptualizes, contends with and criticizes narratives associated with Northern Irish violence, development of democratic processes, individual and group identity formation and the influence of evolving technology on these social and political phenomena.
Pictured above: One group of students traveled to Nantes, France to learn French through media creation.