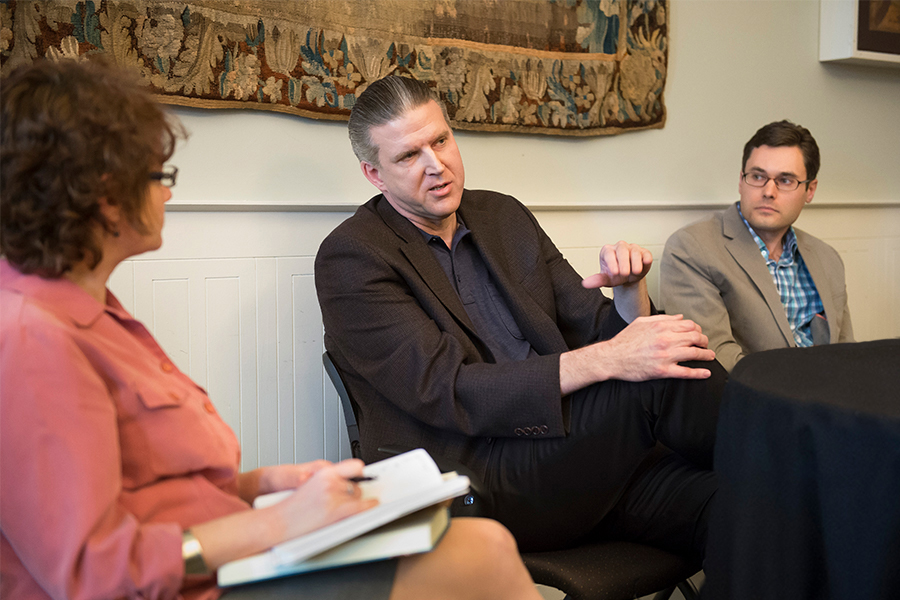 April 25, 2018
English Professors' Research Tackles Race and Citizenship
By Ann Lyon Ritchie
Media Contact Shilo Rea 
"Ideas with a spine" is the motto for a new series of events from Carnegie Mellon University's Department of English. They are designed to focus on topics of substance and timely social questions tied to new faculty books as well as engage the university and broader communities.
The first event, Book Salon: Race & American Progress, was a roundtable format and drew a crowd of students, faculty and staff from multiple departments. Andreea Ritivoi, professor and head of the English Department, and Kathy M. Newman, associate professor of English, moderated the discussion. Doug Coulson and Gregory Laski sat for a conversation on topics related to their recent publications, both of which investigated racial themes in the nineteenth and early twentieth centuries.
Coulson, assistant professor of English, wrote "Race, Nation, and Refuge: The Rhetoric of Race in Asian American Citizenship Cases," published by SUNY Press. Laski, visiting assistant teaching professor, authored "Untimely Democracy: The Politics of Progress After Slavery" from Oxford University Press.
"Based on the attendance, the event successfully reached out to others in the various disciplines at CMU. It's important in the English Department—as well as in the humanities in general—that faculty let others know about our work when it clearly has a broad audience," said Rich Purcell, associate professor of English.
A former civil trial lawyer, Coulson discussed immigration trials between 1870 and 1940 when individuals needed to prove their status as either "a free white person" or "aliens of African nativity and persons of African descent" in their defense for U.S. citizenship.
"The U.S. formed the Bureau of Naturalization in 1906, and it surprisingly took a very political interpretation of the legislative language. Asians for example considered themselves 'free white persons' eligible for citizenship, but others objected. The court records present arguments on both sides," Coulson said 
Laski's work reviewed literature after the Civil War. He presented the period's authors as storytellers on the timeline of American democracy and examined some of the fundamental assumptions underlying the political system.
In her welcome, Newman introduced "Untimely Democracy "as "centered on African American authors but really about American politics and American progress." 
"Laski's book asks from the point of view of the 19th century, why have we made so little progress on racial equality since slavery, and why has the case for reparations failed," Newman said. 
The Book Salon served to celebrate the publications, but it also emphasized discussion as a way to engage people in the topics. 
"The late 19th century is an interest of mine, but less has been published about it compared to other time periods, such as the Civil War era or the turn-of-the-century," said Sandra Kruse, a graduate student in literary and cultural studies.
Kruse added, "This was good opportunity to learn more about the culture of that time, while also becoming more familiar with the faculty's work." 
Although both books delved into historical texts, they brought insight to issues of race and national belonging that surface in the contemporary dialogue of Americans and the media.
"We are interested in showcasing the research and scholarship in the humanities that is not only deeply erudite, deeply historical and informed by theories, concepts and methods in the field but also research that speaks very directly to some of the biggest challenges of our time," Ritivoi said.
The English Department plans to offer Book Salon events twice a year. 
Order "Race, Nation, and Refuge." "Untimely Democracy" is available for a 30 percent discount using promotion code AAFLYG6.
Video: Book Salon: Race & American Progress
Pictured above: English Department Head Andreea Ritivoi (left) talks to Professors Doug Coulson and Gregory Laski about research from their latest books.