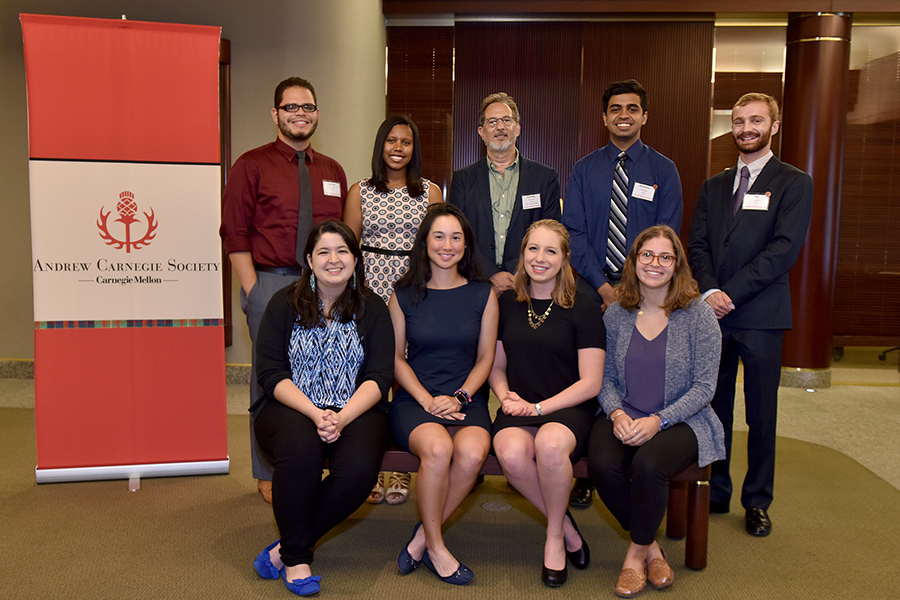 October 12, 2017
Eight Dietrich College Seniors Named Andrew Carnegie Society Scholars
The Andrew Carnegie Society (ACS) Scholars Class of 2018 has been announced—and eight seniors from the Dietrich College of Humanities and Social Sciences have been selected.
ACS Scholars are Carnegie Mellon University undergraduate students who combine high academic standards with extracurricular activities, such as volunteering, playing sports, taking on leadership roles and participating in student organizations and the arts.
Ian Asenjo
Asenjo is a primary major in global studies with an additional major in ethics, history and public policy (EHPP). This summer, Asenjo explored his passion for Punjabi culture and studied, under the supervision of History Professor Nico Slate, the collective memory of the anti-Sikh pogroms of 1984. Asenjo interpreted the memory of these traumatic events in Sikh-Indian history by analyzing paintings, films, music, theater performances and poetry. Asenjo previously worked as an intern with the Washington Office on Latin America (WOLA), where he researched and composed briefings regarding human rights violations and government corruption. On campus, Asenjo is the captain of Carnegie Mellon Bhangra, a South Asian folk dance team that competes in the national circuit. 
Apoorva Havanur 
Studying statistics and machine learning with an additional major in economics, Havanur was president of CMU's MoneyThink, an organization dedicated to teaching high school students in low-income areas of Pittsburgh lessons of financial literacy and how to make smart financial decisions. Havanur is also a member of the Quantitative Social Sciences Scholars Program, was a resident adviser and led a team that placed first in the Tartan Data Science Cup. A recent data science intern with Facebook, Havanur spent his summer collaborating with cross-functional groups on WhatsApp, Facebook, and Messenger as well as senior data scientists within Growth Infrastructure Contacts Team at Facebook. Havanur previously interned with IBM Watson Health's innovations team.
Kim Hochstedler
An All-American swimmer, statistics and data science student, Hochstedler keeps herself busy. Hochstedler, who has an additional major in psychology, uses her resources at CMU and experience as a survivor of Hodgkin's Lymphoma to pursue studies on how social interactions change or impact adolescents and adults experiencing adverse health events or illnesses. This summer, Hochstedler completed an internship with the National Institute of Health's Epidemiology Branch in the National Institute of Child Health and Human Development. Hochstedler serves on the Student Athlete Advisory Committee, both at university and conference levels. She has also done research in the Psychology Professor Vicki Helgeson's Gender Research and Health Lab and volunteered with Camp Kesem, a camp for children whose parents have been diagnosed with cancer. Once Hochstedler graduates this spring, she plans to apply to Ph.D. programs in biostatistics.
Amber James
James majors in technical writing and has a minor in biomedical engineering. She volunteers with CMU Emergency Medical Services and is president of CMU's chapter of the Global Water Brigades, a non-profit organization dedicated to developing and implementing clean water projects in communities with little or no access to safe drinking water. As part of the organization, James traveled to Honduras and Nicaragua where her team dug trenches for the pipelines to the water systems, educated children in the community about hygiene and learned about Latin American culture. Inspired by this experience, James spent four weeks over the summer volunteering at a clinic in Guatemala, which has sparked her interest in public health and to pursue a career in medicine in underserved communities. James plans to pursue a career in the field of global health, for those in underserved communities. 
Maria Navarro-Gutierrez
As a global studies major with an additional major in professional writing and a minor in Hispanic Studies, Navarro-Gutierrez "thinks big through small interactions." Navarro-Gutierrez has worked with youth in Pittsburgh and devoted two summers to teaching and mentoring low-income students in New Mexico. Additionally, Navarro-Gutierrez became involved in CMU's FORGE, an organization that works with resettled refugees in Pittsburgh. Through FORGE, Navarro-Gutierrez was introduced to and became a leader for Juntos, an organization that travels to Nicaragua to assist with sustainability projects. 
Cori Sidell
Sidell is a decision science major with a minor in business administration. She is the co-president of the Department of Social and Decision Science's Student Advisory Council, where she organizes and participates in events such as the Internship Panel, SDeStress (a social event during finals week to help students relax and recharge), the Research Talk (several SDS faculty are invited to talk with students about their research and research opportunities) and SDS's Waffle Registration Brunch. Within the university, Sidell serves as the events chairwoman on the executive board of the Student Athletic Advisory Committee. Sidell spent the summer working as a digital marketing intern for First Republic Bank in San Francisco, where she focused on enhancing the effectiveness of various marketing strategies and assisted with a cloud-based digital marketing email campaign to strengthen customer engagement. Outside of the classroom, Sidell represents the Tartans through the varsity tennis team. She is a two-time All-American and recently became the 12th player in Tartan women's tennis history to record 100 combined wins. 
Victor Tavarez
Tavarez is majoring in international relations and politics with an IDeATe minor in innovation and entrepreneurship. Tavarez is currently working with Institute of Politics and Strategy Lecturer Geoff McGovern on an honors thesis that researches the relationship between community developers (philanthropies, politicians, business owners, etc.), pay equity and tactics used such as applied enthnography. Tavarez has previously participated in the CMU Washington Semester Program and interned with the U.S. House of Representatives in the Office of Representative Nydia Velasquez and the Committee on Small Business. He has also interned with the Ford Foundation as a project management intern in their Democracy, Rights, and Justice Department. On campus, Tavarez is involved in the Roosevelt Institute, the Call to Action Committee and the Social Impact Coalition.
Mikaela Wolf-Sorokin
Wolf-Sorokin is a Hispanic Studies major, with an additional major in global studies. For the past two summers, Wolf-Sorokin has worked as an intern with the Political Asylum and Immigration Representation Project (PAIR) in Boston, where she conducted intake interviews with asylum seekers and immigrants in detention, interpreted for lawyers and Spanish speaking clients during meetings and mock hearings, and helped to draft declarations and prepare country conditions research. On campus, Wolf-Sorokin has acted as president of FORGE and as an undergraduate representative for the Dietrich College Council.
Pictured above: Dietrich College ACS Scholars are pictured with Dean Richard Scheines