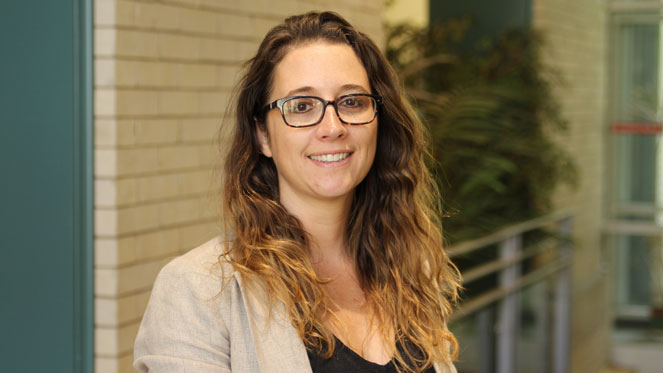 May 19, 2017
Danielle Wenner to Explore Ethics and Exploitation in Brocher Residency
By Emily Stimmel
Is it ethical to "rent out" a disadvantaged woman's womb? What can scientists do to ensure the autonomy of clinical research subjects? These are just a couple of the questions on the mind of Carnegie Mellon University's Danielle Wenner.
Wenner has been selected to participate in the Brocher Summer Residency Program in Geneva, Switzerland, where she will spend July 2018 working on a project titled "Non-Domination and the Limits of Relational Autonomy."
She will examine autonomy in transnational gestational surrogacy agreements and in international clinical research, and the relationship between autonomy and the role of social determinants of health—including socioeconomic status and education level—in public health policy.
"A large subset of my research is about the exploitation of disadvantaged and oppressed groups, a subject that often intersects with discussions about what it means to 'respect' someone's autonomy," said Wenner, an assistant professor of philosophy and the associate director of CMU's Center for Ethics and Policy (CEP). 

Wenner added, "Traditional ideas of autonomy rely on an individualistic understanding of the person, but I believe the goals that autonomy supports are better reached by promoting the neorepublican conception of 'freedom as non-domination' – freedom that is not subject to the whims of others."
She addressed this theme in a recent graduate seminar, Autonomy, Freedom & Non-Domination. Wenner also teaches undergraduate courses including Social & Political Philosophy, Philosophy of Law and Global Justice. 
Alumna Jessica Wallach (DC'16) only took one course—Health, Development & Human Rights—with Wenner during her senior year at CMU, but said that Wenner is one of the top two professors who have influenced her academic and career aspirations.
"Dr. Wenner challenged every assumption I had about the real world application of human rights theory, which in turn catalyzed a deeper level of thought in me that I carry with me at my current job at the International Center for Research on Women. I ground a lot of my thinking on issues such as child marriage and gender-based violence in the ethical frameworks she taught me," said Wallach, who majored in international relations and politics and African Studies and works in global health, youth and development. "I admire Dr. Wenner's research because she focuses on the tangled problem of how to translate human rights into real world obligations and impacts. The questions she addresses are increasingly important as globalization intensifies."

The residency is sponsored by the Brocher Foundation, a Swiss non-profit that supports research on the ethical, legal and social aspects of medical developments and public health policies. The foundation hosts scholars from disciplines including law, anthropology, history, bioethics and philosophy to develop research and collaborate with each other and experts from the World Health Organization (WHO) and World Trade Organization (WTO).
"A summer residency at Brocher is a tremendous honor," said Alex John London, professor of philosophy and director of the CEP. "Some of the past recipients are among the most accomplished scholars in ethics and health. It is also a tremendous opportunity for both scholarship and impact: Professor Wenner will have a month of focused time to advance critically important research on autonomy and non-domination in a place where she will have ready access to a broad range of international and non-governmental organizations that are stakeholders in practices her work will address."