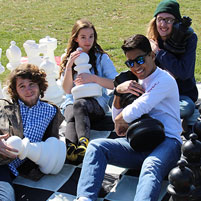 March 27, 2017
Dietrich Day Trivia Answers and Photos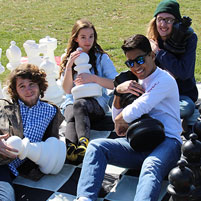 By Shilo Rea
The Dietrich College of Humanities and Social Sciences hosted Dietrich Day on Thursday, March 23. 

"#CMUDietrich Day," as it was called on social media, began with Discover Dietrich, an event that showcased the college's academic opportunities. Then, students, faculty and staff spent the afternoon celebrating on the CFA Lawn.

Therapy dogs stopped by, and giveaways and games were played, including giant board games and trivia about the college.


Trivia Questions and Answers:
The Dietrich College has pioneered many majors who were the first of their kind, such as the English Department's B.A. in creative writing and B.S. in technical writing. Launched this year, what new major is also the first of its kind?
Behavioral Economics, Policy and Organizations (BEPO)
Name the department that is considered one of CMU's fastest growing because its undergraduate majors' size  has tripled since 2010 and grown twenty-fold since 2005.
P.S. The Statistics Department's Undergraduate Program is not only one of the fastest-growing at CMU, it's one of the most rapidly expanding programs anywhere.
How many books did Dietrich College Faculty edit and publish in the last year?
50

Each of CMU's schools has its own mascot that is a mythical beast. These beasts are displayed on banners at Commencement. What is the Dietrich College's mascot?