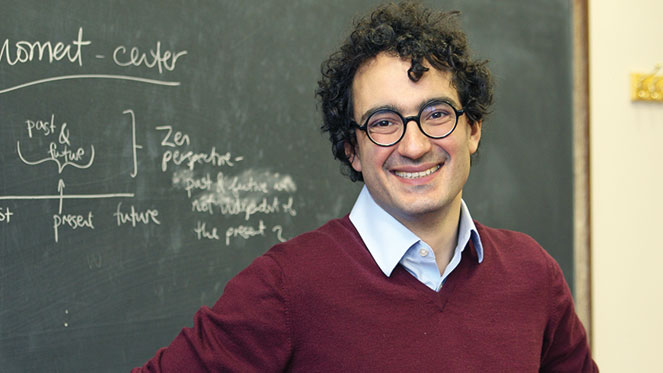 January 18, 2017
Complex Social Systems Expert Joins Social and Decision Sciences Department
By Ann Lyon Ritchie
Simon DeDeo, an expert in social complexity and a mathematician, has joined Carnegie Mellon University's Department of Social and Decision Sciences (SDS).
Driven by new theories and big data, DeDeo uses empirical evidence and mathematical models to reveal how people connect and interact, and how those ways change over time. His investigations shed light on the dynamic systems that make up our cultural, business and political worlds.
DeDeo, an assistant professor, will teach SDS courses, such as "Social Complexity" and "Bubbles, Norms and Revolutions," where students will study society, culture and human behavior from pre-history to the deep future while applying methods in statistical analysis and data modeling.
"We are delighted to have Simon DeDeo join SDS and add to our existing strength in complex social systems. I anticipate that colleagues from just about every department on campus will find a connection to his very interesting research," said Linda Babcock, head of SDS and the James M. Walton Professor of Economics in the Dietrich College of Humanities and Social Sciences.
Examples of his recent work include the detection of a shift in morals and tolerance in an analysis of early British court records and an exploration of Wikipedia as a channel for understanding cooperation and argument. The BBC's 2016 documentary Joy of Data features DeDeo among interviews with leading data scientists.
DeDeo comes to CMU from the Sante Fe Institute, where he was first an Omidyar Postdoctoral Fellowship recipient and then an external faculty member, and Indiana University's College of Informatics and Computing, where he taught in the cognitive science program and led the Laboratory for Social Minds.
Born in London to American parents, DeDeo has lived on four continents. He earned an A.B. in astrophysics from Harvard University, a master's degree in applied mathematics and theoretical physics from Cambridge University and a Ph.D. in astrophysics from Princeton University.
For the first ten years of his career, DeDeo studied galaxy formation and the origin of structure and matter in the universe. He described this time as a "Golden Age of Cosmology" where access to valuable data and advanced instruments fueled discoveries. But when digital technologies gave rise to new insights, DeDeo sought to apply his experience in vast datasets to the mysteries of human society.
"The study of human behavior is a new frontier. We have completely new ways to look at what people do, why they do it, how they do it and what happens when they do it. The questions are as old as history itself, but the answers we can give today have revolutionary implications," he said.
DeDeo's recent TedX "Play, Where Ideas Come From" prepares scholars for inquiry and discovery.