February 27, 2017
Senior Sarah Gutekunst Takes You #BTS of Her Final Semester
By Sarah Gutekunst (DC'17)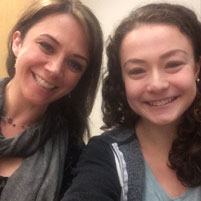 There's no shortage of impressive news coming out of the Dietrich College of Humanities and Social Sciences. There's faculty research, student projects and awards and features on alumni who are doing really cool things — plus all of the lectures hosted by both faculty and visiting experts.
Naturally, the Dietrich College social media channels want to shout out those accolades to followers everywhere. But what about the average aspects of life in Dietrich College? That's something I am going to help shine the light on, so to speak, by taking you behind the scenes (#bts) of my last semester.
I'm proud of the work I do here, in and out of the classroom. Not only am I excited to share that work with the community, I'm even more excited to see what you share back. I've started posting about "ma vie quotidienne" as a senior in my last semester with a major in professional writing and minors in linguistics and French and Francophone Studies, using the hashtags #CMUDietrich and #bts.
For the rest of the semester, I'm taking over the Dietrich College Instagram account to share a peak into my life.
One aspect that is especially important for me to share is my Senior Honors Thesis. All year I've been interviewing fellow Carnegie Mellon students about a recipe that their grandma is known for. Not only do we talk in depth about the familial narratives surrounding those meals, we eat them! Then I get to go back and "analyze my data" into a compelling story that captures the spirit of that grandma. For me, this is #undergradresearch.
According to Tim Haggerty, director of the Humanities Scholars Program and one of my mentors since day one in the Dietrich College, "For the humanities and the students in our Senior Honors Program, it is a win-win situation: feedback and dialogue can only enrich and improve these projects, and social media can help form a community of scholars on campus."
No matter what your life outside of class looks like, whether it's research, student organizations, concerts or cooking, I hope you, my fellow Dietrich College students, will join me in sharing how diverse and fascinating our #bts lives are.
Get Involved
Share your own behind-the-scenes posts with the hashtags #CMUDietrich and #bts.
When you see my #bts posts, like them and let me know what you think in the comments.
The above picture is a selfie I took with Jennifer Keating, assistant dean for educational initiatives, at a recent College Council meeting.