February 24, 2017
Discover and Celebrate the Humanities and Social Sciences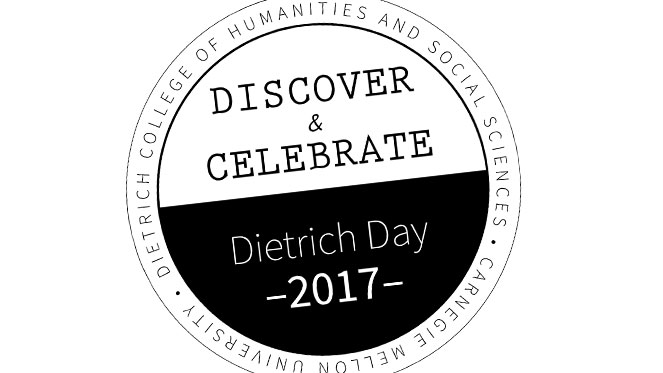 The Dietrich College of Humanities and Social Sciences will host Dietrich Day on Thursday, March 23.
The daylong event will begin with Discover Dietrich from 11:30 a.m. – 12:30 p.m. in Baker Hall's Coffee Lounge. Open to the entire campus community, all of Dietrich College's academic departments, in addition to the Humanities Scholars Program (HSP) and Quantitative Social Science Scholars (QSSS) Program will be on hand with project poster presentations on projects from faculty and students and information about upcoming courses, majors and minors. There will also be refreshments and a chance to win a prize from the CMU bookstore for any student who attends.
"Discover Dietrich is an ideal place for any student at CMU who is thinking about an additional major or minor to learn more about what Dietrich has to offer," said Ana Maria Ulloa-Shields, assistant dean and director of the college's Academic Advisory Center. "We are eager to showcase all of the great work that the academic departments are doing and to expose the humanities and social sciences to those who may have not previously considered Dietrich as part of their academic path. We offer classes, majors and minors that can be a great fit with majors from all the colleges at Carnegie Mellon."
Dietrich Day will culminate in the afternoon with Celebrate Dietrich. Dietrich College students, faculty and staff will enjoy food and games on the CFA Lawn from 2:30 p.m. – 4:30 p.m. Activities will range from a nacho bar to a photo booth and oversized board games. There will be a chance at prizes for students and giveaways for all who attend.
In case of inclement weather, Celebrate Dietrich will take place in the lower level of Baker Hall.
Anyone attending Dietrich Day events is encouraged to share photos on social media using the #CMUDietrich hashtag.
Discover Dietrich will include:
Academic Departments
Economics
Majors
Economics
Economics and Statistics
Economics and Mathematical Sciences
English
Majors
Creative Writing
English
Professional Writing
Technical Writing and Communication
History
Majors
Global Studies
Social & Political History
Information Systems
Major
Institute for Politics and Strategy
Major
International Relations and Politics
Modern Languages
Majors
Chinese Studies
French and Francophone Studies
German Studies
Hispanic Studies
Japanese Studies
Russian Studies
Philosophy
Majors
Ethics, History and Public Policy
Linguistics
Logic and Computation
Philosophy
Psychology
Majors
Cognitive Science
Neuroscience
Psychology
Social & Decision Sciences
Majors
Decision Science
Policy and Management
Statistics
Majors
Economics and Statistics
Statistics
Statistics and Machine Learning
Special Programs