February 27, 2017
Dietrich College Hires Director of Diversity and Inclusion
By Shilo Rea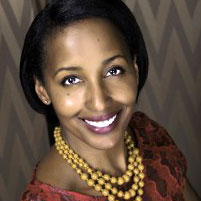 Ayana Ledford has joined the Dietrich College of Humanities and Social Sciences as director of diversity and inclusion.
Ledford is a seasoned expert in creating and implementing programs to recruit and retain minorities and women. She participated in Dietrich's College Conversation in November and is excited to help with a number of suggestions that came out of that conversation. Examples of those include finding or creating training programs for faculty, students and staff that are useful in our context and organizing and facilitating ongoing conversations involving issues of race, gender and religious discrimination.
"We have a lot of work to do, but I am extremely grateful to have Ayana's help in doing it," said Richard Scheines, dean of the Dietrich College.
Ledford has spent more than 10 years designing, executing and evaluating programs to increase the diversity of leadership and talent in academia, nonprofit and corporate sectors. She is the founding executive director of the Heinz College's Program for Research & Outreach on Gender Equality in Society (PROGRESS), which develops programs that create a culture of excellence for all employees. Ledford will continue to lead PROGRESS on a part time basis.
Prior to PROGRESS, Ledford served as a community specialist for Wireless Neighborhoods and the Bloomfield-Garfield Corporation and focused on ways to close the educational achievement gap in economically challenged communities. She has given over 500 presentations on gender equity, diversity and inclusion for a wide range of audiences.
Ledford will work with Jennifer Keating, assistant dean for educational initiatives, who is already working on faculty hiring.