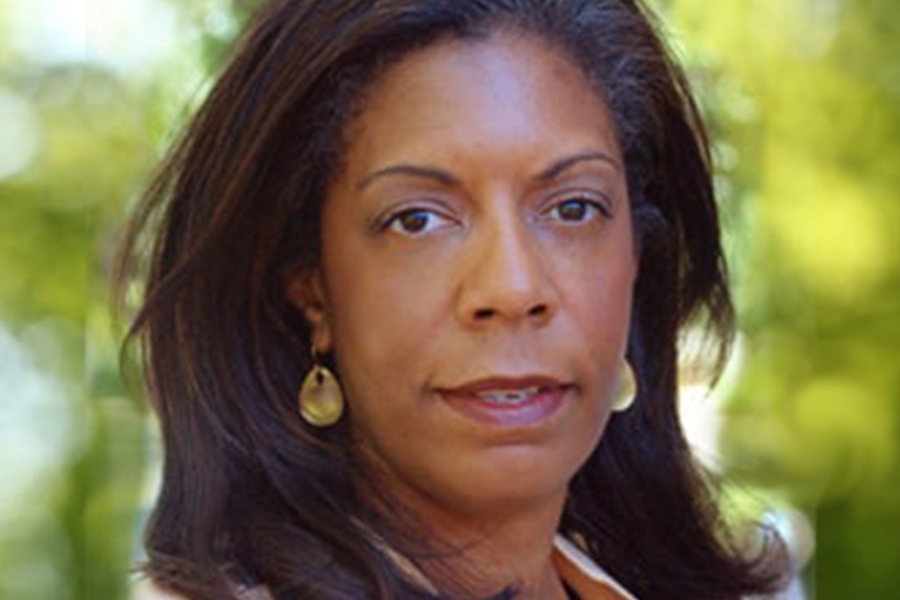 December 02, 2017
DoD Appoints Kiron Skinner to Defense Policy Board
By Shilo Rea

U.S. Secretary of Defense James N. Mattis has appointed Carnegie Mellon University's Kiron Skinner to the Defense Policy Board. The board provides the secretary, deputy secretary and under secretary for policy with independent, informed advice and opinion concerning matters of defense policy. 
Skinner, founding director of the Institute for Politics and Strategy in the Dietrich College of Humanities and Social Sciences, is a renowned expert in national security and foreign policy. She recently was named the Taube Professor of International Relations and Politics.
Secretary Mattis tapped J.D. Crouch, a former assistant to the president and deputy national security advisor and currently the chief executive officer and the president of the United Services Organization, to chair the Defense Policy Board. Four additional members were also announced: Wanda Austin, Making Space, Inc; Eric Cantor, Moelis & Company; David McCormick, Bridgewater Associates; and James Talent, American Enterprise Institute. 
They will join returning members Madeleine Albright, Rudy deLeon, Michèle Flournoy, Jamie Gorelick, Jane Harman, Henry Kissinger, Frank Miller, William Perry and Adm. (Ret) Gary Roughead.
Skinner joined CMU in 1999 and is also a distinguished fellow of CMU's CyLab and holds courtesy faculty appointments in Heinz College and the Institute for Software Research.  She served on President Donald Trump's transition team's executive committee, and the teams for the National Security Council and the State Department.
CMU's Institute for Politics and Strategy, which was launched by Skinner in 2015, serves as a center for research, undergraduate and graduate education, and university-wide initiatives in the fields of political science, international relations, national security policy and grand strategy. 
At Carnegie Mellon, Skinner also directs the Center for International Relations and Politics, Washington Semester Program and Institute for Strategic Analysis, a joint effort between Dietrich College, College of Engineering, Heinz College, School of Computer Science, and the Software Engineering Institute. She co-created CMU's Master of Information Technology Strategy program, which provides a multidisciplinary education focusing on cybersecurity issues, decision-making challenges and international security.
Skinner currently serves as special adviser to Admiral John Richardson, the Chief of Naval Operations, is a member of the Council on Foreign Relations, a life director of the Atlantic Council, and is a research fellow at the Hoover Institution at Stanford University. From 2001-2007, she was a member of the U.S. Defense Department's Defense Policy Board as an adviser on the wars in Iraq and Afghanistan.
She is the co-author, along with political scientists Serhiy Kudelia, Bruce Bueno de Mesquita and Condoleezza Rice, of "The Strategy of Campaigning: Lessons from Ronald Reagan and Boris Yeltsin," which is now used in political science courses at leading research universities. She authored "Turning Points in Ending the Cold War," a landmark work in international history featuring a collection of essays by leading American and Russian statesmen and scholars. She co-authored the New York Times best sellers "Reagan, In His Own Hand" and "Reagan, A Life In Letters." She is a frequent contributor of opinion essays and has written for CNN.com, National Review online, The New York Times, The Wall Street Journal and the Washington Post. 
In October, Fox News Channel signed Skinner as a contributor to offer both foreign policy and political analysis across FNC and FOX Business Network's daytime and primetime programming.
Skinner earned masters and doctoral degrees in political science and international relations from Harvard University and undergraduate degrees from Spelman College and Sacramento City College. She received an honorary doctor of laws degree from Molloy College in Long Island, New York.