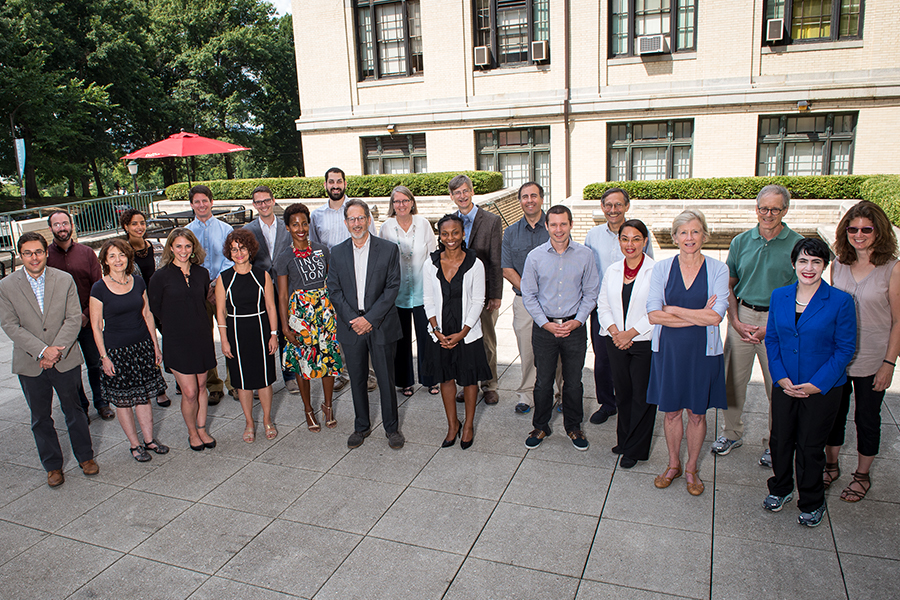 August 30, 2017
Introducing the Dietrich College's Newest Faculty Members
The Dietrich College of Humanities and Social Sciences' community of scholars has grown by 16. Professors and researchers in a variety of disciplines are joining a world-class faculty with a shared passion for their students.
Department of English
Noémie Ndiaye, Assistant Professor of English
"Representations of Islam in Early Modern England" and "Race in Early Modern European Drama" will be taught by Ndiaye this semester. Her research focuses primarily on early modern theater across Europe (England, France, Spain) with a particular focus on racial representations.
"For a scholar interested in theatrical performance in a comparative framework like me, the interdisciplinary strengths of CMU offer unique possibilities for research and teaching," she said. "I am excited to work with colleagues and students from various departments within the Dietrich College and the School of Drama, as well as colleagues at the forefront of Digital Humanities. I believe that, together, we can launch projects that will contribute to increasing the study, translation, and performance of amazing yet little known early modern texts."
Others may be surprised to learn... "I grew up wanting to be a preacher, then I went to acting school and considered an acting career prior to getting my Ph.D., and here I am now. Maybe it is not so surprising after all."
Stephen Wittek, Assistant Professor of English
This fall, Wittek will teach "Shakespeare: Comedies and Romances," and "Early Modern Theatre, Conversion, and Digital Humanities." A diverse and intellectually robust atmosphere is what made Wittek want to teach at CMU. He is most excited to get to know his students and colleagues better.
Others may be surprised to learn… "I started my academic career as a journalism major, and worked as a journalist for short period of time."
Jason England, visiting assistant professor of English, has also joined the department.
Department of History
Noah Theriault, Assistant Professor of Anthropology
Theriault is offering "Introduction to Southeast Asia," which explores the region's diversity and history as a "global crossroads." Future courses will take inspiration from his other areas of interest, including political ecology, environmental justice, and Indigenous rights. Theriault was drawn to CMU by its global stance as a unique blend of technical, creative, and scholarly excellence, as well as the "passionate yet down-to-earth vibe" he sensed during a campus visit. Theriault sees CMU as an ideal environment for collaborating across disciplines and engaging with pracitioners. Besides getting to know his new colleagues and students, Theriault is most excited by opportunities to engage local communities in his research and teaching.
Others may be surprised to learn… "I speak two Philippine languages–Tagalog and Palawan–and am eager to meet others who speak (or are learning to speak) languages from the archipelago."
Department of Modern Languages 
Katharine Burns, Visiting Assistant Teaching Professor of Hispanic Studies
An applied linguist, Burns will be teaching "Language Diversity and Cultural Identity" as well as Elementary Spanish I and II this fall. Burns is most excited to be working with a passionate, engaged community of colleagues at the top of their fields.
"You often hear about the divide between STEM and the Humanities," Burns said. "But the prospect of working at CMU is exciting because students and faculty here understand that this is often an artificial dichotomy and that interdisciplinary study across these so-called boundaries is a wonderful source of strength."
Others may be surprised to learn… "I once sea kayaked my way through the Apostle Islands National Lakeshore, which is off the northern coast of Wisconsin in Lake Superior. We camped on the islands at night and could take only what fit in our kayaks. The water was just above freezing, even though it was August!"
Department of Social and Decision Sciences
Gretchen Chapman, Professor of Psychology
Chapman is most looking forward to teaching courses in her core area of interest– decision making– to students who will push her to think more deeply about her field. She now directs the decision science major and will teach "Behavioral Decision Making," one of the major's core courses.
On why she's excited to be here, Chapman said, "CMU is one of the premier centers of decision science in the world: a place where psychologists, economists, and researchers from related disciplines collaborate to understand the cognitive and behavioral processes that underlie decision making and to apply our models of decision making to policy, health, consumer behavior, and other high-stakes settings."
Others may be surprised to learn... "My undergraduate thesis project involved training goldfish."
Daniel Oppenheimer, Professor of Psychology
Oppenheimer is teaching two courses this fall, "Introduction to Psychology" and "Human Intelligence and Human Stupidity."
Most excited by the community aspect of CMU, Oppenheimer is looking forward to getting to know his students. "I really wanted to be at a school that emphasized personal relationships between the students and the faculty," Oppenheimer said.
"I wanted to be at a school where I could actually get to know my students. The students at CMU are so smart and talented in so many ways, and I'm really looking forward to getting to know them."
Others may be surprised to learn... "I have a habit of giving themed talks at academic conferences, including Star Wars, Star Trek, Harry Potter, and James Bond. I also have a habit of sneaking ridiculous citations into peer reviewed journals, including Count Chocula, Chicken Run, and American Idol... (I have a paper currently under review citing the "wigs for dogs" Amazon page. Fingers crossed...). But this wouldn't surprise anybody who's ever actually worked with me."
Department of Statistics & Data Science
Matey Neykov, Assistant Professor of Statistics and Data Science
In his first semester at CMU, Neykov will offer an undergraduate course on statistical graphics and visualization that focuses on how to visualize data efficiently and how to interpret and critique statistical graphs.
"It is always a rewarding experience to teach," Neykov said. "Especially when the bar is set by the young and bright CMU undergrads."
He continued, "I am excited and humbled to be joining a team of world-class statisticians, brilliant students and extremely friendly and helpful staff."
Others may be surprised to learn... "A recent low-likelihood event which happened to me was that I able to catch a pick thrown by Kirk Hammett during a Metallica concert at the Metlife Stadium in New Jersey. This was my second Metallica concert."
April Galyardt, Adjunct Professor of Statistics and Data Science
A statistician and research scientist, Galyardt came to CMU in January. Teaching "Modern Regression" this fall, Galyardt is excited to continue to the work she's been involved in since winter, which is designing and conducting learning analytics for cybersecurity training.
Others may be surprised to learn... "I practice judo and aikido."
Jiebia Wang, Post-Doctoral Researcher
Coming from the University of Chicago, Wang is more excited about the research environment at CMU and in Pittsburgh.
Others may be surprised to learn... "I like biking and collecting postcards and stamps."
Nynke Niezink, Assistant Professor of Statistics and Data Science
Joining CMU in spring 2018, Niezink will teach "Undergraduate Research," a course in which students gain experience using statistics in real research problems. The intersection of statistics and real-world problems is where Niezink enjoys working most.
"Carnegie Mellon is a great and exciting place for interdisciplinary research," Niezink said. "I look forward to contributing to the vibrant community in the Department of Statistics and Data Science."
Others may be surprised to learn... "I enjoy exploring nature and I like sailing. On the Wadden Sea, with a tidal range of 2 meters, the water never looks the same; sometimes it is there, sometimes it is not."
Susan Buchman, Adjunct Professor of Statistics and Data Science
Having received her Ph.D. in statistics from CMU in 2012, Buchman will return to campus in the spring to co-teach the data analysis project course for the Master's in Statistical Practice program.
"My Ph.D. was the catalyst for all the rewarding and engaging work I've been fortunate enough to do since then," Buchman said. "While I'll support students wherever they may want to land, the Pittsburgh job market is always looking for more talented statisticians and data scientists, so I look forward to helping develop the people to fill that need."
Others may be surprised to learn... "I almost became a lawyer– after finishing undergrad with a math degree, I spent a few months as a trainee patent attorney before realizing it was definitely not for me."
Dalene Stangl is also a new teaching professor in the department.
Institute for Politics and Strategy
Daniel Silverman, Post-Doctoral Fellow
This fall, Silverman will teach courses on research methods and design in the International Relations and Politics program. His research centers around public opinion, violent conflict, and the politics of the Middle East and wider Islamic world.
The motivation of students is what drew Silverman to teach at CMU. Another factor for Silverman? The interdisciplinary nature of the university.
"One attractive feature of CMU is that it really seems to toss the traditional disciplinary boundaries out the window," Silverman said. "In that sense, I am excited to join a great interdisciplinary melting point of scholars studying human behavior."
Others may be surprised to learn... "I was in two acapella groups in college—though they probably pale in comparison to the ones available here!"
Takiyah Harper-Shipman, Post-Doctoral Fellow
Harper-Shipman's fall teaching schedule contains a mini-course on international development: theory and practice. In the spring, Harper-Shipman will teach a course on contemporary debates in human rights and another mini-course on gender and development in Africa.
The caliber of students at CMU and their ability to make the classroom a transformative space is why Harper-Shipman wanted to teach at CMU. She's excited about the potential relationships that she will build with student, faculty, and the local community.
Others may be surprised to learn... "I'm not a student here! Because I look pretty young, I'm often mistaken as an undergraduate."
Giorleny Altamirano Rayo, Post-Doctoral Fellow
Teaching "Globalization, International Organizations, and International Law" this fall, Rayo is most excited to get to know her students and help them achieve their goals. Award-winning faculty, the city of Pittsburgh and high quality students brought Rayo to CMU.
Others may be surprised to learn... "I traveled to the northwestern border of the Brazilian Amazon."