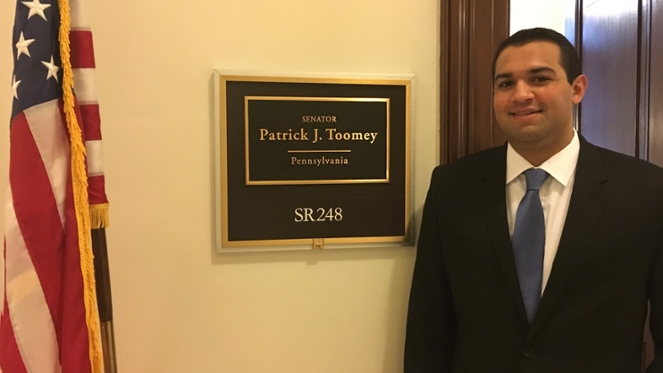 April 27, 2017
Program Takes Students Behind the Scenes in D.C.
By Emily Stimmel
Students in Carnegie Mellon University's Washington Semester Program (WSP) get to explore the United States capital while completing coursework and internships with D.C.-based organizations.
"CMU's Washington Semester Program provides undergraduates with a comprehensive experience in our nation's capital. Students learn, live and work alongside statesmen, scholars and policy makers," said Kiron Skinner, director of the Institute for Politics and Strategy in the Dietrich College of Humanities and Social Sciences, which sponsors the program. "It is a truly transformative experience."
As an intern for U.S. Senator for Pennsylvania Patrick J. Toomey, junior Kellen Carleton has been working on the senator's national security, foreign policy and healthcare teams. He attends and reports on briefings, researches options to reduce healthcare spending and helps manage the office's correspondence with constituents.
"They actually spend a great deal of time and thought taking their constituents' issues into account when making decisions," said Carleton, a policy and management major.
One of Carleton's goals for the semester is to deepen his understanding of how the government operates.
"It is fascinating to me that there are so many pieces that must come together for something to get done," he said. "I find it extremely rewarding that I am able to contribute to policy that will hopefully affect people in a positive way."
According to Skinner, Carleton's experience is common among students who participate in the WSP.

"They have a deeper and clearer sense of the policy process after spending a semester in Washington, D.C.," she said.
Billy Rielly, special assistant in the senator's office and Carleton's supervisor, has worked with CMU interns before. He is consistently impressed by their work ethic and political knowledge and the WSP's immersive nature.
"Kellen accomplishes any task without complaint and is not afraid to speak up when meeting with senior level staff," said Rielly. "The WSP provides students with the ability to gain a thorough understanding of the political and policy-making world through hands-on experiences. Students can learn so much from interning in politicians' offices, including valuable experience in writing, communications and strategy."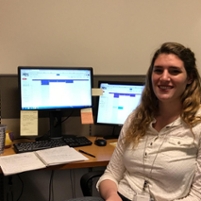 But there is more to Washington than politics.
Junior Eliza Donohue has been working behind the scenes at the United States Holocaust Memorial Museum, assisting with events and program management for the museum's marketing and national operations department. She is gaining real-world experience by updating the museum's website and attending high-profile events like the premiere of Jessica Chastain's new film, "The Zookeeper's Wife."
"I have found it really rewarding to watch myself start as a novice intern and find my place at work," said Donohue, a social and political history  and policy and management double major.
Donohue's manager, Christine Sonnabend, has witnessed her growth firsthand and believes that the WSP is valuable because it exposes students to life beyond their campus.
"Eliza has impressed me with her willingness to jump in and do any task, to be so upbeat and cheerful on a daily basis and with the quality of her work," said Sonnabend, project manager at the museum.

"Students can learn so much from experiencing all Washington, D.C. has to offer – from culture to politics," she added.
Though Donohue finds it challenging to balance work, school and the city's attractions, she is getting the most out of her time in Washington.

"I have been able to go to many Smithsonian museums, the Arlington Cemetery, the Pentagon and Mount Vernon, and I get to pass the National Monument, Capitol, Library of Congress and Supreme Court as I make my daily walk from work to class," she said.