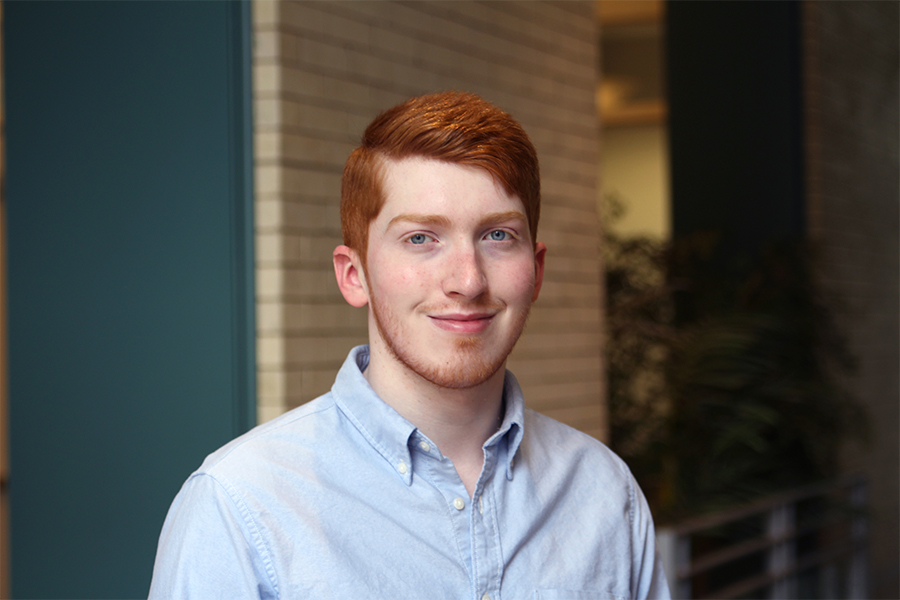 April 24, 2017
Legacy Scholarships Leave Lasting Imprints
By Ann Lyon Ritchie
When Peter Brady arrived at Carnegie Mellon University four years ago, he was used to working while going to school and thought that would continue during college. However, Brady, who will graduate in May with degrees in economics and international relations and politics, was awarded an Andrew Carnegie Society Legacy Scholarship.

The news left Brady feeling very honored — and relieved.

He said the scholarship allowed him to focus on the academics, and when it came time to find a job, focus on that.

"It definitely helped to not have to worry about paying for college," Brady said.

Legacy scholarships are special because they allow donors to immediately support current students like Brady. And donors have the option to get to know the scholarship recipient.

For Francis Matten (DC, TPR '81), a sales manager for Goldman Sachs Asset Management, multiple reasons inspired him to fund a Legacy Scholarship.

"There was a confluence of the university asking for my gift, and I felt it was the right time. My own two children were getting ready to go off to college and it made me think how I could help other children," Matten said.

Matten also believes firmly in liberal studies after seeing how courses he took in psychology, writing and other disciplines help him become a better professional. A charter financial analyst since 1990, Matten often applies his interdisciplinary background and psychology degree to understand his clients and develop better working relationships.

"I specifically wanted my scholarship to help someone trying to get a liberal arts education at Carnegie Mellon because I see the difference it's made in my career every day," he said.

The decision to give can also be deeply personal. David Hounshell, the David M. Roderick Professor of Technology and Social Change in the Dietrich College of Humanities and Social Sciences, created a scholarship to honor two faculty members who had mentored him at CMU. Through the gift, he honors their sense of character, the high quality of their work and their leadership in their respective fields.

"It would be my hope that recipients pay it forward, eventually, when they have the opportunity," Hounshell said.

Brady credits the scholarship for having a positive impact on his campus experience. He felt validated that others appreciated his academic efforts and community involvement, and he gained a boost of self-confidence. He took on more leadership roles in classes and group work and projects.

"Over the past four years I've determined the kind of person I want to be. I've gained valuable skills for both my work life and personal life. I've appreciated how CMU helped me figure out who I was," Brady said.

Brady has accepted a position as a business analyst at Wayfair in Boston after graduation.

"In the future after I'm more established in my career I hope I have the opportunity to give back to the school and the students, like someone did for me," he said.

For more information about Andrew Carnegie Society Legacy Scholarships, contact Liz Cooper.