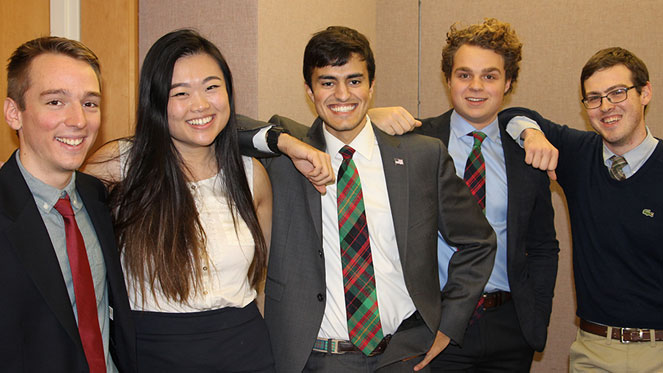 September 29, 2016
Career Fairs, Networking Opportunities and More Professional Development Events
Contact: Shilo Rea
It is never too early to start thinking about different career and professional options. Carnegie Mellon University and the Dietrich College of Humanities and Social Sciences host and coordinate various events throughout the year to help students network, learn about internship and other opportunities, meet with employers and much more.
Bookmark this page! It will be updated with new events and more information as they become available.
Tartan Talks
Beginning Oct. 17, 2016
An informational interviewing program for undergraduate students who wish to connect with CMU alumni and gather informa¬tion about a job, career field or company culture. Learn more.
Take a Tartan to Work
Beginning Oct. 17, 2016
A job shadowing program that provides opportunities for undergraduate students to explore career fields by visiting a host professional at their business or organization for one day. Learn more.
Career Guidance: New Course Explores Options, Helps Students Prepare
Beginning Oct. 26, 2016
Planning the transition from college to career can be intimidating and overwhelming. A new fall course will equip sophomores and juniors with tools to help forge unique professional paths. In the "Pathways: Dietrich College Career Exploration Seminar" mini course, students will meet alumni, learn about their career trajectories and use their stories to inspire their own professional development plans. Find out more and register.
Under Construction
Nov. 19, 2016
Considering how many (more than 30) and how different (creative writing to cognitive science) the majors are within the Dietrich College, it is not surprising that college's alumni have gone onto successful careers in almost every industry and field imaginable. What isn't as clear is how they did it. This event helps Dietrich College students explore all of the possibilities and create a network of alumni contacts.
Find out which Dietrich College alumni are returning for the event.
Learn about the panel sessions.
Adulting101
Dec. 6, 2016 from 12 – 1 p.m.
A webinar-style event focused on transitioning from college to living independently. Topics will cover everything from landing your first job to negotiating job offers and surviving those first six months after graduation.
Career & Internship Connection Fairs
Jan. 6, 2017 – Boston
Jan. 10, 2017 – New York City
Jan. 12, 2017 – Washington, D.C.
The Career and Internship Connections are collegiate hiring events in New York, Boston and Washington DC. Held each year during the first two weeks of January, students from 18 prestigious colleges and universities meet with employers through a morning career fair and afternoon interviews. Perfect for entry-level and intern hiring in fields including business, communications, law, health and science, government, nonprofit and education. Find out more.
Internship Showcase
Jan. 26, 2017 from 4:30 – 6:30 p.m.
Rangos Ballroom, Cohon University Center, CMU
Connect with other students to learn what a great internship experience can do for your job search. Learn more.
Jumpstart
Feb. 2, 2017 from 5 – 7 p.m.
Rangos Ballroom, Cohon University Center, CMU
A networking fair designed exclusively for freshmen and sophomores. Connect with employers and find out what they're looking for when hiring for jobs and internships. Find out more.
Encompass Career Fair
Feb. 7, 2017
Weigand Gym, CMU
A career fair open to all majors. Learn more.
Additional Resources