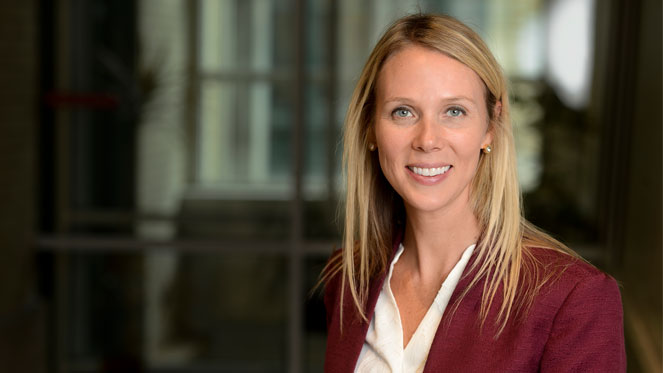 October 31, 2016
Dietrich College Hires Associate Dean for Advancement
By Shilo Rea
Carnegie Mellon University's Dietrich College of Humanities and Social Sciences has hired Elizabeth (Liz) Cooper as associate dean for advancement.
In this newly created role, Cooper will lead the Dietrich College's individual giving and alumni programs and coordinate them with the university's overall fundraising and alumni efforts.
"I am excited, both to have Liz join the college and to have an office of advancement for the first time in the college's history," said Richard Scheines, dean of the Dietrich College. "Liz brings great energy, enthusiasm and experience to the job, and I very much look forward to working with her. This will transform Dietrich College's future. It will not happen overnight, but it will happen."
Cooper spent the past nine years in a variety of leadership and fundraising roles at the University of Pittsburgh. Most recently, she served as the senior executive director of university development, where she was responsible for expanding and overseeing the individual giving division of the department.
Previously, Cooper held the positions of director and then senior director of constituent relations and where she managed the fundraising and alumni relations for Pitt's School of Social Work and oversaw the constituent relations programs in the Graduate School of Public and International Affairs, Education and Information Sciences. At Pitt, she managed and engaged with donors at all levels and secured many six and seven figure gifts.
Before Pitt, Cooper managed and directed fundraising, parent and alumni relations at the Gilman School Development Office in Baltimore, Maryland and the West Nottingham Academy Development Office in Colora, Maryland. She earned her bachelor of arts in English from Dickinson College and a master of education in higher education administration from the University of Pittsburgh.
"I am excited to lead the Dietrich College of Humanities and Social Science's advancement program," said Cooper. "I look forward to partnering with Dean Scheines, members of the faculty, University Advancement and especially the alumni to secure the Dietrich College's bright future. Dean Scheines and the University Advancement team have recently made tremendous strides - generating fundraising successes and engaging alumni. Together, we will build on these successes to take the Dietrich College to even greater heights."
Cooper will officially join Carnegie Mellon on Nov. 9.