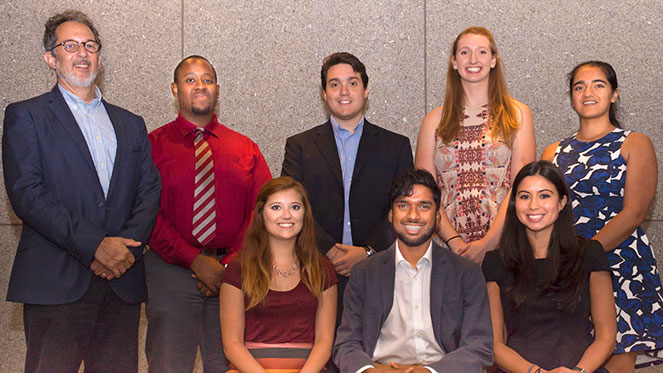 October 10, 2016
Andrew Carnegie Society Scholars Announced
The Andrew Carnegie Society (ACS) Scholars Class of 2017 has been announced – and eight seniors from the Dietrich College of Humanities and Social Sciences have been selected.
ACS Scholars are Carnegie Mellon University undergraduate students who combine high academic standards with extracurricular activities, including volunteering in the community, playing sports, taking on leadership roles and participating in student organizations and the arts.

Emmett Eldred
Eldred is a creative writing major with additional majors in professional writing and ethics, history and public policy (EHPP). Beyond his academic pursuits, he has held internships every semester at CMU – most notably his position as a legislative intern for Congressman Brendan Boyle. In this role, he assisted Boyle by researching and writing memos and portfolios on issues that were central to the congressman's agenda. Another example of his dedication to activism, social justice and leadership is his founding of the CMU chapter of College Democrats of America. As president of the chapter, Eldred has raised political awareness among students by registering them to vote, hosting roundtable discussions and bringing political speakers to campus. A contributing editor of the Messenger—the national magazine of the Church of the Brethren—Eldred has advocated for changing church policy towards same-sex marriage and recognizing the impact of climate change. He also runs the student reading series and helps coordinate the visiting authors' series in the Department of English.
Emily Helfer
Helfer is a statistics and machine learning major and will be one of the first female students to receive the new degree. As a teaching assistant for the statistics course, Experimental Design, Helfer serves as a role model for other undergraduate TAs, leads labs and hosts office hours. Through one notable project, she worked to identify environmental factors that contributed to decreased attention spans in young children and built models that could be used by public school teachers to modify their classrooms to improve learning outcomes. Outside the classroom, Helfer plays the clarinet. She has also established a reputation as a leader within CMU's Greek community, offering mentorship to women across CMU's various sororities. Helfer leads philanthropic efforts and, as education head, ensures that sorority members adhere to academic standards both within CMU and at the national level.
Emily Joyce
Joyce is an international relations major with an additional major in Hispanic Studies. Through student organizations, volunteer efforts and study abroad opportunities, Joyce has focused her time and attention on issues of human rights and immigration. Since her first year at CMU, Joyce has been a leader of the campus organization FORGE (Facilitating Opportunities for Refugee Empowerment); she currently serves as an adviser to its new leadership. Every weekend since her freshman year, Joyce has met with a local Bhutanese family to help them learn English and adjust to life in the U.S. Joyce has also taught English in the Dominican Republic, worked in a human rights non-profit in Argentina and studied abroad in Colombia. A varsity athlete, Joyce has participated on CMU's cross country and track team since her first year. She appreciates the team as both an athletic outlet and an opportunity to meet other students with diverse perspectives and interdisciplinary backgrounds.
Dhruva Krishna
Krishna is an EHPP major with an additional major in professional writing. Since his freshman year, he has been in the Humanities Scholars Program, which launched his interest in pursuing interdisciplinary research. Krishna blended his love of Shakespeare with economics and linguistics as a SURG scholar. And he is currently combining his academic interests with his passion for music. As president of CMU's Activities Board, Krishna leads an 18-person team to curate programming—including films, lectures and comedy acts—for the student body. In addition to being a multi-instrumentalist, he works as a booking agent for FoundSound Music, a startup that supports the local music scene. As a 2016-2017 Dietrich College Honors Fellow, he is further exploring the Pittsburgh independent music scene through his senior honors thesis. The project, "Do D.I.Y.," examines the ways that advances in technology have affected the music industry. He hopes to expand on his thesis research by traveling to events like South by Southwest (SXSW) to gather new perspectives for a documentary film.
Lisa Murphy
Murphy, a psychology major, balances her studies with extracurricular activities including the Mortar Board and Psi Chi honors societies and CMU's women's basketball team. She has always wanted to work with young children and, in high school, discovered a love of psychology. The confluence of these passions is what sparked her interest in becoming a special education teacher. In pursuit of this goal, she has maximized her time as an intern at The Children's Institute's autism support day school and outpatient speech and language therapy program, and in inclusive classrooms at the Environmental Charter School. Murphy's excellence in the classroom is matched by her performance on the basketball court. Starting at center as a first-year student, she has become the all-time scoring leader in the history of the women's basketball team and has been named the national Division III player of the week on many occasions.
Alexandra Pasch
Pasch is an international relations and politics major with an additional major in EHPP. In the spring of her sophomore year, Pasch participated in the Carnegie Mellon University Washington Semester Program (CMU/WSP), where she gained important leadership skills. Pasch was regarded as an excellent collaborator and team member during her internship with the U.S. Senate Foreign Relations Committee and she participated in a graduate level internship with the U.S. Mission to the European Union in Brussels, Belgium, where she was acknowledged for her strong work ethic. She is active in organizations on campus as president of CMU's Pre-Law Society, vice president of membership in her sorority, vice president of CMU's Amnesty International chapter and a Dietrich College student ambassador. Off campus, Pasch volunteers for Service for Sight, which supports schools for the blind and visually impaired, and has worked with Global Medical Brigades. She was recently admitted to the inaugural class of the Accelerated Master of Science in International Relations and Politics and will complete her master's degree in 2018.
Gujri Singh
Singh is an economics major with minors in business administration and social and political history. She viewed her undergraduate years at CMU as an opportunity to immerse herself in the campus culture through academics and a broad range of extracurricular activities. One way she is doing this is through a senior honors thesis comparing the socioeconomic impacts of the United States' war on drugs with international models that treat drug abuse as a health problem rather than a criminal offense. Singh is also very involved in the residence life, student life and Greek communities at CMU. She has served as an orientation counselor, a first year mentor, an Andrew Ambassador, a Sleeping Bag Weekend host and the house chairman for the Kappa Kappa Gamma sorority. Singh has completed competitive internships with firms including BlackRock, JP Morgan Chase & Co. and PNC Bank, and she has volunteered with community organizations including Strong Women, Strong Girls and a local temple where she has taught Sunday School for eight years.

Rob Stephens
Stephens is a global studies major with an additional major in international relations and politics. In addition to excelling academically, he has taken an active role in campus life, working as a resident assistant (RA) and for the CMU Telefund and holding leadership positions in Alpha Sigma Phi and Students for Intercultural Understanding. He has also pursued the study of two challenging languages—Arabic and Russian—as a way to enhance the study of international relations. This past summer, Stephens received a Friedman Fellowship to support a research internship with the Potomac Institute for Policy Studies, where he gained firsthand experience monitoring international terrorism. This complemented his previous internship on the national security and international policy team of the Center for American Progress. Along with Alexandra Pasch, Stephens was recently admitted to the Accelerated Master of Science in International Relations and Politics program.
Learn more about the ACS Program.
Pictured above: Seven ACS Scholars are pictured with Dietrich College Dean Richard Scheines.