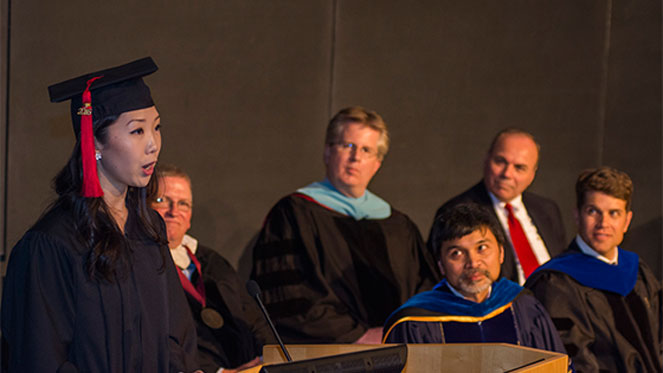 May 21, 2016
Phi Beta Kappa Inducts 65 CMU Students
By Emily Stimmel 
Thirty Dietrich College of Humanities and Social Sciences seniors were among 65 students inducted into Carnegie Mellon University's chapter of the Phi Beta Kappa Society (PBK) during Commencement weekend.
The nation's oldest honor society, Phi Beta Kappa has chapters at 286 institutions of higher education across the country. Formed from the initials of the Greek motto "Philosophia Biou Kybernetes," which translates to "Love of wisdom, the guide of life," PBK values intellectual honesty and tolerance. Only one percent of college students nationwide receive an invitation to join the prestigious honor society.

The initiation ceremony included a keynote presentation from Michael Murphy, vice president for campus affairs. Murphy has been a part of the CMU community since 1982, first as a graduate student, and later in various roles within the Division of Student Affairs.

Murphy urged the students to attack real-world problems in meaningful ways.
 
"Whether you become a titan of industry, a master poet or musician, a curer of disease, or simply the best eight grade math teacher PS42 ever had, you are a difference-maker," Murphy said. "The world needs you. I am delighted that they are about to have you."

In addition to presenting the keynote speech, Murphy was elected for honorary membership in PBK.
 
Spring 2016 Students Initiated into Phi Beta Kappa:

Oz Amram, Physics
Jenna Asperslag, International Relations and Politics
Jacqueline Barnes, Creative Writing and Art
Francesca Begos, English and Music Performance
Zack Birnbaum, Mechanical Engineering
Amanda Broderick, Biological Sciences/Neuroscience Track
Yiqun Cao, Business Administration
Andersen Chang, Statistics
Blake Chasen, Business Administration and Creative Writing
Gabriella Cottiero, Chemistry
Amelia Crigler, Computer Science
Zachary Dell, Physics
Rosa Floreak, Decision Science
Rachel Fowler, Business Administration (General Management)
Nathaniel Fruchter, Decision Science
Philip Garrison, Computer Science
Zora Gilbert, Linguistics
Alexander Gurvich, Physics/Astrophysics Track
Paul Hamerski, Physics
Noah Hermalin, Linguistics
John Hong, Chemistry/Biological Chemistry Track
Zeyu Hu, Biological Sciences/Neuroscience Track
Jennifer Huang, Creative Writing and Art
Christopher Jones, Computer Science
Kevin Karol, Computer Science and Drama
Hemanth Kini, Computer Science
Anastassia Kornilova, Computer Science
Rachel Kositsky, Computer Science
Dennis Kosovac, Environmental Studies and Art
Kevin Ku, Computer Science
Daniel Kusbit, Ethics, History, and Public Policy
Alexis Larry, Computer Science
Ghee Rye Lee, Chemistry
Justin Lee, Chemistry/Biological Chemistry Track
Weikun Liang, Information Systems
Xun Liu, Computational Finance
Kevin Long, Chemistry
Jia Jun Brandon Lum, Computer Science
Nikita Mishra, Biological Sciences/Neuroscience Track
Richa Mohan, Economics and Statistics
Thatcher Montgomery, Technical Writing and Communication
David Moss, Economics
Rubini Naidu, Psychology
Sayre Olson, English and Creative Writing
Elisa Pabon, Biological Sciences and Psychology
Carson Quiros, Professional Writing
Caitlin Selvaggi, Statistics
Brian Sinko, Business Administration (Manufacturing, Management and Consulting)
Elizabeth Snyder, Technical Writing and Communication
Ashley Sobhani, Global Studies
Rishi Sonthalia, Mathematical Sciences (Discrete Mathematics and Logic)
Jacquelyn Tencza, Business Administration (Finance)
Chloe Thompson, Global Studies
Estelle Tian, Chinese Studies
Jennifer Tuttle, International Relations and Politics
Noel Um, History
Thomas Vielott, Social and Political History
Jessica Wallach, International Relations and Politics
Caitlin Williams, Music Performance (Trumpet)
Samantha Wilson, Creative Writing
Allison Wood, Computer Science
Patrick Xia, Computer Science
Minnar Xie, Psychology and Art
Sophie Rose Zucker, Chemistry and Creative Writing

View photos from the initiation ceremony.
Related Article:
Students Share Love of Wisdom at Phi Beta Kappa Initiation