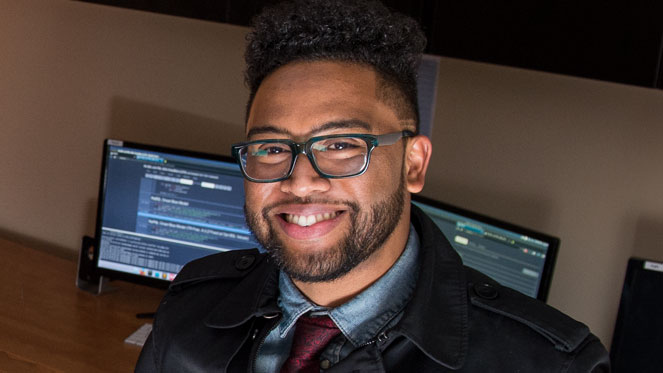 May 19, 2016
What's Not Exciting About Neuroscience?
By Elizabeth Jeffries
When asked how Ph.D. student Kevin Jarbo is making unique contributions to Carnegie Mellon University's neuroscience community, Jarbo's adviser and mentor, Timothy Verstynen, responded with an enthusiastic, "What is he not doing to contribute to the neuroscience community here?!"
"Kevin brings positive attention to the department because he is an active community builder and research facilitator," said Verstynen, assistant professor of psychology. "He is the most well rounded student I have come across."
Jarbo uses advanced neuroimaging techniques and analysis methods to study the role of the cortex and striatum in reward-based learning and decision-making in humans.
In other words, Jarbo explores how both risk and uncertainty interact to influence decisions, and whether people can learn to accommodate both in a way that leads to improved decision-making. Furthermore, he is interested in figuring out what characteristics we, as humans, share that make us physically the same, but act differently.
At CMU, Jarbo is making an impact due to his numerous fellowships and publications in top journals such as the "Journal of Neuroscience" and "Neuroimage." He's also involved with BrainHub, the university-wide initiative that builds on CMU's strengths in biology, computer science, psychology, statistics and engineering to learn more about how the structure and activity of the brain give rise to complex behaviors.
While his academic credits are notable, Jarbo also makes a significant social impact at CMU by co-running the social committee for the Center for Neural Basis of Cognition (CNBC). Jarbo, a native of southern California, understands what is it like to be new in town, and helps first-year graduate students adjust to Pittsburgh in this role.
"Besides research, Kevin is a great mentor," added Patrick Beukema, Jarbo's CNBC lab partner from the University of Pittsburgh. "We have a tremendous undergraduate student that Kevin mentored over the last several years, and this student is doing outstanding research in his own right."
With still a few years left in his graduate work, Jarbo is open to career options, including working at a research institute. He is also gaining experience on the other side of the classroom, having taught an Introductory Psychology course last semester.
"There is no doubt that CMU has fostered my personal and professional development in a way that I certainly feel empowered to continue in academic research and instruction at the university level," said Jarbo. "If there is anything that stands out to me, it's that I'm surrounded by some of the most brilliant and inspiring people in the world. I'm honored and humbled to have that opportunity daily."