May 12, 2016
Alumna Receives Rare NSF Fellowship in the Social Sciences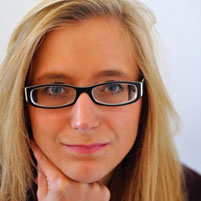 Carnegie Mellon University alumna Courtney Wittekind (BXA'13) has received one of 2,000 fellowships through the
National Science Foundation
(NSF) Graduate Research Fellowship Program. The $138,000 award will support Wittekind's doctoral studies in social anthropology at Harvard University, which she will begin this fall.
Wittekind, who also received a Rhodes Scholarship in 2013 to study social anthropology at Oxford University, was selected from a pool of close to 17,000 applicants representing diverse scientific disciplines. However, as
Judith Schachter
notes, the fellowship is rarely awarded in the social sciences.
"Throughout her undergraduate and master's level work, Courtney has been committed to stretching the principles and the methods of cultural anthropology," said Schachter, professor of anthropology and history in the Dietrich College of Humanities and Social Sciences. She advised Wittekind on undergraduate research about refugees at the border of Myanmar and Thailand.
Wittekind is currently exploring how political claims made in the context of Myanmar's transition emerge in the border regions' physical environment, as conflicting claims to land result in overgrown fields and locally-valued forests are overtaken by new construction sites.
"What's exciting about this kind of work is the way that it looks at abstract demands for representation and questions of belonging through what is tangible and often mundane, but nevertheless powerful," said Wittekind.
She chose Harvard's program because of its strong emphasis on media anthropology and the visual arts. Wittekind combined these interests as part of Carnegie Mellon's
BXA Intercollege Degree Programs
, where she earned a
Bachelor of Humanities and Arts
degree in anthropology and fine arts.
"I often find that my training in the arts has transformed the kinds of anthropological questions I ask while I'm doing fieldwork or writing about my research," Wittekind said.
M. Stephanie Murray
, director and academic adviser for the BXA Intercollege Degree Programs, believes that Wittekind's art practice complements her fieldwork.
"Courtney's focus has always been on connecting with people and helping to tell their stories through both words and images," said Murray. "She took full advantage of what CMU has to offer and used that support as a springboard to encounter and engage with the world."
_____
By Emily Stimmel