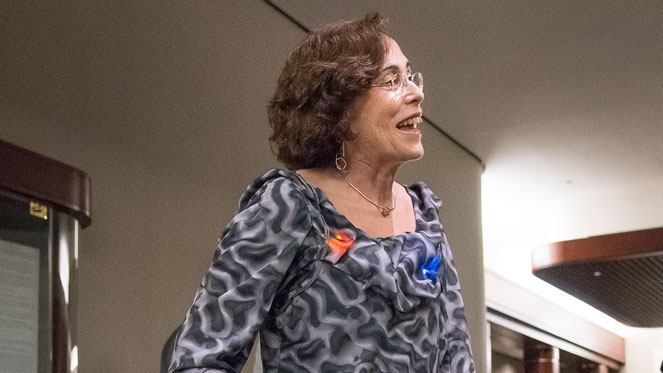 May 05, 2016
Marlene Behrmann Designs #BrainDress For NAS Induction
By Shilo Rea
Carnegie Mellon University's Marlene Behrmann, the Cowan Professor of Cognitive Neuroscience, was inducted into the National Academy of Sciences (NAS) over the weekend.
To mark the occasion, Behrmann, who has a longstanding interest in the intersection of art and science, designed and wore a voice-activated "#BrainDress" to both the NAS induction ceremony and a CMU event honoring her accomplishments.
"I had the idea a long time ago to make this dress. Recently, I decided that I would print the fabric from the surface of my own brain from a high-resolution structural MRI scan," she said.
Behrmann reached out to Peter Cooke, professor and head of CMU's School of Drama, to find someone to help her with the technical aspects of the dress. She ended up working with Sophie Hood (A'14), who received her MFA in costume design from CMU. They worked through a number of artistic and engineering challenges from selecting a fabric that would work with the technology and brain imagery to incorporating LED lights that lit up based on positive (blue) and negative (red and yellow) voice tones.
"It was great fun to make this, and it is now legally copyrighted," Behrmann said.
The dress was a hit with attendees at both the NAS and CMU events. Richard Scheines, dean of the Dietrich College of Humanities and Social Sciences, loved the dress, saying it was, "art, science and fashion – wrapped into one."
Behrmann joined the CMU faculty in 1993 and is the first female CMU scientist to be elected for NAS membership. She is widely considered to be one of the foremost experts in the cognitive neuroscience of visual perception. Her research combines behavioral investigations and brain imaging techniques with both normal and impaired individuals to identify the functional architecture of the human brain that enables our visual experiences. For example, she explores the neural mechanisms underlying how we can quickly, and seemingly effortlessly, recognize different people by their face, and how we can learn to categorize and differentiate between different thousands of objects.
Behrmann also uses brain imaging to uncover what is happening in the brains of individuals with developmental disorders, such as autism and dyslexia. Her recent work revealed that the brains of individuals with autism display unique neural synchronization patterns, a finding that may facilitate more effective diagnosis and treatment of the disorder. In addition, Behrmann has taken one of the first steps toward deciphering the link between general brain function and the emergent behavioral patterns in autism by demonstrating that autistic adults have unreliable sensory responses to visual, auditory and somatosensory stimuli.
Watch a video of Behrmann discussing the #BrainDress while wearing it.
Learn more about her induction into NAS.
Related News:
Larry Wasserman, Another Dietrich College Faculty Member, Elected Into NAS