July 28, 2016
Express Yourself: Writing Contest Encourages Exploration of Racial, Cultural Struggles
By Emily Stimmel
With racial tensions in America on the rise, it's more important than ever to acknowledge our cultural differences. One way to address these differences is through writing — and with a month of school-free days ahead, high school and college students have plenty of time to get their feelings on paper.
Students throughout western Pennsylvania are encouraged to submit their poetry and prose to Carnegie Mellon University's Martin Luther King, Jr. Writing Awards. Jim Daniels, the Thomas Stockham Baker University Professor of English, started the awards program in 1999 to create a safe space for students to talk honestly about their shared experiences with discrimination.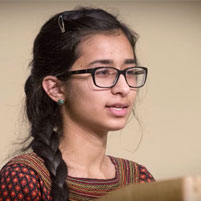 "There's a lot of heart in these awards and I think that's one of the things that makes them special," said Daniels.
Colorblindness was the theme of the 2016 winning prose entry by Taylor Thomas, a rising senior at Winchester Thurston. She won first place with her piece, "Black Tigers," in which she wrote, "Colorblindness seeks to keep the voices of the oppressed quiet, and increase the volume of those who are comfortable with the status quo."
Both personal narratives about racial and cultural differences and detailed reflections on Dr. King's legacy will be accepted.
Winning entries will be published, and students will be invited to read their work at CMU on Martin Luther King, Jr. Day (Monday, Jan. 16, 2017). Cash prizes will be awarded.
Interested students may submit their poetry or prose entries online as separate Microsoft Word attachments (.docx preferred). Entries should be no more than 2,000 words, double-spaced. Students may submit up to two poems. Email questions to Jim Daniels.
The deadline is Friday, Nov. 25.
The Martin Luther King, Jr. Writing Awards are sponsored by CMU's Dietrich College of Humanities and Social Sciences, Department of English, Division of Student Affairs and the Office of the President.
Read last year's winning entries.
Related Links: