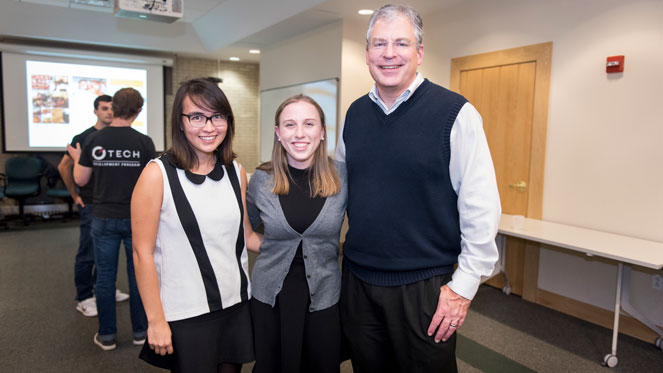 December 15, 2016
Capital One Competition Pairs Students With Alumni Mentors
Winning App "Reads" Emotions
By Ann Lyon Ritchie
What if a mobile device could tell how you're feeling?
Natalya Buchwald and Rebecca Kern, two juniors in the Dietrich College of Humanities and Social Sciences, posed this question to develop a winning mobile app for an Information Systems Program (IS) class competition. Sponsored by Capital One, students in the Mobile Application Design and Development course teamed up with eight IS alumni who work for the Capital One Technology Group. Twenty-one teams competed for $1200 worth of prizes.
First place went to Emote, a storytelling app with the ability to interact with the reader's emotions. Buchwald and Kern designed the app with children on the autism spectrum in mind as a way for them to develop skills in conveying and understanding emotions. As children follow a story, the app responds when they make a facial expression.
"You see a mobile app user doing two basic actions, reading and swiping, but they are also thinking, feeling and responding to what they see. There's so much more going on. We wanted to tap into that," said Kern.
Buchwald gained experience in emotion recognition technology from a summer internship with Orange County-based startup Monet Networks. The pair worked together to program the app and create a story and graphics for a children's book. They integrated Affectiva's software development kit for reading facial expressions. But it took more than a broad skill set to clinch first place.
"Emote's architecture is extendable and sustainable. Some apps are fragile or unreliable and won't last more than six months. You could envision ways to continue developing Emote, easily adding new stories and features," said Larry Heimann, teaching professor of information systems.
Duncan McIsaac (DC'16), a software engineer at Capital One, agreed and said, "They came up with a new way to come into the app. It was very fresh, not something you see very often."
Throughout the course Heimann emphasized important points of focus, such as user experience or architecture. The alumni mentors would then share with the teams their professional experiences related to those points.
Sherry Chen (DC'15), a software developer for Capital One who mentored the Emote team, felt she served as a sounding board for ideas. The teams were challenged to scale their project so it could be completed in about two months. Chen said prioritizing features helped to keep the students on track.
Alumni mentors felt they benefitted from volunteering, too.
"I think of this as a great opportunity to stay connected to the Information Systems Program. As a mentor, I interact with the students and give back to the program that has given me so much practical knowledge. I use the things I learned here every day," said Mike Ferraco (DC'14), also a software engineer.
Heimann was pleased with the student projects and said that competition was very close and "even the average app was really awesome." He looks forward to continuing with a similar structure in future offerings of the course.
First Place Award: $75 Amazon gift card and 32GB Apple TV for each
Natalya Buchwald
Rebecca Kern
 Runner Up Awards: $50 Amazon gift card and Anker Powercore 20100 for each
James Ormond
Gus Henry
Max Harlynking
Donovan Powers
 Best User Interactions Award: $50 Amazon gift card for each
 Humanitarian Award: $50 Amazon gift card for each
Akash Kejriwal
Sid Malladi
 CMU Community Value Award: $50 Amazon gift card for each
Sebastian Guerrero
Mark Vella
Sina Siddiqi
Rumby Wilson
Gaury Nagaraju
View photos from the competition.
Related Article

Pictured above are Natalya Buchwald, Rebecca Kern and Professor Larry Heimann.