November 02, 2015
Jim Daniels' Film to Premiere at Three Rivers Film Festival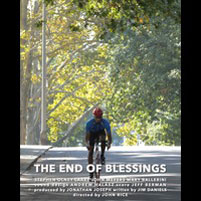 Carnegie Mellon University's Jim Daniels often works across genres, combining elements of poetry, fiction and film. His latest project is no exception.
Daniels wrote and co-produced "The End of Blessings," which will make its world premiere at the 2015 Three Rivers Film Festival. It has been selected for inclusion in the festival's short film competition and was one of 16 entries chosen out of over 100 submissions. Based on Daniels' poem of the same name, it will screen on Nov. 14 at 7:30 p.m. and Nov. 15 at 2:30 p.m. at Melwood Screening Room at 477 Melwood Ave., Oakland. Tickets for both showings are $9 each and can be purchased online.
"The End of Blessings" follows an African American cyclist on his weekly Sunday ride, when he regularly passes an older Italian couple sitting on their porch after church. The nuanced interactions among the three individuals form the heart of the story, which was filmed in Polish Hill and inspired by Daniels' own bike rides through Oakland.
According to Daniels, the Thomas Stockham Baker University Professor of English, there are some distinct differences between the poem and the film.
"It changed quite a bit in the adaptation—it evolved into something more interesting, I think. The only dialogue in the movie is a couple of phrases in Italian shouted at the cyclist. We depended more on image and music—like poems do," he said. "The city with its hills and bridges—and churches and Virgin Mary shrines—plays a much greater role than it does in the poem."
Director John Rice, a senior teaching artist at Point Park University, added, "The project provided an opportunity to explore a less conventional narrative format, employ rhythm in the visuals and editing and use a more up front score to convey the emotion."
Daniels worked with a team that included Rice and sound mixer Andrew Halasz, an associate professor of cinema and digital arts at Point Park. Pittsburgh musician Jeff Berman scored the film.
"I enjoy working with smart, creative people in other art forms," Daniels said.
"The End of Blessings" is the fourth film written by the award-winning Daniels and his third collaboration with Rice. His 2010 film "Mr. Pleasant" appeared in more than a dozen film festivals across the country.
After its debut at the Three Rivers Film Festival, "The End of Blessings" will be shown at the Tampa Bay Underground Film Festival from Dec. 3-6 and at the fourth annual International Video Poetry Festival in Athens, Greece on Dec. 19.
Daniels isn't the film's only CMU connection: Stephen Oney, the actor who plays the cyclist, was a student who played softball in the CMU Summer League with Daniels. Oney received his Ph.D. in human-computer interaction last year.
"The End of Blessings" was partially funded with a Berkman Faculty Development Fund grant.
View the complete 2015 Three Rivers Film Festival schedule.
_____
By Emily Stimmel