May 19, 2015
Aspiring and Ambitious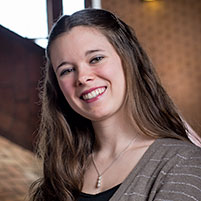 Anna Vande Velde is one driven young lady. Hailing from Cassadaga, N.Y., a farm-town of only 600 people, she came to Carnegie Mellon University for its highly-rated psychology program in order to work in the field of child development. This is an aim she's had in one manner or another since a young age.
"I've always loved working with children," Vande Velde reflected. "I took the babysitting course at 11, the youngest age that was allowed. My experiences really inspired me to gain knowledge of what is the best care for children and how to disseminate that knowledge to the world."
Aspiring to become a clinical psychologist and work with children who have been diagnosed with Autism Spectrum Disorder, Vande Velde continually strived in her education as a psychology major to reach this objective. She pursued this through the classes required for her psychology major as well as through her not one, but two senior theses, the combination of which is a feat in itself.
"It is extremely rare for a student to take on two year-long thesis projects simultaneously. I actually cannot recall when – or if – a senior has taken on this kind of challenge before," said Joseph E. Devine, associate dean of the Dietrich College of Humanities and Social Sciences.
The first of Vande Velde's two projects is within the Psychology Department under David Plaut, professor of psychology and computer science. It explored the "chunking hypothesis" that the brain stores information in chunks and forms a hierarchy of these chunks as it processes inputs. Vande Velde developed a more parsimonious account that uses general learning principles in an artificial neural network to learn to be sensitive to the hierarchical structure in visual displays in the same way that human learners are.
In contrast, Vande Velde's second thesis—through the Dietrich College's Senior Honors Program—is the result of collaborations with Craig Liden from the Being Well Center in Gibsonia, Pa. and Psychology Professors Anna Fisher and Erik Thiessen. This project was designed to develop and assess a new diagnostic tool for attention deficit hyperactivity disorder (ADHD). To help validate the tool, she first used it to assess 40 CMU undergraduates who have not been diagnosed with ADHD. She then analyzed the results and compared them with results from people who have an ADHD diagnosis.
Preliminary results indicated that the test does reveal significant differences between the groups – however, further evaluation is necessary to assess the test's direct usefulness in ADHD diagnosis.
Vande Velde's ambitious pursuits have only increased with her time at Carnegie Mellon, but her passion for psychology suggests she will meet her lofty career goals.
"Anna is one of the most dedicated and energetic students I've ever worked with, and no matter how complicated the request or how difficult the task, she's always 100 percent committed to it, and she always perseveres," said Thiessen, associate professor of psychology and director of the department's undergraduate program.
_____
By: Carillon Skrzynski