March 20, 2015
Dietrich College Spring Carnival Reception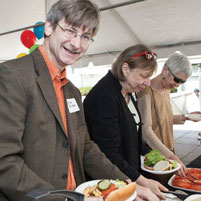 The Dietrich College of Humanities and Social Sciences will hold a reception for alumni, faculty, staff and students on Saturday, April 18 from 11 a.m. – 2:00 p.m. on the Baker Hall Terrace.

If you will be at Carnival, make sure you stop by – RSVP today.
The reception is your chance to visit with old friends and meet new ones. Faculty members who will be in attendance include:

Richard Scheines, dean of the Dietrich College
David Danks, head of the Department of Philosophy
Clark Glymour, Alumni University Professor of Philosophy
Larry Heimann, teaching professor of information systems
Peggy Knapp, professor of English
Jeria Quesenberry, associate teaching professor of information systems
Raja Sooriamurthi, associate teaching professor of information systems
Haixia Wang, adjunct professor of Chinese Studies

This list will be updated as more faculty members' attendance is confirmed. Be sure to check back!

RSVP to attend the Dietrich College Spring Carnival Reception.

Learn all about what's happening at this year's Spring Carnival.

View photos from last year's Dietrich College reception.
___
By: Shilo Rea