March 20, 2015
Pickin' and Grinnin' - Statistics Professor Takes Time for Banjo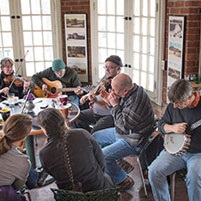 Oh, play me some mountain music, like grandma and grandpa used to play.

Maybe you know that line from Alabama's number one hit "Mountain Music." What you may not know is Brian Junker, associate dean of the Dietrich College, has been granting that request weekly at the Schenley Park Visitor's Center.

Junker, who has played guitar off and on since he was a teenager, took up the banjo eight years ago after becoming perplexed during a performance by local songwriter Emily Pinkerton.