January 13, 2015
Registration Is Open For Under Construction: Building Your Future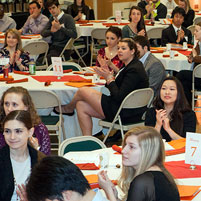 Under Construction: Building Your Future is a one-day career exploration and self-definition opportunity for current Dietrich College sophomores, juniors, and seniors to network with alumni, learn their stories, and begin to navigate career options, internships, undergraduate choices, and post-graduation opportunities.

It is a unique opportunity for students to speak with Dietrich College graduates who have successfully and interestingly navigated their way forward.

Registration is now open for the third annual Under Construction!
 
When: Saturday, February 21, 2015

Where:  Carnegie Mellon University, Cohon University Center

Student Schedule:
12:30-1 pm          Student Check-In
1-1:20 pm            Under Construction Student and Alumni Welcome
1:30-2:45 pm       Panel Sessions (A)
3-4:15 pm            Panel Sessions (B)
4:30-5:30 pm       Appetizer Networking Reception
 
Panel Session Topics: Academic & Research Careers • Advertising, Marketing, & Public Relations •  Big Data •  Consulting • Editing & Publishing •  Education: Policy and Teaching •  Entertainment, Creative Arts, & Arts Management •  Entrepreneurship, Business Ventures, & Start-Ups • Government & Politics • Law: Public & Private Sectors • NGOs, Non-Profits, & Community Organizing • Operations Management, Human Resources, & Recruiting •  Public Health, Health Policy, & Health Professions •  Technology & HCI
What Students Are Saying About Under Construction:
Senior Juan Acosta shared that, "Under Construction is a terrific opportunity to not only learn about the amazing careers Dietrich alums have had, but also a great opportunity to connect with them to ask burning questions about what consulting is really like, for example. Under Construction is becoming a staple event for Dietrich students and alums and is a terrific opportunity to interact with alums and fellow Dietrich students who are outside of your major."

"I think that what I enjoy about Under Construction is the honest conversation we get to have about various career options with people currently involved in those careers," said Tonya Sedgwick, a senior. "This is important because when we're taking classes we don't get that kind of perspective on what a career looks like, and oftentimes certain careers are broadly labeled as definitely good. For example, during DADSS, we were told a lot about consulting and (because of the nature of the course) it seemed like consulting was definitely a good profession. However, when I went to last year's event, I got to speak one on one with someone who was currently working as a consultant, and from that conversation was able to get a more well rounded idea of what that career would be like. This helped me to identify that consulting is not something I would likely enjoy (because I don't want to be traveling constantly and prefer not to live in large cities). Meanwhile, the panel on health professions indicated to me that while I don't think I would enjoy being a health practitioner, social science based research in health areas was very interesting to me, and this lead me to later construct a year long independent study project with several of my professors, which has additionally informed my desire to go to graduate school to study issues around disability and performance. I look forward to attending again this year."
What Alumni Are Saying About Under Construction:
"It is such a pleasure to return to CMU and to share with current students what's transpired with my career since I left," said Heather Dietrich Batzel (DC'00), who will speak on the law in the private and public sectors panel.

Batzel continued, "It might surprise students how recent the undergraduate years feel, even for someone who graduated 15 years ago! I remember so well what it felt like to be in that phase of life navigating school, extracurriculars, internships and work, while figuring out what to do next. And the challenges and opportunities only increase! I am looking forward to participating in my 3rd Under Construction and meeting some more Tartans!"
"For students, being able to connect with alumni in different industries is an invaluable experience. It allows students a glimpse into the future that different career paths offer and provides them with the limitless resources of a large professional network. Without the guidance of another CMU alum, there's no way I would have landed my first job in publishing," said Chloe Fraboni (DC'11).

Michael Szczerban (DC'07) explained, "Breaking into a creative field can be challenging--it's often hard to know where to start. That's why it's so helpful to talk to someone who's already done it. I wish I had access to an event like 'Under Construction' when I was an undergrad at CMU."

"The best thing you can do as a student is be reminded that you're studying for a reason. When alumni describe their work and life paths, you can start to visualize where you will fit into a workplace, into the world. A few hours of inspiration with alumni can be worth days of perspiration studying in the library!" said Kim Smaczniak (DC'02).

Lauren Gumbel (DC'11) said, "I switched career plans late in my undergraduate career, jumping headfirst from research into teaching without asking for guidance or support. I wish I had the opportunity at CMU to talk to other educators and build a network of alumni to ask questions or even learn about different areas of education. Under Construction offers the opportunity to start asking those questions and explore different opportunities in your field of interest, even if you're not sure of your path yet!"
What Faculty Are Saying About Under Construction:
Joel Greenhouse
, professor of statistics said of the 2014 Under Construction event that "both current students and alums could not stop raving about it. Honestly, in all my years at CMU I have never heard such a positive response to a Dietrich College program."
"It was lovely to reconnect with alumni I had not seen in years, and no surprise, I learned a ton from them," shared
Necia Werner
, assistant teaching professor of English. "This event is as much a benefit to faculty in keeping us up to speed with the pulse of industry as it is for our students, and I intend to trumpet that benefit to other faculty next year."  
Space is limited so register today!
Read about last year's event.