December 07, 2015
First-Year Writing Program to Recognize Outstanding Students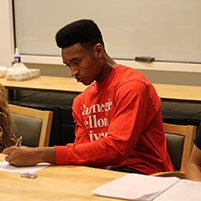 The Carnegie Mellon University First-Year Writing Program is pleased to announce the call for outstanding student pieces for its inaugural Excellence in First-Year Writing Awards.
These awards will be issued separately for essays produced in 76-100 and 76-101. Essays from Fall 2015 and Spring 2016 will be considered for the 2016 awards, which are open to first-year students across Carnegie Mellon.
Participants must be undergraduate students enrolled in either a fall or spring section of 76-100 or 76-101 of the current academic year. Original essays must have been written in response to the contribution assignment for 76-101 or the position assignment for 76-100. Only one entry per student is eligible for submission.
Fall 2015 students' entries are due by midnight on January 17, 2016; the Spring 2016 deadline will be announced at a later date. The winners will be announced in the summer of 2016, when they will receive prizes and publication in an online journal format. Students can submit their work online. Questions about the submission process can be directed to Arianna Garofalo at ariannag@andrew.cmu.edu.
_____