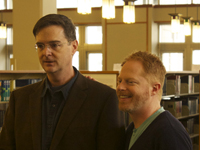 September 20, 2014
Scott Sandage Reflects on "Who Do You Think You Are?" Appearance
Anyone who has ever tried to research their family tree knows that it is not always very easy. TLC helps celebrities discover more about their ancestors with the popular TV show "Who Do You Think You Are?"
For the current season, producers turned to Carnegie Mellon History Professor Scott Sandage to help Modern Family star Jesse Tyler Ferguson.
Sandage told the Pittsburgh Post-Gazette, "They were looking for a historian who could talk about an ancestor who had a very checkered career. It happens I wrote a book some years ago about failure and being a loser in American culture."
That book – the award-winning "Born Losers: A History of Failure in America" – explores what makes someone a loser and how – from the colonial days to the Columbine tragedy – failure has evolved from a business loss into a personality deficit.
"Jesse's great-grandfather had an unusually varied career that included a lot of ambiguous episodes, which is the kind of history that is the most fun to investigate and learn about," Sandage said. "The context of the Gilded Age is really what TLC brought me in for."
Sandage filmed the episode with Ferguson in the Evanston, Ill. public library in April. Prior to the broadcast he was contractually obliged to not reveal anything but said that what aired was pretty much an unedited presentation of what happened.
"Nothing had been rehearsed during the filming, and nothing was rearranged during the editing," Sandage said. "You get a nice sense of straightforwardness and authenticity from the show, and that was very much my experience in working with TLC."
He continued, "They were careful and conservative about when it came to jumping to conclusions. For example, I turned up some evidence suggesting Jesse's great-grandfather spoke at a presidential campaign rally with Teddy Roosevelt, but they did not use that bit because we could not prove that they were on the platform at the same time. That hesitancy gave me a lot of confidence that although they are producing entertainment, they have a real commitment to sticking to facts."
Since his appearance on "Who Do You Think You Are?," Sandage has received several queries from viewers seeking his help – and one turned out to be from his own family tree – a distant cousin.
Although he emphasizes that he is a cultural historian, not a genealogist, his pointers for people looking into their ancestry include using multiple spellings of names and researching the context of the time period to use as a guide for interpreting vague facts and to fill in gaps when a trail goes cold.
To watch Sandage help Ferguson learn about his great-grandfather, visit TLC.com.