April 27, 2023
CMU Honors Excellence in Advising, Mentoring and Teaching
By Stacy Kish and Stefanie Johndrow
Three members of the Dietrich College community — representing staff, faculty and graduate students — will receive university-wide honors at the 2022 Celebration of Education Awards program set for Thursday, April 27.
The Celebration of Education recognizes the accomplishments of those who exemplify the university's standards of excellence in education. Through this program, Andrew S. Ramey, Danielle Wetzel and Đinh Ngọc Phượng (Phoebe) will be honored for their outstanding contributions to the university and their devotion to and effectiveness in teaching. 
The event also will highlight college-based teaching award winners, including Danny Oppenheimer, who has received Dietrich College's Elliott Dunlap Smith Award for Distinguished Teaching and Educational Service.
About the Celebration of Education Award Winners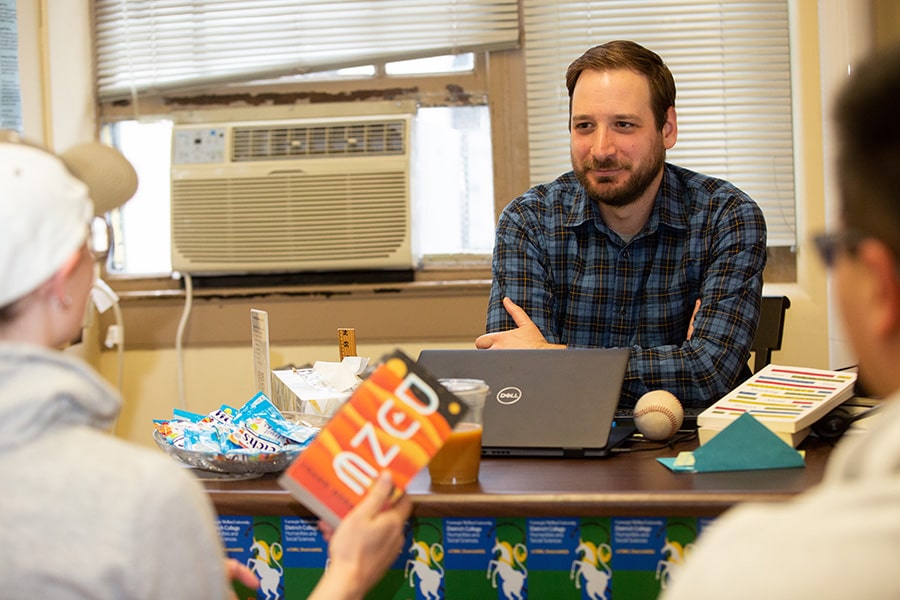 Andrew S. Ramey

Senior Academic Advisor, Department of History
Award for Outstanding Contributions to Academic Advising and Mentoring
Andrew S. Ramey, senior academic advisor in the Department of History, is the 2023 recipient of the CMU Academic Advising Award. 
"I know this will sound like a cliche, but winning this award is not just a personal achievement. I think it reflects the people and culture of Dietrich College," Ramey said. "I am proud to accept the Advising Award not just for myself, but on behalf of all my colleagues and my students, because I could not have developed into the advisor and person that I am without their support and encouragement." 
Ramey began his educational journey at CMU in 2009 as a graduate student pursuing a Ph.D. in the Department of History, which he earned in 2015. Ramey returned to the Department of History in 2017 as an academic advisor and has advised and mentored undergraduate students across the department's three majors: Social and Political History; Ethics, History, and Public Policy and Global Studies. 
"The level of commitment, dedication and passion he has for his job is just incredible," said Nico Slate, professor and head of the Department of History.
"The thing that has left me with the deepest and most important impression about Andrew is his kindness."
To ensure the student experience outside of the classroom was as impactful inside the classroom, he helped co-found Dietrich College's Pittsburgh Summer Internship Program (PSIP) and joined the advisory committee for the Dietrich College Community Engagement Fellowship. 
Ramey has spent the past five years building partnerships across campus to support students, advisors, staff and faculty. During the COVID-19 pandemic, he joined the Advisor Professional Development Committee and helped co-create a pair of advisor reading groups to create a space for advisors to connect virtually to remain engaged in important topics related to advising, higher education and society. 
He also brings his expertise and knowledge to the CMU community as an instructor and scholar in the History Department, teaching a variety of first-year courses. He won the department's Goldman Award for Excellence in Graduate Student Teaching in 2015 and has continued to explore the intersection of advising and classroom instruction for supporting students. 
Ramey's academic pursuits have been published in a peer-reviewed volume on nuclear energy policy, and he has presented his scholarly work at numerous national and regional conferences. He has given public lectures on topics related to his expertise in environmentalism, U.S. politics and the Chesapeake Bay.
Ramey has accepted a position as a director of advising in the Dietrich College Academic Advisory Center. He will begin the position on June 1.
"In my new role as director of advising for Dietrich College, I want to build on the strengths our team already has and create an even better culture of supporting our students and each other," he said.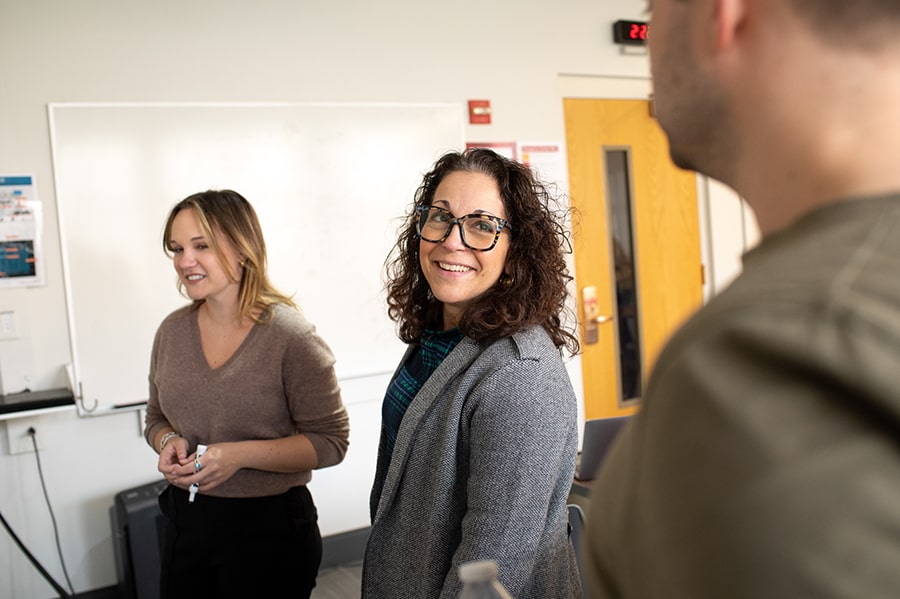 Danielle Zawodny Wetzel

Teaching Professor of English; Director of Writing & Communication Program
Barbara Lazarus Award for Graduate Student and Junior Faculty Mentoring
The Department of English's Danielle Zawodny Wetzel (DC 2005) is the 2023 recipient of the Barbara Lazarus Award for Graduate Student and Junior Faculty Mentoring. 
She started her professional journey at CMU as director of CMU's First-Year Writing Program in 2006 and  transformed the program over the next 13 years.
"We work with many loving people at Carnegie Mellon. (And yes, I do mean loving.) I have been thinking about the people in our campus community who bring open hands. When we keep our hands open to each other, we can mentor and be mentorable, at any stage in our professional lives," said Wetzel, director of CMU's Writing & Communication Program and Writing & Culture Pre-College Program. 
Wetzel focuses primarily on teacher training, curriculum design and assessment, specifically for first-year writing. Her interests include "how we design instruction to help linguistically diverse students make data-informed, mindful and culturally aware writing decisions for the genres they produce." 
In his nomination letter, David Brown, the associate director of First-Year Writing for Research and Assessment and an associate teaching professor of English, commended Wetzel's planning and administrative skills to develop a high-caliber writing program at CMU.
"[The program] speaks to Danielle's leadership and ability to nurture the talents of those she supervises. For without those capacities, the program would cease to grow and innovate in the ways that it has under her leadership. It is her genuine interest in her colleagues' success as instructors and reflective practitioners that has helped it to thrive," Brown wrote.
Wetzel's commitment to the department includes the ways she connects meaningfully with others.
"She is a model all of us can admire and emulate," wrote Andreea Ritivoi, department head and William S. Dietrich Professor of English.
"I have benefitted tremendously and frequently from her wise counsel, incredibly strong listening skills, understanding and compassion. In moments of celebration as well as in moments of crisis, Danielle is the steady ground: firm and supportive at once, clear-headed and loving. She is a moral point of reference in our community." 
Cody Januszko, a Ph.D. student in the Rhetoric Program and a graduate instructor in the Writing & Communication Program, took Wetzel's "Theory and Design of Writing Instruction" course — a core course for English Ph.D. students who teach first-year writing — and found Wetzel "to be incredibly engaging, balancing her clear expertise in writing studies along with a positive energy to draw us into discussions," Januszko wrote. "In this class, I gained a solid foundation in pedagogical theory that has helped me as I teach and plan my own course."
Early in her career, Amy Burkert, vice provost for education, worked with Barbara Lazarus and believes Wetzel's spirit would make Lazarus proud.
"As I reflect on Danielle — who she is, what she stands for, and all she has done for our students, our faculty and this institution — I am confident Barbara would be pleased to know that her own legacy of mentorship and advocacy is being carried on and is in the worthy and capable hands of others with Danielle Zawodny Wetzel among those leading the way," Burkert wrote.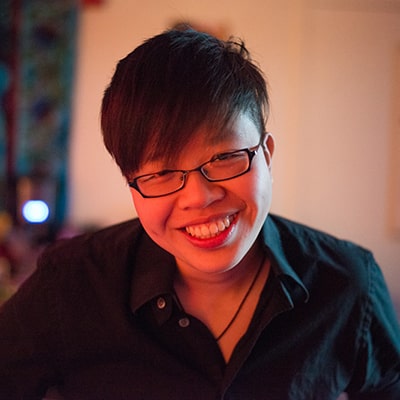 Đinh Ngọc Phượng (Phoebe)

Ph.D. Candidate, Department of Psychology
Graduate Student Teaching Award
Phượng (Phoebe) Dinh, a Ph.D. candidate in the Department of Psychology, is the 2023 recipient of the CMU Graduate Student Teaching Award.  
"Phoebe has served as a teaching assistant for three courses and received high praise from all of her faculty mentors," said Vicki S. Helgeson, professor and director of graduate studies in the Department of Psychology. "She is serving as a role model as a teacher, mentor and human being for students at all levels."
Dinh began their academic journey at CMU in 2017 with advisor David Rakison, associate professor in the Department of Psychology. Their research is focused on how knowledge of causal relations and mechanisms is obtained in infants and adults, and how this knowledge enables or impedes one's interactions with the causal world. 
They have blended their research with teaching and lecturing for five courses, including an undergraduate research methods course and graduate courses in cognitive psychology, biological foundations of behavior and principles of child development. Their approach in the classroom encourages a learning environment that is co-created, justice-centered and fun.
"A message [that I would give] to any student at any level who may be considering teaching: it involves a lot of growing pains," said Dinh. "I'm there too. I may have my growing pains until I stop teaching."
Dinh admits they learn just as much from their students they teach. Teaching is a source of growth and inspiration.
In addition to teaching, Dinh has mentored three undergraduate and one graduate student in the Infant Cognition Lab at CMU.
Dinh believes that becoming a teacher is a communal process. For this reason, they want to thank their community elders, friends, co-conspirators and, of course, students and mentees for helping them become the teacher-learner that they are today.
"I think about all the great teachers who I've had in the past that got me here in the first place," said Dinh. "If I could be that person for another young person, then wonderful."
After completing their Ph.D. program, Dinh will begin a full-time lecturer position at Tufts University in the Psychology Department. 
Dinh holds a B.A. in Philosophy and a B.S. in Cognitive and Brain Science from Tufts University. They have contributed to eight scholarly publications and chapters. Dinh has received the Herb Simon Graduate Student Teaching Award in 2020, the Gelfand Student Educational Outreach Award in 2019 and the Dick Hayes Departmental Service Award in 2018. They also completed the Future Faculty Program through the Eberly Center for Teaching Excellence and Educational Innovation.