April 27, 2023
Oppenheimer Receives Elliott Dunlap Smith Teaching Award
Daniel Oppenheimer, a professor in the Department of Social and Decision Sciences, is the recipient of the 2023 Elliott Dunlap Smith Award for Distinguished Teaching and Educational Service in the Dietrich College of Humanities and Social Sciences.
"The real reward isn't receiving a medal. It's getting to see your students thrive," said Oppenheimer, who also holds a courtesy appointment in the Department of Psychology. "But, when you put so much effort into something, it's nice to have those efforts acknowledged."
The Elliott Dunlap Smith Award is presented annually to a full-time faculty member in the Dietrich College. The award is intended to recognize excellence and distinction in candidates as both teachers and educators.
"Like any advisor, Danny has taught me how to conduct research and survive the world of academia," said Trent Cash (DC 2022), a third-year graduate student earning a joint Ph.D. in social and decision sciences and psychology.
"More importantly, Danny has taught me how to be a researcher and instructor who makes a difference."
For the past five years, Oppenheimer has worked to be an impactful teacher, advisor, mentor and friend to his students at CMU, leaving a lasting impression on their education and professional growth. Building closer relationships with his students is what originally brought Oppenheimer to the university.
"I knew that CMU had a reputation for having a lot of faculty-student interactions, opportunities for students to work in faculty labs, smaller class sizes," Oppenheimer said. "CMU cares a great deal about education, which mattered to me."
From the start of his CMU career, he found this to be true. During his orientation, a significant amount of time was spent on teaching practices. It was clear that the university and his department cared about the students' learning experience. Oppenheimer was also impressed by the Eberly Center for Teaching Excellence and Educational Innovation, which prioritizes scientifically informed pedagogy as a way to improve the classroom experience.
Oppenheimer took this charge seriously and has worked to improve the learning experience for his students. He teaches Introduction to Psychology, which enrolls more than 200 students every year. He also teaches an array of courses that cover the intersection of psychology and public policy, charity, thinking and reasoning and human intelligence.
"[The class Human Intelligence and Human Stupidity] looks at the odd anomaly of how people are so smart, and yet, at the same time are so dumb," Oppenheimer said. "How do we as a species have this incredible potential — we can put people on the moon, split the atom, cure diseases — and at the same time make incredible errors?"
In addition to teaching, he also works closely with a number of undergraduates, advising their research endeavors.
"I love giving a good lecture. It feels very satisfying when I come up with a great demonstration or activity that gets a point across effectively," Oppenheimer said. "But that's not what drives me. It's the personal relationships I'm able to build with my students."
Oppenheimer enjoys getting to know his students, their interests, and how they think. He advises both undergraduates and Ph.D. students and coordinates lab meetings which not only discuss specific hurdles faced by the lab, but also discuss big picture items, the future of decision science and how to manage a career as a scientist.
"There are very few things that bring me as much joy as when I get an email from a former student who tells me how they've gone on to bigger and better things," Oppenheimer said. "I get to see how they succeed and thrive in life. That's what it's all about as a teacher. That's why we do it — to see our students fly, and that's the best part of the job."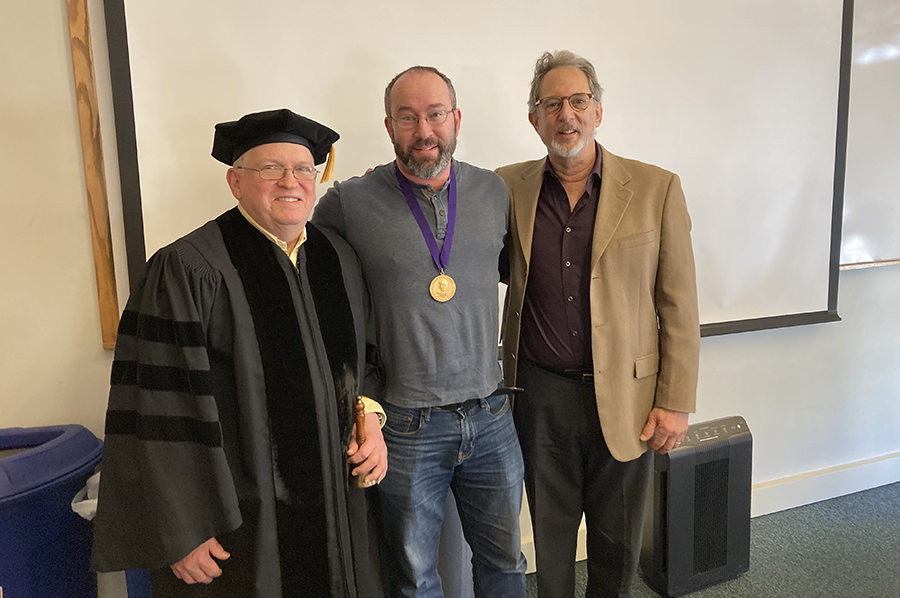 Oppenheimer receiving his award from (left) Jay Devine, associate dean for Undergraduate Studies, and (right) Dean Richard Scheines.