Writing & Communication Program
Writing & Communication at Carnegie Mellon offers unique, cutting-edge course options designed to help students develop and apply foundational writing knowledge across diverse academic and professional contexts.

---
All Carnegie Mellon undergraduates take First-Year Writing—any Advanced Placement exemptions are not accepted. However, First-Year Writing empowers students to choose among multiple paths in their fulfillment of the requirement.
Students may decide to take two out of three half-semester mini courses, each focused on specific kinds of writing and organizational strategies. Alternatively, students might decide to take one of several immersive full-semester courses built around specific themes and research areas. No matter the path, students learn to adapt to new writing situations and connect their learning to future communication tasks—both in later coursework at CMU and beyond.
To learn more about our mini and full-semester course offerings, please visit the Course Options and Topics page.
Some students whose first or primary language is not English may be required to take a placement exam and/or complete a prerequisite course during their first semester. To learn more about the placement process, please visit the Course Placement page.
Spotlight: David Brown
Prof. David Brown Brings Diverse Expertise and a Data-Informed Approach to Writing Instruction
As Writing & Communication's Associate Director for Research and Assessment, and as an Associate Teaching Professor of Rhetoric, David Brown plays several crucial roles. He serves as the lead instructor in charge of teacher training and curricular development for the Writing About Data course. He also leverages his field-leading research in corpus linguistics and English language studies to coordinate data collection and assessment efforts for the First-Year Writing program as a whole, as well as to develop and implement technology-enhanced learning tools that help students identify features of their own writing and of the written genres they practice in their coursework. Finally, David is also an inspiring and multi-talented teacher. In addition to Writing About Data, he teaches a Methods in Humanities Analytics course within the Department of English and a Special Topics: Text Analysis course within the Department of Statistics.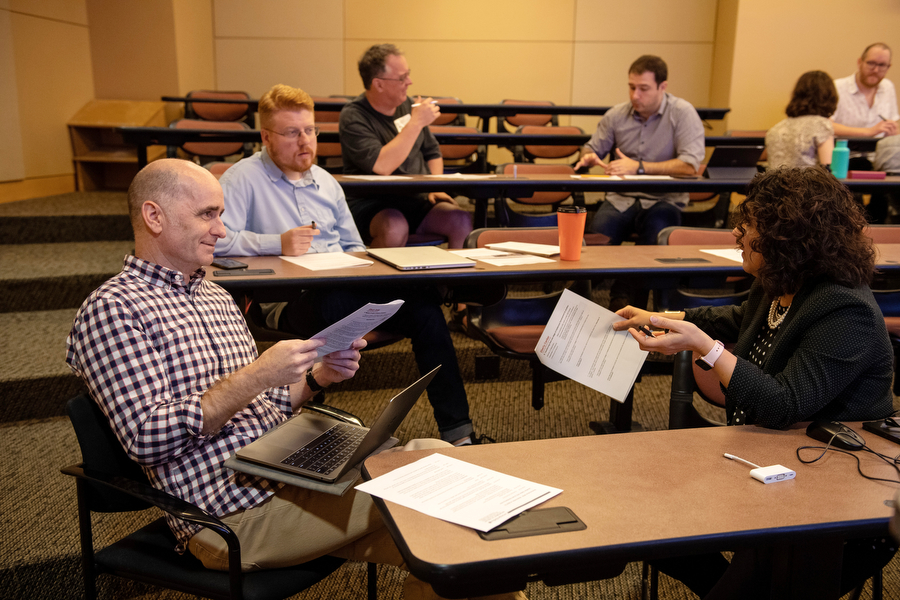 Frequently Asked Questions:
Which option is easiest, two mini courses or one full-semester course?
These options have been carefully designed to be equally challenging. In fact, despite the structural differences between taking two shorter courses and taking one longer course, the overarching curriculum and learning objectives are equivalent across both options. CMU English prioritizes student ability to choose a course structure that is the best fit for their learning preferences. Plus, since all First-Year Writing courses help students to gain exposure to diverse kinds of writing and learn how to transfer their writing knowledge to new situations, students can feel confident about any course options they choose.
What are the advantages of taking two mini courses instead of a full-semester course?
If a student prefers a fresh start in the middle of the semester, taking two mini courses might be a good option. The "minis" offer students the opportunity to focus upon strategies for particular types of communication situations and target genres. By taking two minis, students gain exposure to more than one kind of writing (arts and humanities-based, technical, and professional). Minis also offer ways of adapting to new and different communication situations. Some students report a more dynamic structure and pace taking minis, driven by the break at mid-semester.
What are the advantages of taking a full-semester course instead of two mini courses?
If a student prefers engaging in a sustained focus throughout the semester, a full-semester course may be a good option. The full semester First-Year Writing courses offer students the opportunity to read deeply about a controversial issue or topic. Students acquire strategies for reading, forming research questions, and writing research proposals and articles, in order to contribute an original argument to an ongoing field of inquiry. Some students report a flexible, "marathon" pace throughout the course, driven by the lack of a mid-semester break.
I'm an international student. How do I know if I need to take the placement test or the prerequisite First-Year Writing course?
If incoming students are non-native or second-language English speakers, they will receive an email from the Department of English in June with instructions for completing an essay-based placement exam over the summer. CMU English will review every exam carefully and report back whether or not each student is required to take the pre-requisite course, 76-100. Under some conditions, students may be exempted from taking this exam or the 76-100 course. To learn more about the placement and exemption process, visit our
Course Placement
page.
The First-Year Writing course I wanted is full. Will I get in off of the waitlist?
Unless a student is in one of the first two or three positions on the waitlist for a First-Year Writing course, it is
unlikely
a student will be able to get in to that particular course. Our Department wishes it were possible to enroll everyone in their first choice, but the reality is that there are more popular and less popular options, and the more popular ones do fill up. CMu English recommends each student determine top three course options prior to registration, and to be prepared to register for what is available if plan A or plan B does not work out. If a student is unable to find
any
available options, or if a student could register for one mini course but still need a second one, please email Mike Brokos at
mbrokos@cmu.edu
for assistance.
I'm not sure I understand how to enroll in the minis. Are there any guidelines?
Yes! There are a few things First-Year Writing students should keep in mind, to ensure they understand proper enrollment and their schedules:
The minis are designed to be taken consecutively within a single semester. If students register for the Fall semester, they will take a "mini 1" and a "mini 2." If registering for the Spring semester, they will take a "mini 3" and a "mini 4." The available course sections will include these numbers. For example, if  registering for the Fall semester, one valid option would be sign up for 76-106 A1 and 76-107 B2. If registering for the Spring, one valid option would be 76-106 A3 and 76-107 A4. Students cannot sign up for two sections ending in the same number (e.g., 76-108 A1 and 76-107 A1).
First-Year Writing Students should make sure to sign up for two out of the three separate courses: 76-106, 76-107, and 76-108. Do not sign up for two sections of the same course (e.g., 76-106 A1 and 76-106 B2).
I took a first-year composition course at another institution before transferring to CMU. Can you waive my First-Year Writing requirement?
Possibly. The Department of English will need to review the syllabus and other materials from any outside composition course in order to determine whether it is commensurate with a First-Year Writing course or courses at CMU. The Department does adhere to a particular set of curricular features and learning objectives; some outside courses are quite consistent with these, and others are not.