Writing & Culture
Are you ready to tell your story? Writing & Culture works to develop skilled, reflective, engaged storytellers who can share our stories well.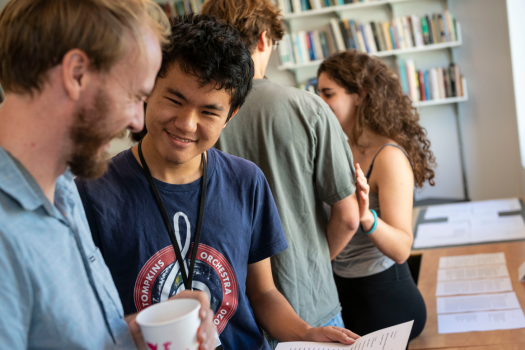 Program Length
Jun. 22
to
Jul. 20, 2024 

 (4 weeks)
Early Decision &

International Applications Due

Scholarship* & Regular Decision Applications Due

Housing Options
Resident
or
Commuter**
 *Scholarship decision notifications released on Friday, April 5, 2024. All others are rolling admission.
**To be a

 commuter, 

the student and parent/guardian must have a permanent residence within approximately 30 miles of our Pittsburgh campus or within Allegheny County.
Program Overview
The idea of the attic-bound creative is a myth. Regardless of the medium, filmmakers and writers live their lives out in the world, not hidden behind closed doors.
In this program, students explore writing, film, and culture through traditional, historical, and contemporary lenses on CMU's campus and throughout Pittsburgh. Over the weeks, students will produce a body of work anchored in digital poetics and short-form writing, film development and production, and preparatory materials setting a strong foundation in the humanities.
But this is not a Language Arts course. By participating in this program, students will learn to think critically, express thoughts creatively, and write effectively for college and beyond.
Curriculum
Pre-College Writing & Culture is an intensive program that introduces students to the range of ways to tell a story. Guided by the mentorship and instruction of the Department of English's highly distinguished faculty members, students analyze complex, ever-changing problems through astute investigations of culture and society through written text and visual media. Participants also identify how to think through design choices for film production and cutting-edge poetic and short-form writing. Above all, students gain a toolkit that allows them to interpret written and visual stories with fresh eyes and anticipate different viewpoints.
This program provides highly individualized feedback and guidance, drawing on each student's personal strengths and interests. Through the breadth of experiences in this program, students gather concepts and ideas, using them to fuel their own body of work.
Classes, meetings, and enrichment activities are held Monday through Friday with occasional special events on weekends.
Readings, Performances, and Discussions
Students attend productions through Pittsburgh's world-class cultural scene to experience storytelling in its numerous forms and from varying perspectives. This includes readings and events with prominent local artists and authors, followed by discussion and analysis in a small group setting. These experiences broaden the way in which students read, understand, discuss, and produce written works and design elements.
Exploration and Investigation
During the program, students tour exhibits and permanent collections at Pittsburgh's many world-class museums. They will also visit film locations and neighborhoods to explore the connection between words and visual settings. Considering Writing & Culture in a rich historical context across media, exploration often includes hands-on visits to the Carnegie Mellon Archives and Fine & Rare Book Rooms, as well as events that explore book arts, film and filmmaking, and visual storytelling.
Mentorship and Connections
Each student receives personal mentorship and discussion in a creative environment with distinguished faculty from Carnegie Mellon's Department of English. Faculty include published creative writers, program directors, literary and cultural studies scholars, rhetoricians, and technologists at the cutting edge of digital humanities scholarship.
College and Career Pathways
From talking with current students to gaining insights into career paths in English and related cross-disciplines, students regularly encounter college-level professional development opportunities. They also access guidance on college application essays and resume writing from Carnegie Mellon's Writing & Communication faculty, staff, and students. Upon completion of the program, students may request a recommendation letter and are inducted into a growing Pre-College Writing & Culture alumni network that provides continued support for future endeavors.
Program Schedule
Students learn and engage through several classroom courses and extracurricular activities. While many concepts are fluid across Department of English programs, Pre-College Writing & Culture has been sectioned by specific correlated themes and techniques.
CLASSes & Workshops: UNCOVERING and COMPOSING YOUR STORIES
Creative Writing Across Media
Engaging in the craft of creative writing, students train their skills to connect individual writing to larger, significant messages, both personal and political. Topics are self-selected based on areas of personal interest and used to inspire poetic and short-form writing. Students have opportunities to learn and practice different presentation techniques for their works.
Film and Visual Media
With a focus on film, students sharpen cultural analysis, critical writing, and interpretive skills. Film is not just cameras, actors, and directors, but a team of artists, working together to bring to life stories which begin in written form. In this approach to studying film and visual media, students will engage in a variety of activities designed to develop skills connected to all aspects of visual media including performance, photography, and production design. In the final analysis, students will understand the ways in which multiple creative skills combine in an interdisciplinary way around film and culture.
Creating Your Own Future in Humanities
Students discover different ways in which their passion for writing, film, and culture can leverage an English degree into a viable career. This culminates in students producing professional writing documents that can be used for jobs and college applications, such as resumes and college application essays.
HUMANITIES IN PITTSBURGH
Exploring & Making Around the City
Each week, extracurricular activities occur to enrich students' experiences and expand cultural connections. Although events vary each year, some example activities include attending author readings, touring cultural sites, and engaging in other Pittsburgh-specific experiences and events. 
Eligibility & Application Requirements
Eligibility Requirements
To be eligible for Pre-College Writing & Culture, students must: 
Be at least 16 years old by the program start date.

Be a current sophomore or junior in high school at time of application submission.

Have an academic average of B (3.0/4.0) and/or have received a B or higher in their last English class.
Application Requirements
Completed online application

Unofficial transcript

Standardized test scores (optional)

One letter of recommendation

Responses to essay prompts

Portfolio of selected work that can include at least three samples, such as: videos, written works, or other artistic creations that are relevant to the program
Application Essay Prompts
Essays are required for the following prompts (300-500 words each):
What do you hope to gain from participating in Carnegie Mellon's Pre-College Programs?
What kinds of media (film, books, etc.) do you enjoy most and why?
Tell us about what kinds of work you have produced, whether in writing or across various kinds of media.
Frequently Asked Questions
Will I earn college credit from this program?
No, Pre-College Writing & Culture students do not earn college credit.