January 22, 2016
Hard Work Pays Off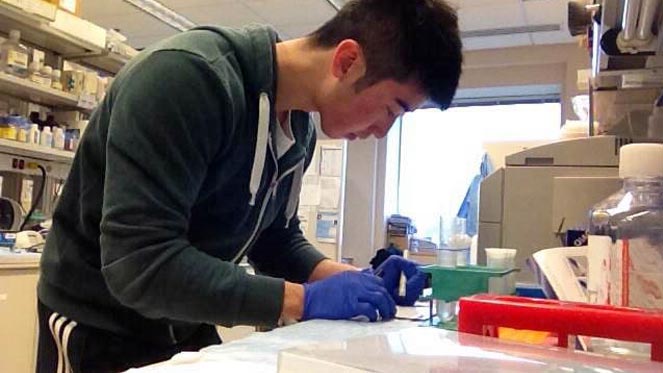 It may sound like a cliché, but the initial students who participated in the Dietrich Honors Fellowship Program have found out that hard work really does pay off. Since graduating from Carnegie Mellon University last spring, they have been working in diverse fields, some extending the research they began as honors fellows, and others, embarking on new academic and career paths.
But they all share what they learned as honors fellows and carry their experiences —from spending the summer before their senior years intensely researching their Senior Honors Thesis topics to completing their projects — with them.
One Hyuk (John) Ra's project examined the relationship between volunteerism and health in older adults. Since graduating, Ra, who majored in psychology and biological sciences, has worked at the National Institutes of Health (NIH) as a post-baccalaureate research fellow, studying the pathophysiology of Parkinson's disease. When his year of research at the NIH comes to a close, Ra will begin medical school in August.
Ra applies lessons he learned as a fellow every day in his current work. He credits the fellowship with instilling independent and collaborative research skills, which he finds invaluable.
"Adaptability is a key trait of successful researchers," said Ra. "There is always more to learn about your research topic. And as new research is constantly being published about the processes, pathways and mechanisms relevant to Parkinson's disease, I need to be reading and learning every day."
Christophe Combemarle, who was an ethics, history and public policy major, has kept his professional goals front and center while remaining open to new paths. During his fellowship, Combemarle studied the institutional paradigms of the centralized monarchy in Renaissance France, and he is currently enrolled in an accelerated master's program at Carnegie Mellon.
"My experience as an honors fellow prepared me for future independent research, which forms a cornerstone of my long-term career interests," he said.
Combemarle will complete his master's degree in public policy and management at CMU's Heinz College in May. He is pursuing doctoral programs in economics as well as professional opportunities in policy and economic research.
"Perhaps the most important personal development to emerge from my participation was an improved sense of how to pace projects and allow them to evolve without losing sight of their original purpose," Combemarle said.
Like Ra and Combemarle, Minnar Xie cites flexibility as an important trait for success. As an honors fellow, Xie investigated strategies of cultural adaptation and identity negotiation within communities of Bhutanese and Nepali refugees in Pittsburgh.
"Pursuing ethnographic fieldwork full-time taught me a lot about how to handle ambiguity and failure," said Xie, who was a BHA major in art and psychology with an additional major in human-computer interaction.
After her fellowship, Xie interned for TechBridgeWorld, a CMU robotics lab that works on technology to empower underserved communities around the world. In that role, she applied her ethnographic fieldwork skills and helped launched a study to evaluate how teachers at a school for the blind in Bangalore, India used and perceived Braille tutor devices.
Today, Xie is enrolled in CMU's 5th Year Scholars program, studying the relationship between design, history and anthropology in an attempt to better understand how these disciplines contribute to social change. As part of her current fellowship, Xie is working with PACE (Partners Allied in Civic Engagement), a partnership between students and staff that develops resources for service-oriented student organizations.
Xie eschews long-term plans, preferring to "pivot every few years" and soak up educational opportunities both on and off campus.
"Only good things can come out of broadening your perspective, no matter where you go or what you do," she said.
Learn more about the Dietrich Honors Fellowship Program, including current fellows' projects and how to apply.
Related Articles:
_____
By Emily Stimmel