April 17, 2015
Eight Juniors Named Dietrich College Honors Fellows
By Shilo Rea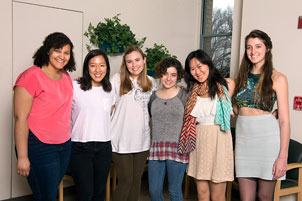 Eight exceptional juniors have been selected to be 2015-16 Dietrich College of Humanities and Social Sciences Honors Fellows. The Honors Fellowship Program – in its second year – is part of the college's Senior Honors Program and is designed to give students a head start on their thesis development.

The fellowship program does this by providing students with support to spend the summer before their senior year researching their thesis topics. The extra time allows them to focus on their projects while not also juggling demanding course loads, internships and other extracurricular activities.

"I'm both thrilled and humbled to have been selected as a fellow for this year's program," said Laurnie Wilson, a creative writing and history double major who will be working with English Professor Jane Bernstein to create a series of narratives that examine themes of growth and self-discovery from the perspective of a young woman. "I'm excited for many aspects of the approaching summer, however, I'm most looking forward to the chance I will have to fully devote myself to my art. During the semester, it can be difficult to set aside time to write, and creative inspiration can be hard to come by. The fellowship not only encourages but requires me to pursue a meaningful project, while the generous funding allows for me to completely immerse myself in this work, without any other distractions."

And, the program does not end when summer becomes fall and classes start again. The senior fellows continue to work with Associate Dean for Undergraduate Studies Joseph E. Devine, Associate Dean for Academic Affairs Brian Junker and Jennifer Keating-Miller, associate director of undergraduate research and national fellowships, as well as their faculty advisors to finish their projects.

"Students beginning Dietrich senior honors theses quickly discover that the nature of a solo yearlong project based on original research or creative work is a dramatically different undertaking than the more conventional courses that they've mastered so well," Devine said.  "This fellowship gives these students the time, with financial and faculty support, to focus exclusively on the early stages of their theses in the summer months prior to their senior year, which in turn generates significant direction and momentum in their theses by the time the fall semester of their senior begins in earnest."

Keating-Miller believes that the program's growth from four fellows last year to eight this year will strengthen the program's sense of community.

"Students can work in a focused manner in the summer months but even in more solitary work like creative writing or film production, the community of fellows can exchange ideas with one another, explore differences and similarities in methodologies and build a social network with likeminded students who are invested in the thesis experience," she said. "We are very excited to offer such an opportunity to rising seniors in Dietrich College."

With majors ranging from creative writing to psychology, the newly elected fellows will be researching immigrants, language and "code-switching," jealousy in romantic relationships, music festivals as rites of passage and more. There are also several creative projects that involve fellows writing a novel and creating documentaries on cultural identities.  

"Ultimately, I believe the program will allow me to grow as an artist and an individual, providing me with a deeper understanding of myself as I begin to plan for life after graduation," said Wilson.
---
The 2015-16 Dietrich College Senior Honors Fellows:
Eleanor Haglund
Major: Creative Writing
Project: "Big Bite"
Advisors: Kevin González and Jane McCafferty
Learn more.


Geneva Jackson
Major: Global Studies
Project: "From Hippies to Hipsters: A Study of American Popular Music Festivals as Youthful Rites of Passage"
Advisor: Judith Schachter
Learn more.
Kaylyn Kim
Major: Psychology
Project: "Using Security Priming to Reduce Jealousy in Romantic Relationships"
Advisor: Brooke Feeney
Learn more.


Kaytie Nielsen
Majors: Creative Writing and Directing
Project: "Two Documentaries on Afro-French Identity: Exploring Filmic Storytelling through Conventional and Experimental Methodologies"
Advisor: Mame-Fatou Niang
Learn more.
Sayre Olson
Majors: English and Creative Writing
Project: "Memoir through Fiction"
Advisor: Sharon Dilworth
Learn more.



Lucy Pei
Majors: Global Studies and Human-Computer Interaction
Project: "Language Use and Code-Switching in Bilingual Immigrant Family Storytelling"
Advisor: Sue-Mei Wu
Learn more.


Chloe Thompson
Majors: Global Studies and Hispanic Studies
Project: "Part of the Establishment: Comparing the Provisional Irish Republican Army and Hezbollah's Dual Identities"
Advisor: Colin Clarke
Learn more.
Laurnie Wilson
Majors: Creative Writing and History
Project: "Fiction and Photography: Narratives in the 21st Century"
Advisor: Jane Bernstein
Learn more.


---
Related Links:
Dietrich College Honors Fellowship Program
Senior Honors Program
Students Thrive in First Senior Honors Fellowship Program